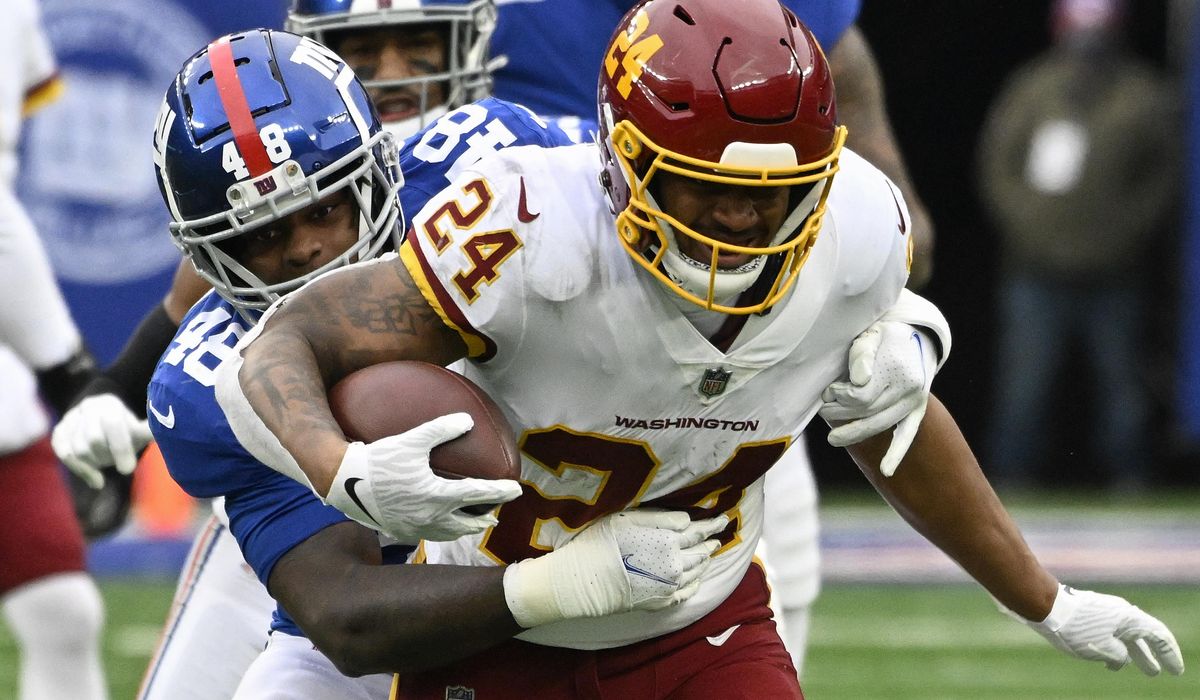 EAST RUTHERFORD, N.J. — Antonio Gibson tried to not think of the yardage he needed to break 1,000 rushing yards in a season for the first time in his career. But as he walked back for halftime of Sunday's 22-7 win over the New York Giants, the Washington running back looked up to see his first-half stats displayed on the large video boards at MetLife Stadium. Seventy-one rushing yards, the stat read.
He couldn't help but do the math from there. Gibson needed just 39 second-half yards.
"I said, 'All right, I'm almost there,'" Gibson told reporters.
Gibson accomplished his goal. The 23-year-old ran for a season-high 146 yards on 21 carries — putting his season total at 1,037 yards. And against the Giants, Gibson wasn't the only player to reach the 1,000-yard marker, either. Terry McLaurin's four-catch, 93-yard performance gave the star wide receiver 1,053 yards on the season, marking the second straight year in which McLaurin reached the milestone.
On the surface, Washington's season finale meant little with the team already eliminated from the playoffs. But as a unit, the offense rallied around Gibson and McLaurin to help them reach their accomplishments.
"It took me to the last game to get there," Gibson said. "It's a blessing."
"I mean, shout out to the 17th game, right?" McLaurin laughed.
This, of course, wouldn't be possible without the NFL adding a 17th game this season. But that perhaps oversimplifies the achievement. For Gibson and McLaurin, hitting 1,000 yards signifies the latest step in their development.
Gibson, for instance, battled through a litany of injuries all year, but was still able to appear in all but one game. And even then, Gibson's lone absence was because of the virus. Fighting through shin, toe and hip injuries, Gibson was still able to grow as a runner. As the season progressed, Gibson found the balance of hitting the hole hard while also displaying patience to let the play develop.
That's not an easy task, but coach Ron Rivera said he saw Gibson's confidence grow over the season. He praised the "couple of nice decisions" that Gibson made against New York. The 2020 third-rounder's 18-yard touchdown put the game away in the fourth quarter.
"It was really good for him," Rivera said of Gibson. "It was kind of neat because you saw him in the locker room when we talked about it, how confident and comfortable he was with himself and just really how much that unit has stuck together and done that kind of a job as far as the blocking to get a guy to rush for 1,000 yards."
After hauling in 1,118 yards in 2020, McLaurin actually finished with fewer yards than he did a year ago. But the wide receiver not only took pride in his consistency — but also his durability. McLaurin played every game in a season for the first time since reaching the NFL in 2019, and the former third-rounder did so while handling a heavy workload.
Entering the weekend, McLaurin had played 90% of Washington's offensive snaps — making him one of the few skill players in the NFL to reach that threshold.
McLaurin, too, didn't have to wait long Sunday to top 1,000 yards. He did so on the team's first drive — first hauling in a catch of 11 yards and then beating his defender for a 40-yard reception.
McLaurin knew right away he hit the marker.
"To be trusted to be the main guy is not as easy as it may sound, and you have to earn it every single day," McLaurin said. "That's been my mentality since I got drafted here, and I don't think that's going to change."