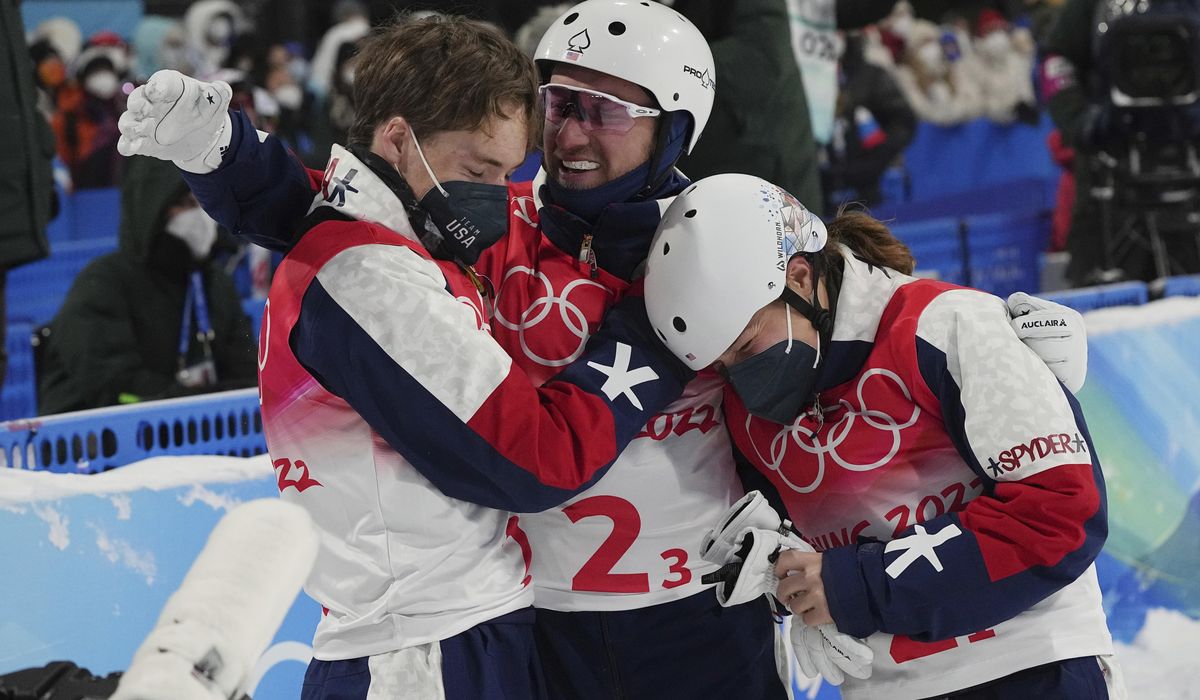 Freestyle skier Ashley Caldwell always shared the same piece of advice to athletes: Don't date your teammates. So naturally, the four-time Olympian and Virginia native did the opposite. For the last three years, she's been in a relationship with fellow freestyle skier and Olympian Justin Schoenefeld.
Ignoring her own rule has paid off so far.
Caldwell and Schoenefeld are not only partners, but the two are now gold medalists after they helped the U.S. finish first in mixed team aerials Thursday. The event, new to the Olympics this year, features a three-person team of at least one man and one woman, paving the way for Caldwell and Schoenefeld to achieve their Olympic dreams together.
Caldwell, Schoenefeld and Christopher Lillis became the first Americans to win gold in freestyle skiing since 1998.
For Caldwell, sharing the gold medal with Schoenefeld was more than fitting. After the 2018 Games, Schoenefeld helped her get over one of the low points of her career after she suffered a serious shoulder injury and underwhelmed in Pyeongchang. So it was only right that Schoenefeld was there for the high point, as well.
"Justin and I, we just clicked so much," Caldwell told The Washington Times last month, "that there was just no stopping us from dating each other."
"Yeah, good luck," Schoenefeld said.
Before Thursday, Caldwell, 28, had not finished higher than 10th at the Olympics. She made the Vancouver Games at just 16 years old, but the journey has been anything but smooth. Caldwell described both the Sochi and Pyeongchang games as "devastating heartbreak." The 2018 Games were particularly painful.
The year before going to South Korea, Caldwell appeared to be at her peak. She became the first woman to successfully land a quadruple-twisting backflip — a trick she calls "The Daddy" — en route to winning the world championships. But at the Games, Caldwell crashed in a training jump before her event and separated her AC joint. The injury, which required surgery, affected her takeoff, leading to a 17th-placed finish.
In the months after the 2018 Games, Caldwell admits she started to question whether she wanted to continue her skiing career. How much pain was worth it? Did she really want to keep jumping? She talked with teammates about her future.
Around the same time, however, Schoenefeld joined the U.S. team. That, it turned out, was perhaps the best thing for her. Caldwell says she watched how Schoenefeld — with his enthusiasm and energy — was "having fun in the way that I used to," reminding her of why she fell in love with the sport in the first place.
Schoenefeld, 23, could tell he was making a difference, too.
"I just wanted to be around her," he says.
It wasn't long until Caldwell and Schoenefeld started dating. Caldwell said the two clicked immediately as they started traveling and it was "inevitable" they ended up together. Though they tried to hide the relationship at first, Caldwell laughed and says it didn't take a "rocket scientist" for anyone to notice.
Caldwell and Schoenefeld, too, can relate to each other — they each understand what it takes to be an Olympic athlete. That became especially true ahead of Bejing when, because of strict protocols in place, the only people that they saw outside of work were each other.
Caldwell admitted that the lead-up to the Olympics was a "stressful time." As a result, they cherished any moment that allowed them to take their mind off the Games. The two, living in Utah, would go hikes and explore nature — away from other people, of course. Indoors, both like to play guitar and watch Netflix, binging Better Caul Saul in their downtime.
Still, all the training — all the challenges — become worth it for rewards like Thursday's gold medal. Caldwell got the U.S. off to a solid start with a score of 88.86, Lillis dominated with an event-high score of 135 and Schoenefeld helped the U.S. clinch the gold with a near-perfect landing to score a 114.18.
And they're not done, either. Caldwell and Schoenefeld are each scheduled to compete at least one more time when the women's freestyle qualifying skiing event begins Sunday (with the final Monday) and the men's event portion starts Tuesday (with the final Wednesday). Both said they were aiming for two medals.
To think, Caldwell could have followed her own advice.
"It's hard to meet a bunch of new people because our time is taken up with our teammates," Schoenefeld said.
"Yeah, so if you don't date your teammates, you're not going to date anyone," she laughed.