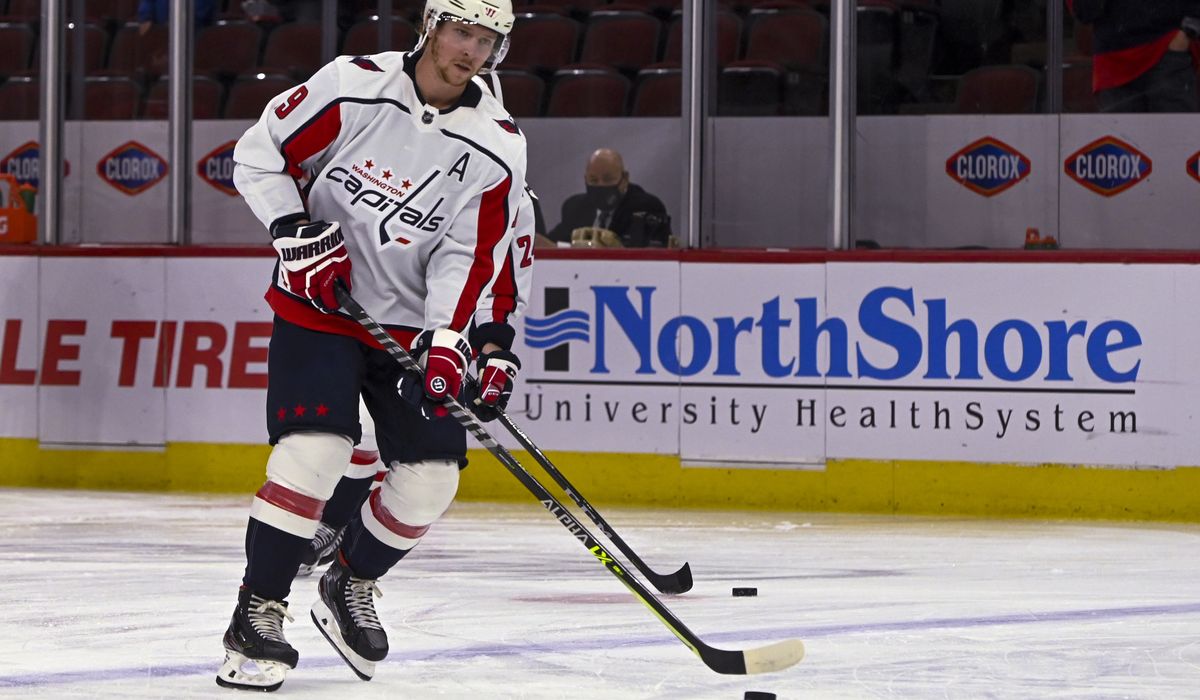 Nicklas Backstrom said on Monday that it's been an adjustment for him to get back into the swing of things.
The Washington Capitals' star center has yet to play this fall due to a hip injury that he sustained last season, and he was getting ready to make his season debut on Wednesday.
"I have to refresh my memory a little bit here," Backstrom said Monday.
It didn't take him long to refresh his memory, Alex Ovechkin's memory and everybody in the NHL's memories in Washington's game against Chicago on Wednesday. On the Capitals' first power play of the game, Backstrom registered a secondary assist on an Ovechkin goal — the 267th time No. 19 has assisted No. 8.
"It was great. I've been missing that a lot. Just to play a game again in front of fans, it's been a long time for me," Backstrom said after the game, a 5-4 overtime loss. "… When you're out for a long time you just have to stay positive. You have to see the light at the end of the tunnel."
Backstrom weaved through Chicago's defense and passed to T.J. Oshie, who found a wide open Ovechkin for a one-timer. The score tied Ovechkin with Dave Andreychuk for the all-time lead in career power-play goals. Oshie said it was fitting that Backstrom should earn an assist on Ovechkin's record-tying 274th power-play score.
Yup, Alex Ovechkin (@ovi8) has tied Dave Andreychuk for 1st on the all-time power play goals list! 🔥

You better believe that's a @PPG Colorful Moment. pic.twitter.com/0JjvlXCz0Z

— NHL (@NHL) December 16, 2021
"I didn't think he was getting out of here tonight without an assist. I bet that felt good for him," Oshie said about Backstrom. "… It's so great to have him back. He's such a big part of everything we do here."
Backstrom, 34, is one of Washington's three most important players, alongside Ovechkin and defenseman John Carlson. The center was the team's leading scorer last season with 53 points (15 goals, 38 assists) in 55 games. But he injured his hip in a playoff game against the Bruins in May, causing him to rehab all summer, miss training camp and not start practicing until November.
His absence as Ovechkin's right-hand man was one of several aspects that has made Washington's season thus far impressive. Without Backstrom, along with injuries to several other key forwards and a handful of players going on the COVID list, the Capitals have been in first or second place in the Metropolitan Division for the majority of the season. As of Thursday afternoon, Washington (17-5-7) is tied with the New York Rangers for first in the division with 41 points.
That hardly means the team doesn't need Backstrom, though. While Evgeny Kuznetsov filled in well for the Swedish star, Backstrom's skill on the power play was missed through the first 28 games of the season. The Capitals rank 25th in the league in power play percentage, scoring on only 17.1% of their opportunities. Last season, Peter Laviolette's first as coach, the team was third in the league at 24.8%.
The power-play goal Wednesday against the Blackhawks was the team's first since Nov. 28 — ending a six-game drought.
"You could just sense his presence on the power play," Laviolette said. "[He has] the ability to slow it down and find space and make the little plays that need to be made on the power play."
Laviolette didn't ease Backstrom into action Wednesday. He told reporters leading up to the game that the 34-year-old wouldn't play until he was 100%, and he was on the ice for about 18 minutes — only 22 seconds less than his average last season. However, whether Backstrom maintains that workload or is able to play in every game, including the second night of back-to-backs, remains in question.
Laviolette said the main difference with Backstrom as he's gotten healthier is his joy for the game. When he participated in line rushes for the first time Monday, Laviolette said it was the "smile on his face" that he noticed.
"It's been a little bit of a rollercoaster, especially emotionally," Backstrom said Monday. "Some days early on you're kind of like getting down a little bit. At the same time, now we're here and we're feeling good. Hopefully it stays that way."