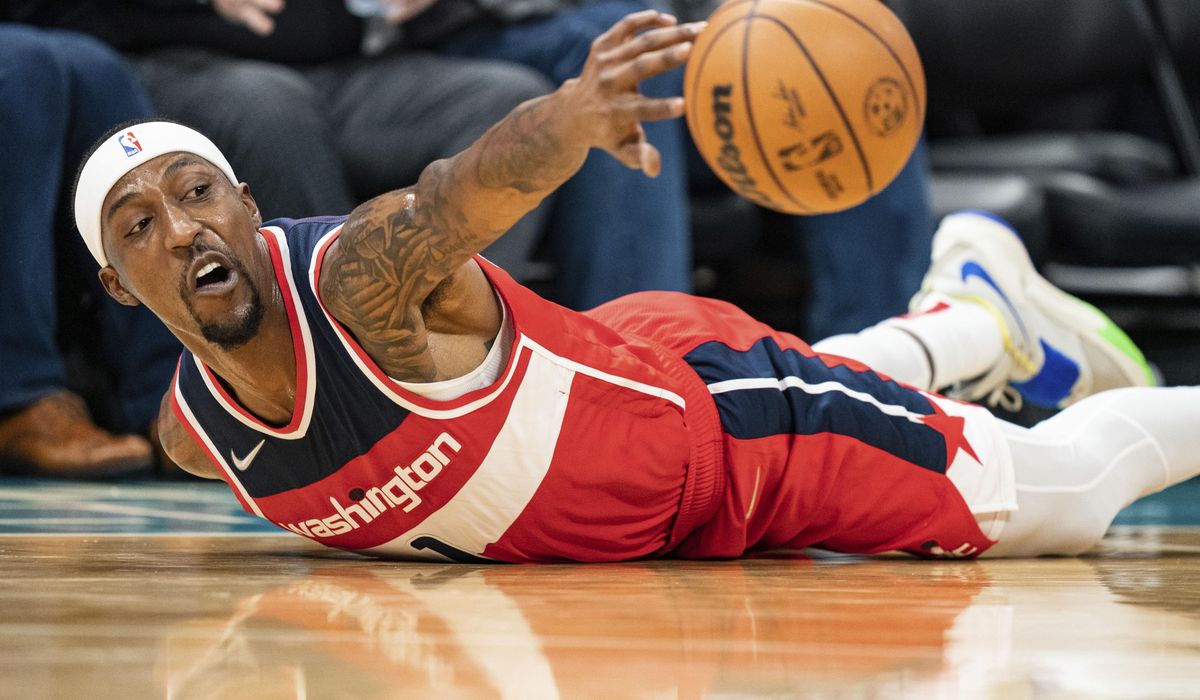 A few hours before their game against the Oklahoma City Thunder on Tuesday, the Washington Wizards placed star Bradley Beal in the NBA's COVID-19 health and safety protocols. Instead of one player stepping up and filling Beal's large shoes, the Wizards received clutch contributions from several players in a 122-118 win over the visiting Thunder.
The most important bucket of the game was a banked 3-pointer from Kentavious Caldwell-Pope that put Washington up three points with 31 seconds remaining.
While no Washington player outside of Kyle Kuzma stood out — and no Wizard played inspired defense — Caldwell-Pope, Spencer Dinwiddie, Corey Kispert, Davis Bertans and Montrezl Harrell all made key plays in the final quarter to pull out the victory.
"It's invaluable when you have guys who aren't afraid of the moment," said coach Wes Unseld Jr. "I give those guys a lot of credit. [Caldwell]-Pope and those guys have done it all year. It's why they're here."
The win is the second straight for the Wizards, who are now 21-20 at the midway point of the season with seven games remaining on its long homestand.
Kuzma continued his hot streak by scoring 20-plus points for an eighth straight game. The forward in his first year with the Wizards totaled 29 points on 12-of-17 shooting. He also made two lead-changing buckets in the final five minutes and knocked down a late free throw to put the team up four.
Dinwiddie, who has struggled while playing alongside Beal, shined once again without the Wizards star. The point guard, also in his first year with the team, scored 22 points and dished out 10 assists. Kispert, who started in Beal's place, scored 12 points, including back-to-back buckets in the third quarter after Oklahoma City took its largest lead in the second half. The rookie also came up with a key block in the final two minutes.
"Corey made big plays tonight," Unseld said. "He had an all-around great night. It's good to see him get back and make shots, but for him to make those defensive plays and get in the right spot gives himself confidence and gives us confidence."
Bertans, the team's high-paid sharpshooter who has struggled this season, knocked down a trio of 3-pointers in the fourth quarter. Harrell, the team's sixth man, returned from his bout with COVID-19 to score 12 points, including a rim-shaking, energy-inducing dunk after an offensive rebound in the final minutes.
"It was great to see him out there," Unseld said of Harrell. "His energy, his voice, that's what he does. It's important, because we haven't had that in a while."
Washington is back in action Wednesday against Orlando. The Wizards defeated the Magic 102-100 on Sunday.