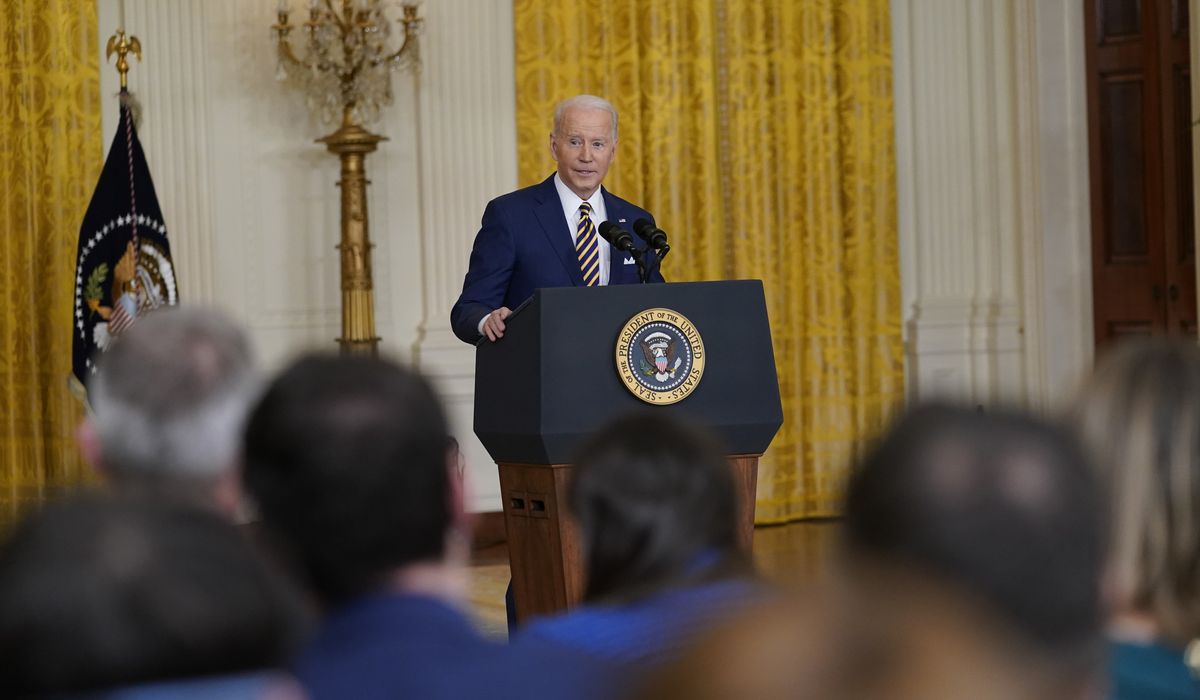 President Biden on Wednesday officially threw in the towel on his roughly $1.8 trillion social welfare and climate bill, saying he would instead break up the legislation and try to pass "big chunks."
The pivot to a piecemeal approach on the massive bill, which was the centerpiece of the president's economic agenda, confirmed the reality most in Washington had already accepted: The big bill is dead.
"It's clear to me that we're probably going to have to break it up," Mr. Biden said at a rare White House press conference marking his first year in office. "I think we can break the package up, get as much as we can now and come back and fight for" other elements after the midterm elections in the fall.
The president said he hopes to still push forward this year with a portion of the bill totaling roughly $500 billion for climate change and energy policies, as well as another piece for spending on early childhood education.
He suggested that he will ditch, for now, a revival of an expanded child tax credit that expired this month and massive aid for community college tuition. Abandoning those priorities likely will anger the party's liberal base in a pivotal election year.
The biggest obstacle in the president's party to the larger package, Sen. Joe Manchin III of West Virginia, said after the press conference that he had not renewed discussions with the White House or Senate leaders about a piecemeal approach.
"Not yet. No one has come to me on that," he said.
On the same night that the Senate was poised to deal the president a high-profile defeat on legislation to overhaul elections, Mr. Biden further conceded that he might seek to break his voting law proposals into "chunks" as well.
Asked whether the midterm elections would be fair and legitimate without the sweeping partisan legislation, Mr. Biden stunned some viewers by responding, "It depends on whether or not we'll be able to make the case to the American people that some of this is being set up to try to alter the outcome of the election."
The president also raised eyebrows in Washington and in Ukraine by appearing to give Russian President Vladimir Putin the green light for a military incursion of its neighbor to the west, as long as it is "minor."
"It's one thing if it's a minor incursion … but if they actually do what they're capable of doing … it is going to be a disaster for Russia if they invade Ukraine," Mr. Biden said.
The White House issued a clarification within an hour after the president left his podium.
"President Biden has been clear with the Russian President: If any Russian military forces move across the Ukrainian border, that's a renewed invasion, and it will be met with a swift, severe and united response from the United States and our allies," White House press secretary Jen Psaki said.
Sen. Ben Sasse, Nebraska Republican, called the president's press conference "an absolute train wreck that will have serious consequences."
"President Biden basically gave Putin a green light to invade Ukraine by yammering about the supposed insignificance of a 'minor incursion,'" Mr. Sasse said. "He projected weakness, not strength. If that wasn't bad enough, he undermined trust in our elections here at home. This isn't hard: if you're the president of the United States, you affirm public trust in our elections. President Biden ran on a return to normalcy, but what we saw today ain't it."
In a nearly two-hour press conference, the president acknowledged that his administration still needs to get inflation and COVID-19 under control, but he insisted he has made "enormous progress." He vowed to "stay on this track" and rejected the suggestion that his campaign promises were too rosy.
"I didn't overpromise," Mr. Biden said. "But I have, probably, outperformed what anybody thought would happen."
His "Build Back Better" bill derailed in the Senate in December when Mr. Manchin announced his opposition. The measure needed the support of all 50 Senate Democrats to pass in a party-line vote.
All Senate Republicans oppose the huge spending bill. Many say the administration's big-spending priorities were contributing to inflation, which reached a 40-year high last month.
The president put most of the onus on the Federal Reserve to bring rising prices under control.
Oddly, Mr. Biden led off the press conference by saying one way to control inflation was for Congress to pass "Build Back Better," which he conceded less than an hour later was essentially dead as a package deal.
"If price increases are what you're worried about, the best answer is my Build Back Better plan," he told viewers.
Mr. Biden repeatedly expressed exasperation with Republicans, saying he "underestimated" their fervor for opposing his agenda in his first year.
"They weren't nearly as obstructionist [during the Obama administration] as they are now," Mr. Biden said. "I don't know what their agenda is now. What would be the Republican platform right now? I honest to God don't know what they're for."
He complained that former President Donald Trump still has an iron grip on the Republican Party a year after leaving office in a bitterly contested election that Mr. Trump claims was rigged.
"Did you ever think that one man out of office could intimidate an entire party where they're unwilling to take any vote contrary to what he thinks should be taken for fear of being defeated in a primary?" Mr. Biden said.
At times, he sounded like former President Barack Obama, who expressed hope in 2012 that Republicans' "fever" against him would break when he won reelection.
"We've got to break that. It's got to change," Mr. Biden said of the GOP's opposition that he termed "stalwart."
The president said five Republican senators talk to him behind the scenes and express support for his policies, but they won't support him publicly. He would not name them.
"My buddy John McCain is gone," the president said of the late GOP senator from Arizona.
Last August, 19 Republican senators voted for the administration's $1.2 trillion infrastructure plan, which Mr. Biden touts as the biggest success of his presidency so far.
Mr. Biden's job-approval rating has reached its lowest point, about 42% in an average of major polls, and two-thirds of Americans say the nation is on the wrong track.
While the president vowed to keep to his agenda, he also said he intends to make three big changes in his second year. He wants to get out of the White House more often, seek more advice from "experts" outside his administration and become "deeply involved" in campaigning for Democrats in the midterms.
"I have not been out in the community nearly enough," Mr. Biden said. "I've been here [at the White House] an awful lot. I don't get the chance to look people in the eye, because of COVID, and things that are happening in Washington — to be able to go out and do the things that I've always been able to do pretty well, connect with people. I think that's a problem that is my own making, by not communicating as much as I should have."
Asked why he has tried to move the country to the left, Mr. Biden rejected the accusation.
"I'm not," he insisted. "I'm not Bernie Sanders. I'm not a socialist. I'm a mainstream Democrat."
He referred to his first year as one "a year of challenges but also a year of enormous progress," citing 6.4 million jobs created and unemployment falling to 3.9%. Mr. Biden said the administration will redouble its efforts to control the COVID-19 pandemic and inflation.
"The best days of this country are still ahead of us," he said.
S.A. Miller contributed to this report.