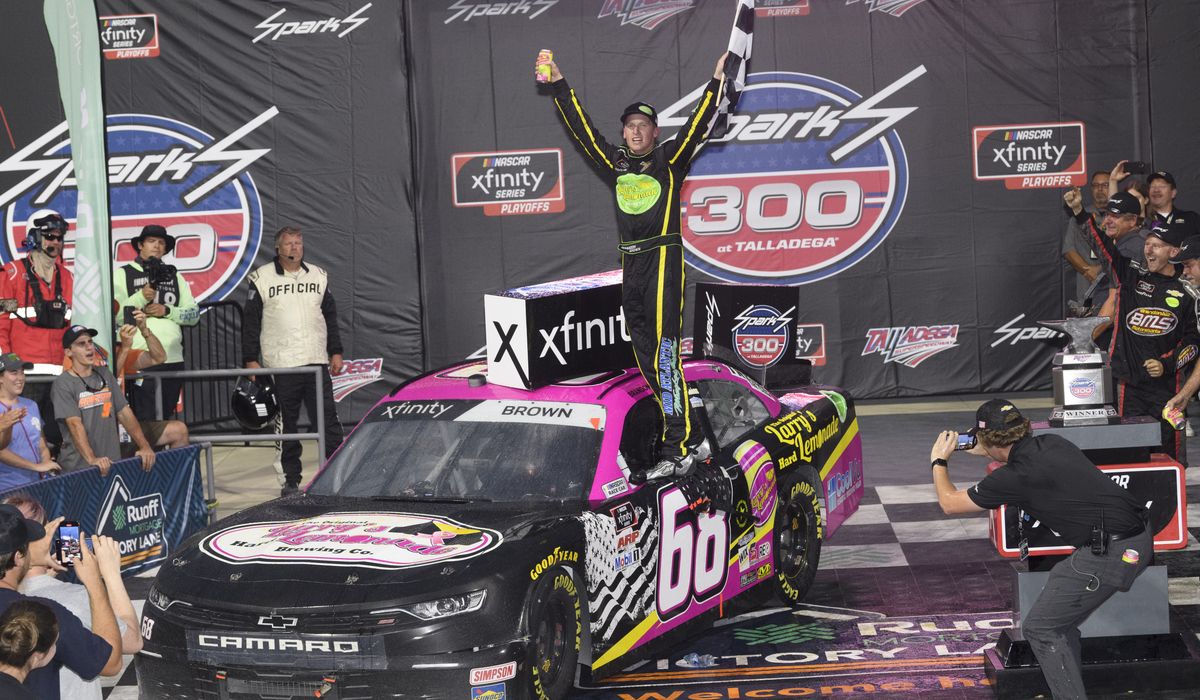 "Let's Go, Brandon"-themed stickers have spread from America's roadways to NASCAR's — thanks to "Brandon" himself.
Brandon Brown acquired a new sponsor Thursday, one that took its very name from the chant based on the driver's name but aimed at President Biden.
The cryptocurrency company LGBcoin — the self-styled "America's Coin" — will be the Brown team's full season primary partner for the 2022 NASCAR Xfinity Series
"We are proud to support Brandon this season, to help him continue his American dream. If we do our job right, when you think of us, and you hear, 'Let's Go Brandon,' you'll think and feel, 'Let's Go America,'" James Koutoulas, founder of Typhoon Capital Management, said in a press release.
The company released a photo of Mr. Brown standing next to his #68 Chevrolet Camaro in a red-white-and-blue trim with "LGBcoin.io" in big blue letters.
Mr. Brown's "LGB" car will make its debut Feb. 19 at the NASCAR Xfinity Series season opener at Daytona International Speedway.
"From wondering if we would have the financial means to continue to compete, to my first major win (at Talladega no less), to becoming an unintentional meme, this past season was a rollercoaster. The support of sponsors like LGBcoin empowers us to be as competitive as possible and I'm looking forward to competing hard on the track in 2022," Mr. Brown said.
Brown became a household name outside the world of NASCAR fans when his name was appropriated for a G-rated version of a vulgar anti-Biden chant.
NBC interviewed Mr. Brown after he won his first NASCAR race, at the Talladega Superspeedway on Oct. 2.
Thousands of fans in the Alabama stadium were spontaneously chanting "f— Joe Biden" and the NBC reporter falsely told the TV feed that they were chanting "Let's Go Brandon!" and the meme was born.
For a couple of months afterward, Mr. Brown laid low until, in a pre-Christmas column for Newsweek, he embraced the chant and at least some of the political implications of it.
While Mr. Brown wrote that he's first and foremost an auto racer who will mostly, to paraphrase another recent cultural meme, shut up and drive, he has been "trying to understand" the chant and "I think I understand."
"I have no interest in leading some political fight. I race cars. I am not going to endorse anyone, and I am certainly not going to tell anyone how to vote," he said.
"But I'm also no longer going to be silent about the situation I find myself in, and why millions of Americans are chanting my name. I hear them, even if Washington does not," Mr. Brown said.