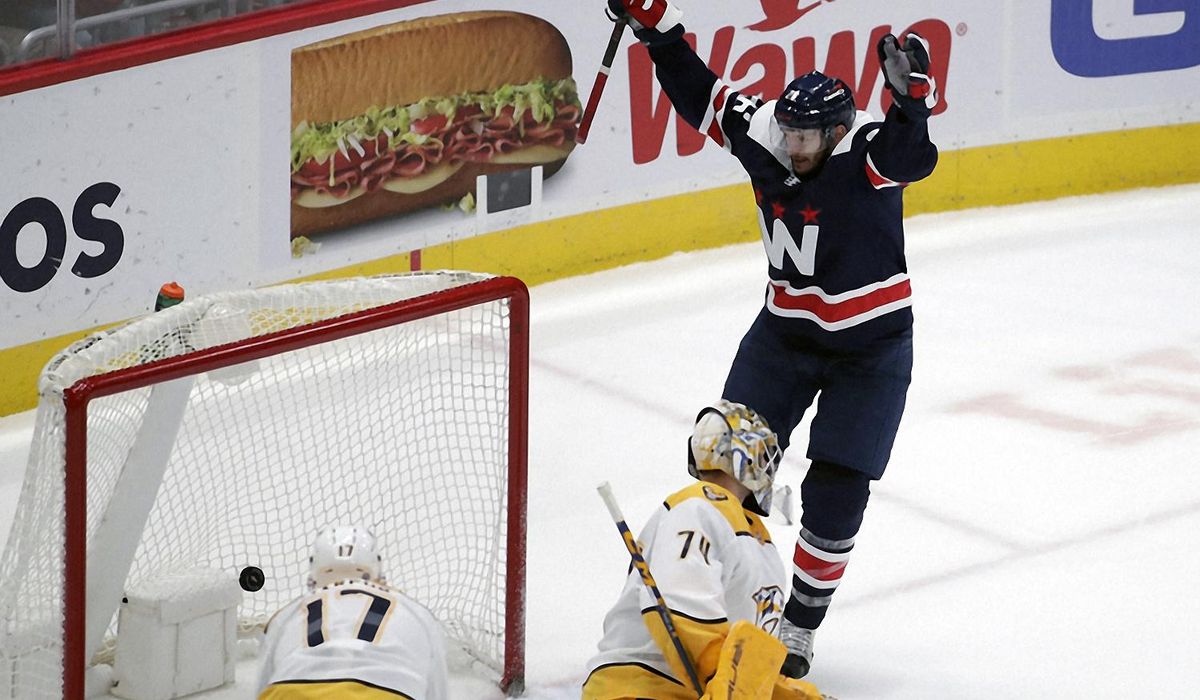 The Washington Capitals are healthier now than they've been all season.
The story of the team's season through the first two months — aside from Alex Ovechkin's scorching hot start — was its reliance on young players who had been called upon to fill in due to multiple injuries. Seven Washington players have made their NHL debut this season, with youngsters like Connor McMichael and Martin Fehervary playing key roles for a team that has been near the top of the standings for almost the entire year. The reliance on those players — mostly at the forward position — was due to injuries to Nicklas Backstrom, T.J. Oshie, Tom Wilson and Anthony Mantha.
But on Wednesday against Nashville — in the Capitals' first game back from the NHL's extended holiday break due to the coronavirus pandemic — coach Peter Laviolette had something at his disposal he hasn't all season. Washington's top four centers — Backstrom, Evgeny Kuznetsov, Lars Eller and Nic Dowd — were all in the lineup together for the first time this season.
"To have the centermen back, we haven't had that all year. That's such an important position, to be strong down the middle," Laviolette said. "To get everybody back is a bonus."
They weren't just available either. All four registered points in the 5-3 win, as Eller and Dowd scored in the first period, Backstrom assisted a John Carlson goal and Kuznetsov fired home the game-winner with about five minutes remaining. The win improved Washington to 19-6-7 on the season, and as of Thursday afternoon, the Capitals are alone in first place in the Metropolitan Division with 45 points.
"I thought it was a huge boost for us," winger Garnet Hathaway said. "Their energy, their skill on the ice is just a bonus really. You can say top four, but they're some of the best top four in the league I think."
The victory over the Predators Wednesday was the Capitals' first game since Dec. 19. The NHL extended its holiday break due to multiple COVID-19 outbreaks across the league, making it about a week off instead of just the weekend. And while the centers are back, the team isn't fully healthy, as defensemen Fehervary, Nick Jensen and Justin Schultz were still on the COVID-19 list for Wednesday's game.
For some players, the additional time off made for an odd December. For example, Dowd and Hathaway, both on Washington's reliable fourth line alongside Carl Hagelin, have each played only four games in December due to missing time with COVID-19.
"It's pretty weird," Hathaway said. "You've got to kind of just roll with the punches right now."
The main absence from the center position this season has been Backstrom, who missed the team's first 28 games before making his debut Dec. 15. Ovechkin's right-hand man was recovering from a hip injury he sustained last season, and with the team's early success, there was no reason to rush him back.
He assisted an Ovechkin goal in that game. But when he debuted, fellow center Kuznetsov was placed in COVID-19 protocols a few hours before puck drop. Then, Backstrom went on the COVID-19 list two days later and missed the Capitals' next two games.
"That's huge for us. Just his presence gave us a lot," Kuznetsov said on playing with Backstrom for the first time this season. "It's opened a lot of plays for us. It's opened up everything. I hope he's going to stay healthy, and we're going to get better as a group every game."
It wasn't just the center position that made a full return Wednesday. So did Washington's top power-play unit — but it wasn't able to turn around the team's struggles during five-on-four. Despite having Ovechkin, who is one goal away from breaking Dave Andreychuk's NHL record for career power-play goals with the man advantage, Washington is third to last in the league in power-play percentage at 14.6%.
With Carlson, Ovechkin, Oshie, Backstrom and Kuznetsov together for the first time this season on Wednesday, the Capitals were 0-for-6 on the power play against the Predators and are now 1-for-27 in the last month.
"Everything, probably," Kuznetsov said when asked about what Backstrom brings back to the power play. "He also gives me room to get open. I feel like the puck didn't go in, but we got some great opportunities. I think big man [Ovechkin] shot 15 times, right? If we're going to keep delivering those pucks to him, they will go in for sure."