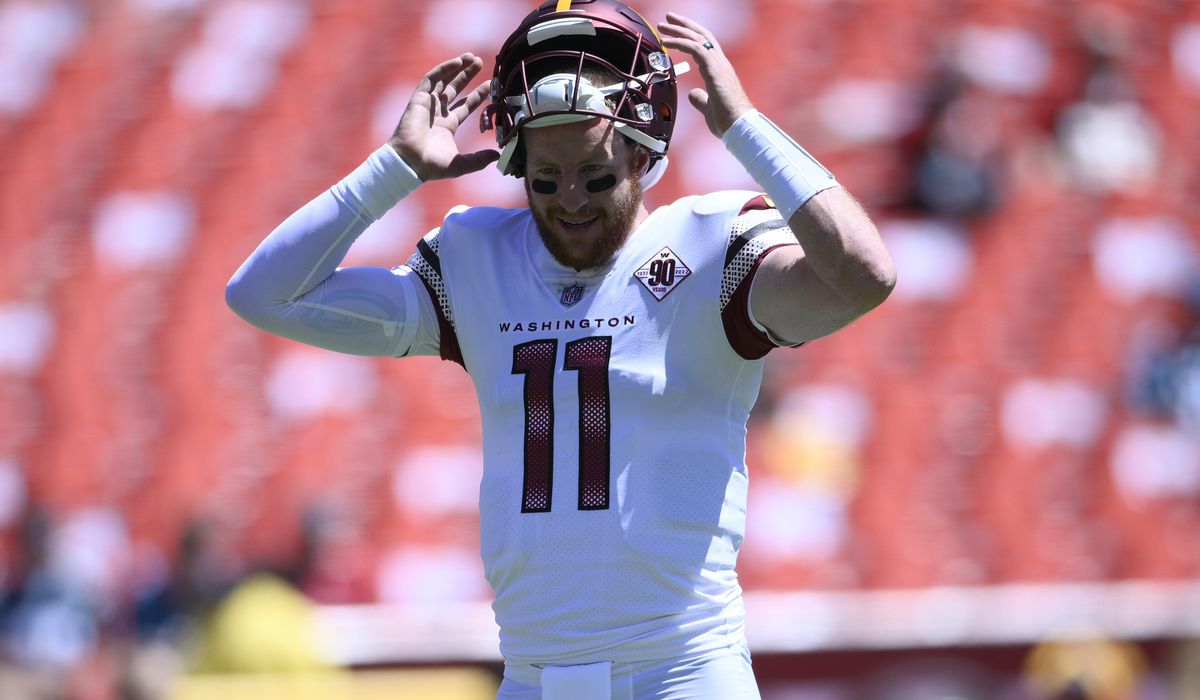 LANDOVER — The first game of the Washington Commanders era featured a new fight song, new entertainment options and new digs. But none mattered more than the new quarterback.
Carson Wentz looked sharp in the Commanders' 23-21 loss Saturday to the Carolina Panthers as he completed 76.9% of his passes over three drives in Washington's preseason debut. The 29-year-old, who has been inconsistent in training camp, overcame a three-and-out early and closed strong by leading the Commanders on a 14-play, 82-yard drive that resulted in a Brian Robinson touchdown.
Here are some takeaways from the outing:
Collected Carson: One preseason game won't be enough to truly shut down any concerns over Wentz's accuracy, but the quarterback sure looked to quiet that narrative as Wentz completed 10 of 13 attempts for 74 yards. It should be noted that Wentz's best drive came against Carolina's backups, but that doesn't change that the quarterback's decision-making seemed sound.
Over the course of Saturday's action, Wentz wasn't shy at taking deep shots down the field, though they resulted in incompletions. He favored tight ends, targeting Armani Rogers five times. And he found success in the short game, throwing screens to Curtis Samuel and Robinson that helped move the chains.
Gibson woes: No non-quarterback fumbled more than Antonio Gibson in 2021, and unfortunately for the running back, ball security still appears to be an issue. Gibson coughed up the ball on his second rushing attempt of the game, leading the Panthers to recover at the 18-yard line. The Panthers capitalized on the short field, scoring a touchdown — Sam Darnold found Rashard Higgins for an 8-yard strike — in just three plays.
Gibson was not on the field for Washington's next drive, watching from the sideline as Robinson, the team's third-round rookie, became the prominent back. Even more telling, Gibson wasn't done for the afternoon: Washington's coaches had the running back play with the second unit after most of the other starters were pulled. He even took snaps behind running back Jonathan Williams.
Robinson shines: Despite Gibson's struggles, Robinson took advantage of his opportunity. The 6-foot-2, 228-pound back powered his way through the line of scrimmage — rushing for 26 yards on six carries. The running back even contributed in the passing game, catching two passes for 15 yards.
Buffalo nickel looks: After cutting Landon Collins in the offseason, Washington had a vacancy at its "buffalo nickel" position, which traditionally is a hybrid safety-linebacker role. For most of the offseason, the Commanders have used cornerback Benjamin St-Juste as their 11th defender, choosing to go with a traditional slot corner rather than a safety. But St-Juste, who is dealing with an injury, was a surprise inactive Saturday — giving Washington's coaching staff a chance to evaluate other players.
Danny Johnson was the team's primary slot cornerback, but Washington occasionally deployed a three-safety look with Kam Curl, Bobby McCain and Darrick Forrest. Forrest, a fifth-round draft pick last year, could be an option to replace Collins in the buffalo nickel.
Underwhelming returners: Washington's competition at returner is wide open, and Saturday did little to move the needle for those looking to seize the job. Wide receiver Alex Erickson, the five-year veteran who signed with Washington in the offseason, got the start, but his first return went only 18 yards. Undrafted free agent Kyric McGowan returned three kicks for 60 yards.
In the punt game, Erickson returned one punt for one yard, Dax Milne rattled off a 13-yard gain and Matt Cole earned an 8-yard gain.
Strong Sam Howell: Wentz wasn't the only Washington quarterback to look impressive. Rookie Sam Howell played the entire second half, leading a comeback in the process. Washington was down 20-6 when Howell checked in, and the fifth-rounder led the Burgundy and Gold to two scoring drives.
In one sequence, the North Carolina product connected on a 27-yard strike to McGowan, hit Marken Michel for 17 yards and scrambled for a 17-yard score. He later earned his second rushing touchdown of the game when he dove across the goal line.
Howell helped give Washington the lead, but Panthers kicker Zane Gonzalez hit a 45-yarder with 24 seconds left that ended up being the game-winner.
Howell finished with 143 passing yards (9 of 16) and 19 rushing yards on three attempts for two touchdowns.