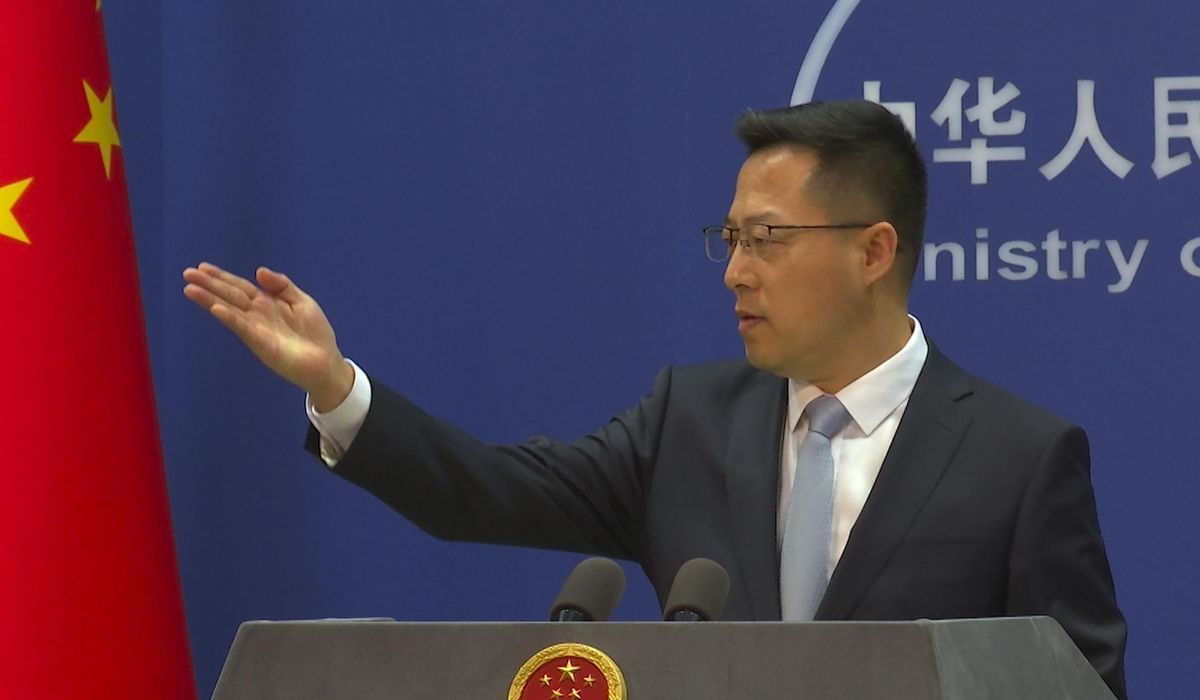 China on Tuesday slammed the U.S. for its diplomatic boycott of the Beijing Winter Olympics, but the move was hailed by Uyghur rights groups for drawing attention to China's abuses of ethnic minorities.
European nations played it safe, refusing to commit either way.
A Chinese Foreign Ministry spokesperson said Tuesday that President Biden's decision to keep officials home to protest China's treatment of Muslim Uyghurs and other ethnic minorities violated the Olympic spirit.
Spokesperson Zhao Lijian told reporters that the U.S. is attempting to interfere with the Beijing Winter Olympics "out of ideological prejudice and based on lies and rumors."
He said the boycott "seriously violates the principle of political neutrality of sports established by the Olympic Charter and runs counter to the Olympic motto 'more united."
Mr. Zhao also vowed that China will respond with countermeasures but offered no details.
"The U.S. will pay a price for its practices. You may stay tuned for follow-ups," he said.
Uyghur rights groups praised the boycott, saying it sent a message to the world about China's misconduct.
Campaign for Uyghurs, an organization that advocates for the human rights of the Turkic ethnic group in western China, said the Olympic Games are occurring in the "midst of a genocide."
"The Uyghur genocide has cast a shadow over these games and made it morally untenable for them to occur in standard operation," said Rushan Abbas, the group's executive director.
Ms. Abbas called on other nations to join the U.S. boycott of the games, which are scheduled to start on Feb. 4.
The World Uyghur Congress, an international Uyghur rights organization, also applauded the move.
"While we welcome the announcement by the U.S. as an important first step in ensuring that the international community stops legitimizing the Chinese government's genocide and crimes against humanity, we continue to urge governments around the world to take further bilateral and multilateral action," the group said in a statement.
So far, the boycott isn't catching on.
European nations took a wait-and-see approach and refused to commit either way.
European Union issued a noncommittal statement that did not endorse the U.S. position but said the EU wanted to advance the discussion of human rights.
The statement said the Olympics "can be instrumental for spreading positive values and promoting freedom and human rights at the global level."
"We are ready to contribute to that end. However, such platforms should not be used for political propaganda," the EU said.
Italy will not join the U.S. boycott, Reuters reported Tuesday, citing a government source.
France, Germany and Britain chose their words carefully.
French President Emmanuel Macron said his country will "coordinate at the European level," Agence France-Presse reported Tuesday.
"When we have concerns about human rights we let the Chinese know," Mr. Macron's office said. "We took sanctions related to Xinjiang last March."
Olaf Scholz, the incoming chancellor of Germany, refused to answer questions Tuesday about a diplomatic boycott, according to German media outlets.
At a press conference, Mr. Scholz was asked three times about the boycott before finally answering questions. He simply responded, "We think it's important to do everything you can to make the world work together internationally," according to German newspapers.
Britain has not decided on a diplomatic boycott, but calls have grown for it to do so.
Iain Duncan Smith, a former leader of Britain's governing Conservative Party, took to Twitter to demand his country follow the U.S.' move.
The European Union has walked a fine line with China, valuing the communist nation as a trade partner, while condemning its human rights abuses.
In July, the European Parliament passed a nonbinding resolution calling for a diplomatic boycott of the Winter Olympics unless China improves its record on human rights.
But the EU has never gone any further, fearing it will damage its extensive trade ties with Beijing.
On Monday, White House press secretary Jen Psaki said the U.S. will stage a diplomatic boycott of the Winter Olympics in Beijing because of China's "ongoing genocide and crimes against humanity in Xinjiang and other human rights abuses."
Under a diplomatic boycott, the U.S. athletes would still participate, but there would be no accompanying delegation of officials or politicians. It's a way for the U.S. to make a statement about China's human rights abuses without punishing athletes.
The State Department has said "genocide and crimes against humanity" have occurred in the Xinjiang region in western China against Muslim Uyghurs.
China has been accused of carrying out an intensified campaign of repression against Uyghurs and other minorities, putting them in reeducation camps. The Chinese government also has reportedly tried to limit the growth of the Uyghur population, destroyed mosques, and shrines, and sent children to boarding schools for indoctrination. Britain's United Nations ambassador called the situation "one of the worst human rights crises of our time."
China also has faced criticism for its response to claims by tennis star Peng Shuai that a top government official sexually assaulted her.
The official was involved in the Olympic Games. Ms. Peng was not seen in public for nearly three weeks, fueling concerns about her safety until she participated in a conference call with Olympic officials in late November.