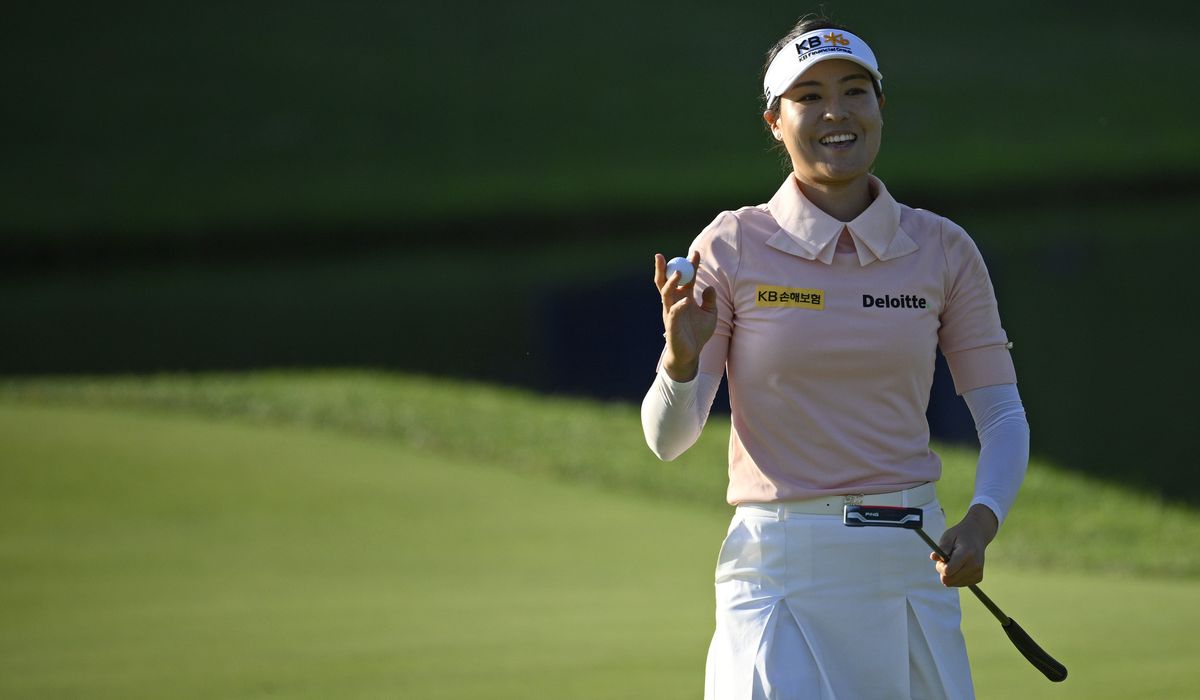 BETHESDA — Scoring at Congressional Country Club became more accessible to all in the Women's PGA Championship field, thanks to a warm, sunny Friday.
That helped many post red numbers for the second round and leap up the leaderboard. But all of them are still chasing In Gee Chun.
The South Korean added to her lead, shooting a 3-under 69 to move to 11-under for the championship — 6 strokes better than Australian Lydia Ko and American Jennifer Kupcho.
"Honestly, before I start today, I got a little pressure for sure because after I had a great first round, everyone talks about how you are, like, five-shot leader," Chun said after her late-afternoon round.
"Now I'm in a good position. Everyone's expectations are really high, so it was a little tough to make focus."
If she was struggling to maintain that focus, the 27-year-old didn't show it. She maintained a free, joyful style throughout the day: Bumping fists with fans along the rope line, jokingly fanning her caddie Dean Herden amidst the warmth leaving the 15th tee, and handing out smiles to everyone along the way.
"I believe if I keep smiling and if I keep enjoying my golf, then I can reach my goal," Chun said. "I can make better results. That's what I believe."
That positivity helped to steady Chun on the back nine. She struggled for the first time in this tournament with back-to-back bogeys on holes 7 and 8, but bookended a string of pars with birdies on the par-3 10th and the tricky downhill par-4 18th.
"I really wanted to make the finish with birdie, so I tried and [had] really good focus," Chun said. "I did everything on that putt. That's why I say I'm so happy I made it."
The leader reminisced on Thursday's Congressional course-record 64, comparing it to "almost a perfect game." At this pace, those chasing Chun will need to come up with their own versions of that round over the weekend to catch her. The last six Women's PGA Championship winners have all held or shared a 36-hole lead.
"I think just keep going out and controlling what I can control," Kupcho said after she carded seven birdies to go along with three bogeys. "I always say that, and I think that's what I do.
"I mean, if [Chun]'s going to continue to play well, that's her game, and there's really nothing anyone can do about it."
Kupcho and others found a more enjoyable but still-tough test with rain out of the forecast but just enough moisture left in the Blue Course to reward control, especially on the front nine. Ko, the 4th-ranked player in the world, made five of her six birdies on the front en route to a 67, tied with three others for the low round of the day.
"I set myself birdie opportunities on 3 and 4, and then I was able to hole a good one on 5," Ko said. "The whole front nine, I think, I wasn't that far off."
American Lexi Thompson carded another of those low-rounders at 5-under after struggling with a 2-over 74 in round one.
"I'm just going into every week like, I know I've put in the hard work. I know I've put in the hours back at home," Thompson said. "Just a matter of coming out here and just trusting the process, knowing I put in the hard work."
"Being hard on myself wasn't getting me anywhere. It's bad to say my 11th year out, I finally realized it, but I've learned it over the years."
Thompson's round also featured the shot of the day: A 102-yard uphill approach shot with a 50-degree wedge over the bunker at the par-4 17th that she landed past the hole and spun back in for eagle.
"I had spun back a good amount of shots. So I tried to take one more and chip it, and I ended up spinning it back … I just went off the crowd because we can't see anything from down there," Thompson said.
Overall scoring improved thanks to shots like Thompson's — the course average dropped a full stroke from 75.3 Thursday to 74.1 Friday. That will need to continue if anyone is to catch Chun, who's prioritizing "process" over perfection.
"I don't want to get more stressed, or I don't want to try to make a perfect game on the course," Chun said. "I just want to enjoy my golf game. That's the key. I believe it's the key."