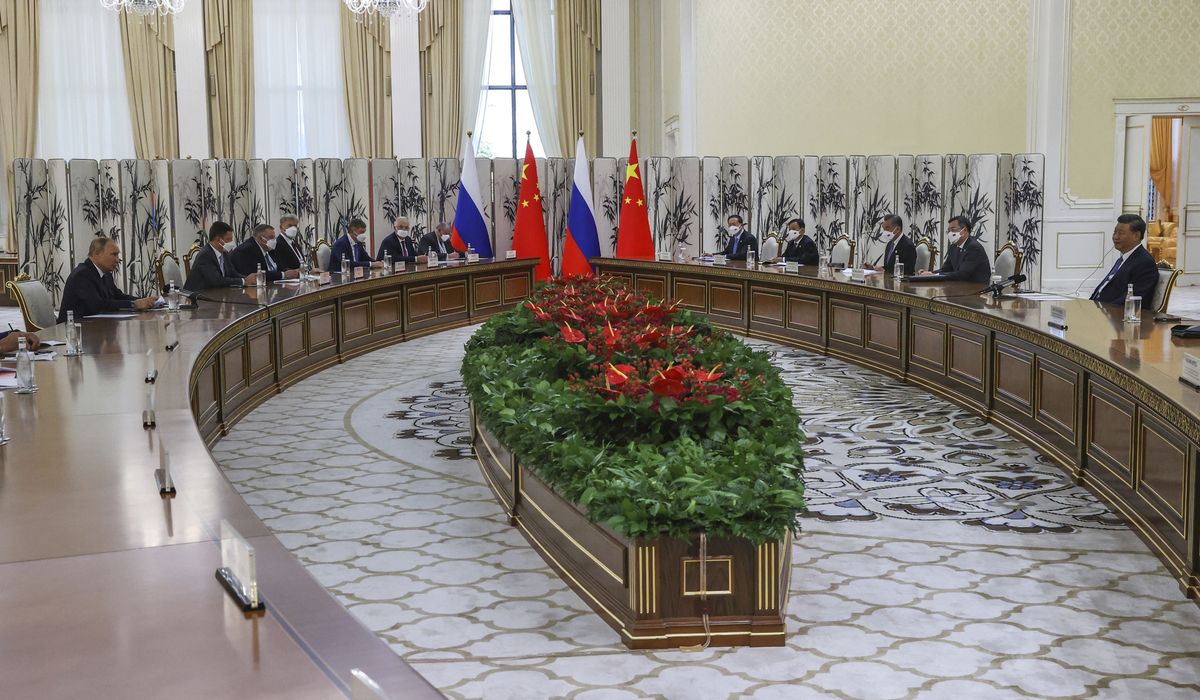 Chinese President Xi Jinping and Russian President Vladimir Putin vowed to forge closer ties during a summit in Central Asia on Thursday that included a discussion of Chinese support for Russia's troubled invasion of Ukraine and Russian support for Beijing's claims to Taiwan.
The get-together in Samarkand, Uzbekistan, the first meeting between the two leaders since Mr. Putin ordered the Russian invasion of Ukraine in February, took place on the sidelines of a regional summit.
"China is ready to work with Russia in extending strong support to each other on issues concerning their respective core interests," Mr. Xi said during the meeting, according to the state-run Xinhua News Agency.
Mr. Xi used the meeting, part of his first trip outside China's borders since the COVID-19 pandemic erupted in Wuhan in late 2019, to highlight the joint efforts of the authoritarian governments of China and Russia to become leading world powers and challenge what they say is the "unipolar" dominance of the United States.
"In the face of historical changes in the world and times, as major countries, China is willing to work together with Russia to play a leading role and to inject stability into the turbulent world," Mr. Xi said.
Before the talks, Mr. Putin said the Chinese leader is "my good friend" and that close relations between Russia and China are growing.
---
SEE ALSO: Taiwan pushing for greater international coordination to counter China's aggression
---
"The Russia–China comprehensive strategic partnership of coordination is as stable as mountains," said Mr. Putin, noting the strategic cooperation accord reached in February.
Mr. Putin offered thanks to "our Chinese friends' balanced position in connection with the Ukraine crisis" but hinted at some daylight between Moscow and Beijing on the war. "We understand your questions and your concerns in this regard," Mr. Putin said before the private talks. "During today's meeting, we will certainly explain in detail our position on this issue."
The meeting came at an awkward time for Mr. Putin. Russia's war of attrition in Ukraine has become mired with rising casualties, and a recent lightning Ukrainian counteroffensive has reclaimed large swaths of land captured by the Russian army in Ukraine's east.
The conflict has resulted in tens of thousands of deaths and impacted the global economy with a confrontation between Russia and the West not seen since the Cold War.
Mr. Xi is preparing for a major Chinese Communist Party meeting next month. The session is expected to further consolidate Mr. Xi's power with a third five-year term as party leader and chairman of the Central Military Commission.
On Taiwan, Mr. Putin reaffirmed that Russia is "firmly committed" to Beijing's "one China" principle that views the island state as part of China. He condemned what he said were recent efforts by the U.S. and its allies to change the status quo regarding the island democracy, which Mr. Xi has vowed to absorb into the mainland.
"We intend to firmly adhere to the principle of 'One China,'" Mr. Putin said. "We condemn provocations by the United States and their satellites in the Taiwan Strait."
The U.S. version of the "One China" policy does not recognize China's sovereignty over Taiwan and regards the island's status as unresolved.
China also plans to consolidate and deepen bilateral ties with Russia and expand cooperation in areas such as trade and energy, according to the Chinese statement.
An economic lifeline for Russia
China has supported Russia's economy by increasing purchases of Russian oil at a time when Moscow faces increasingly painful Western economic sanctions. In August, China's purchases of Russian oil increased to more than 1 million barrels a day, double the amount it purchased in February.
Russia has increased oil sales to China and India at discounted prices. The sales have produced an estimated $20 billion a month so far this year, compared with about $14 billion last year.
U.S. officials and private analysts say Chinese companies have largely abided by other Western sanctions against commercial and military deals with Russia for fear of being shut out of even more lucrative markets in Europe, East Asia and North America.
The Russian leader hopes the meeting with Mr. Xi and other regional leaders will provide some diplomatic relief in the face of widespread opposition to the military aggression from the West.
Mr. Putin said of the 20th National Congress of the Chinese Communist Party set for Oct. 16 that he wishes the "comrade president" success in his plans for developing China.
The Chinese leader is expected to achieve a historical third five-year term as party leader. The meeting sets policy and usually appoints new personnel to senior positions.
"Bilateral relations are a model for ensuring global and regional stability," Mr. Putin said. "Together, we support building a just, democratic and multipolar world order based on international rules and the central role of the United Nations, not on certain rules that someone has invented and is attempting to impose on others without even explaining what it is all about."
The talks were held during a regional summit of the Shanghai Cooperation Organization, a China-led regional grouping of Central Asian states.
In early February, Mr. Putin met with Mr. Xi in Beijing and signed a bilateral agreement calling for closer strategic relations. The agreement said there would be "no limits" on future ties.
Just weeks after that meeting, Mr. Putin ordered troops to invade Ukraine for what was thought to be a relatively quick and easy takeover of the country. Instead, Ukrainian military forces, with extensive support from the U.S. and other Western nations, have waged a fierce fight against the Russian invaders.
Mr. Xi has led an effort in China to eradicate the virus under a policy called "zero COVID." In recent months, the government has imposed a string of draconian lockdowns in major cities and other measures that have produced widespread public anger. The policy also has produced a slowdown of the Chinese economy.
With China's economic and military clout fast expanding, Mr. Xi is said to be seeking Russian support for his strategy of achieving global superpower status for China, analysts say. The Chinese Communist Party regards the United States as the main obstacle to Beijing's rise on the world stage.
The Chinese Communist Party-affiliated Global Times outlet said the Xi-Putin summit highlights the growing alliance. "China and Russia have united to resist the political virus of the U.S. and the West while opposing hegemonism," the outlet said in an editorial.
On Capitol Hill, Sen. Marsha Blackburn, Tennessee Republican, said Mr. Xi and Mr. Putin are seeking to forge a new global order that threatens international democracy and sovereignty.
"Today's meeting demonstrates China and Russia's ongoing efforts to strengthen the New Axis of Evil at the expense of freedom around the globe," she said. "The United States must continue to stand firmly against these malign actors and support the people of Taiwan and Ukraine."
Retired Navy Capt. Jim Fanell, a former Pacific Fleet intelligence director, said the meeting of the two leaders highlights the growing strategic alliance between China and Russia that bodes ill for the West.
"The larger strategic impact is that this new alliance represents a 'two-front' confrontation, or war, against the United States and its allies," Capt. Fanell said.
Much discussion in national security policymaking circles has sought to play down or deny the impact of a new Chinese-Russian alliance.
"That would be a deadly mistake," said Capt. Fanell. "It's time for American leaders of all stripes to return to the Cold War standard of having the capability and capacity to support two major theater wars simultaneously."