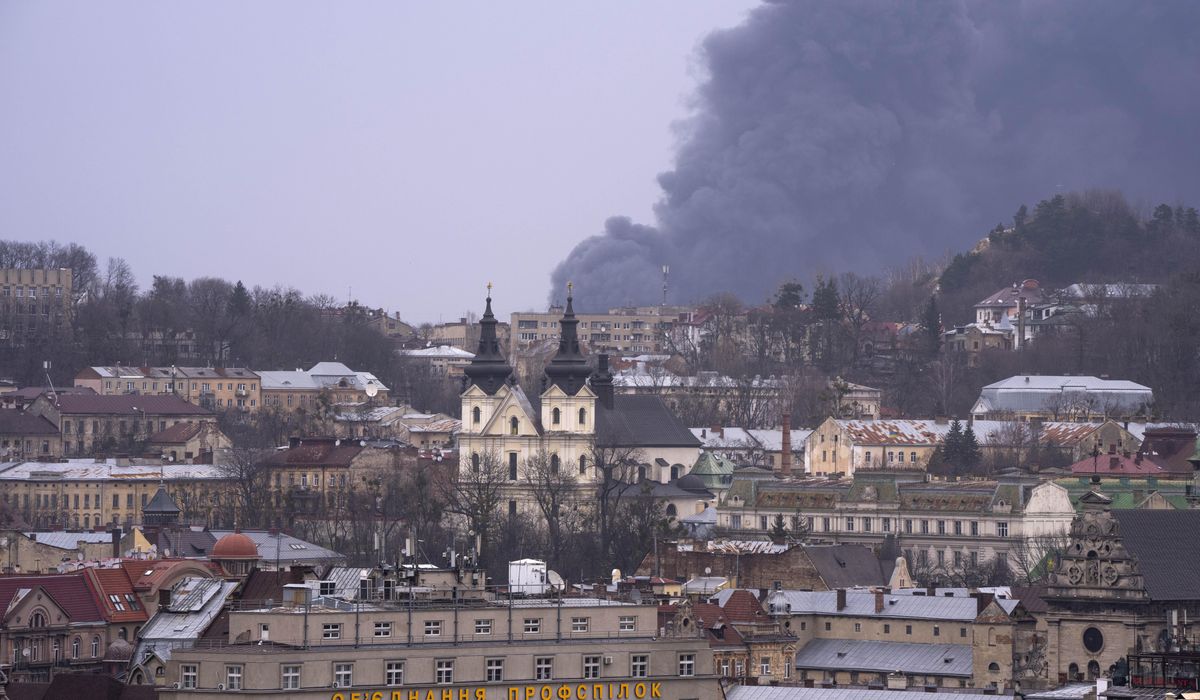 Russian rockets struck two separate targets in Lviv in Ukraine's far west on Saturday afternoon, in back-to-back attacks during President Biden's visit to nearby Poland.
Lviv, which is less than 50 miles from Ukraine's border with Poland has been largely spared from major attacks throughout Russia's month-long offensive and has become a haven for refugees fleeing cities on the front lines.
At the time of the attacks, President Biden was in Warsaw — about 250 miles from Lviv — as part of a multi-day European visit to meet with allies.
"I think that with today's strikes, the aggressor wants to say 'hello' to President Biden who is currently in Poland,'" Lviv's mayor Andriy Sadovyi said Saturday. "I think the world has to understand, it has to be clear to everyone, that the threat is very very serious."
The explosions occurred shortly before Mr. Biden's address from the Royal Castle in Warsaw, capping his trip abroad.
During his address, Mr. Biden warned Russia against attacking a NATO member, warning that such a move would be met by the "full force" of the alliance.
"Don't even think about moving on a single inch of NATO territory. We have a sacred obligation under Article 5 of defending each and every inch of NATO territory with the full force of our collective power," Mr. Biden said.
Under Article 5 of the NATO charter, an attack on one member of the alliance must be met with a collective response from all the members.
Regional governor Maksym Kozytsky said five people were injured in the two separate attacks on what he called "infrastructure objects." One of the targets, he said, was a "defense structure" near residential quarters.
Mr. Sadovyi said shockwaves from one of the attacks damaged a school.
"The destruction is reasonably serious," he said. "The only good thing is that we have no casualties.
Russian missiles struck an aircraft repair facility near Lviv's international airport a week ago.