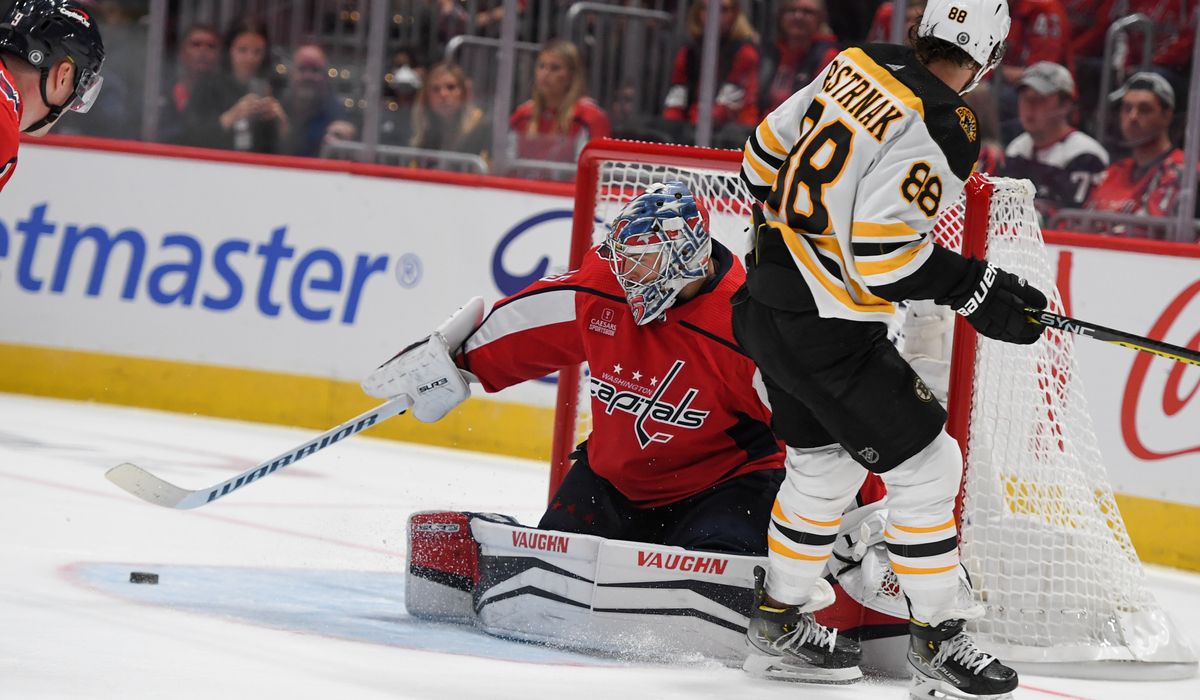 The Colorado Avalanche raised the 2022 Stanley Cup championship banner before their season opener on Wednesday after reaching the pinnacle of the sport just four months ago.
Nearly 1,700 miles away, the goalie who helped them win that cup wasn't having as much fun.
In his first home game in the District, Capitals goaltender Darcy Kuemper allowed four goals — including the first three of the contest — in Washington's 5-2 loss to the Boston Bruins.
"Other than [two mistakes], I felt pretty good about my game. Obviously not happy with the result," Kuemper said. "Always sucks losing the first game of the year, especially the home opener. But yeah, there was a lot of good things from everyone out there. We just got to make sure we're ready from the start."
Washington brought in Kuemper to shore up the team's biggest weakness the previous two seasons, as youngsters Vitek Vanecek and Ilya Samsonov split the goalie job and struggled with consistency.
Kuemper, 32, was signed to a five-year, $26.25 million contract to make him the 12th-highest paid netminder in hockey. Since 2017-18, Kuemper's .921 save percentage is best in the NHL among goalies with at least 150 games played. In that same timeframe, Kuemper has allowed four-plus goals in just 33 of his 193 starts (17%). Remove the seven overtime games in that sample, and the percentage drops to just 13%.
"I thought he was good," coach Peter Laviolette said. "I don't think we were very good in front of him."
The loss was Washington's first in a season opener since 2013. The Capitals' eight-year point streak on opening night was the longest in the NHL. The defeat also snapped Washington's five-year streak of winning on opening night.
The Bruins kicked off the game at Capital One Arena with two first-period goals. David Pastrnak assisted the first — a Patrice Bergeron putback after Kuemper couldn't corral Pastrnak's wrister — and scored the second by finding Kuemper's five-hole.
Boston, which was the other wild card team alongside Washington in the Eastern Conference last season, increased its lead to 3-0 six minutes into the second period with a goal from Taylor Hall. While Kuemper's first 30 minutes for his new team were forgettable, it was far from just his fault. Defensive miscues were largely to blame for two of the first three scores.
"We were just outdone a little bit in the first period, first half of the game, we were outdone," Laviolette said. "There are a lot of things we could have done better."
"We dug ourselves too big of a hole to start," blueliner Trevor van Riemsdyk said.
It wasn't all bad for Kuemper, who tallied 25 saves and made multiple key stops in the second and third periods to keep the Capitals one goal behind.
"We have nothing but confidence in him," van Riemsdyk said. "We hung him out to dry a couple times, and he bailed us out. He'll be good to go, not even going to think twice about it."
Washington got on the board about a minute after Boston took a 3-0 lead when center Dylan Strome found an open Anthony Mantha near the crease. Strome, one of three main free-agent signings alongside Kuemper and forward Connor Brown, was brought in as a temporary replacement for center Nicklas Backstrom, who is out indefinitely as he recovers from an invasive hip surgery he underwent during the offseason. The Capitals were also without Tom Wilson (knee) and Carl Hagelin (hip, eye), as both wingers are on long-term injured reserve; the Bruins were missing stars Brad Marchand and Charlie McAvoy.
Five minutes later, a Conor Sheary wrister went underneath Boston goalie Linus Ullmark's left leg to put the Capitals down just one score. But Washington couldn't find the back of the cage for the final 27 minutes of action. The Capitals failed to score on any of their four power-play opportunities.
"I don't think we got outplayed that bad, but they took advantage of their opportunities," Sheary said. "We had our chances too, but we weren't able to crawl back in it by the end."
Pastrnak sealed the victory for Boston with 3:43 remaining, getting behind the Capitals' defense and having a one-on-one with Kuemper. The Bruins then tacked on an empty-netter from Hampus Lindholm with a minute remaining.
The Capitals have a quick turnaround Thursday with a road game against the Toronto Maple Leafs.