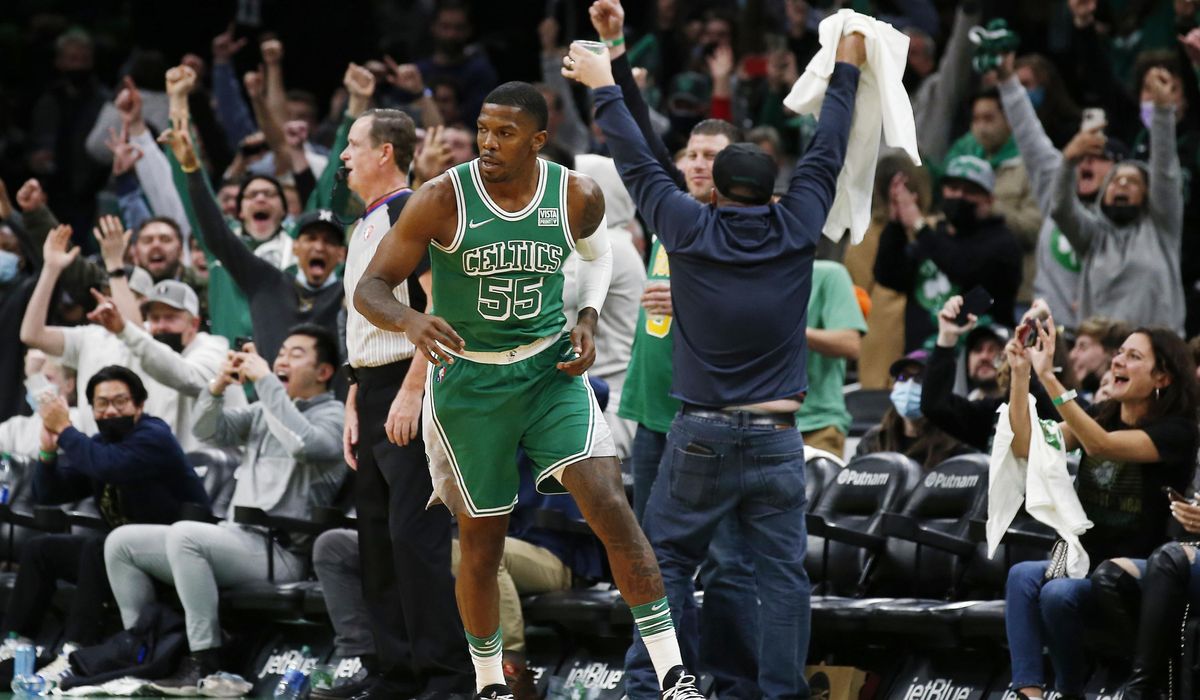 Greg Monroe arrived in Minneapolis only hours before tip-off Monday, so forgive him for not knowing every single one of his new teammates. Signed recently to a 10-day contract by the Timberwolves, the 31-year-old recognized most of the names and faces — he'd played in the league throughout the 2010s.
But Monroe, who has been out of the NBA for the last two-and-a-half years, wasn't up to speed on everyone — including that night's leading scorer.
"Not gonna lie," Monroe said, "Jaylen Nowell played awesome tonight, but I had no idea who that was."
Monroe's unfamiliarity was understandable. Nowell, a second-round pick in 2019, didn't make his NBA debut until Monroe was already playing overseas. The former Georgetown star ended up in Germany and Russia after being cast aside by a league that seemingly had no more use for him.
But this season, it turns out, there's a place in the NBA for Monroe — and other veterans like him, as teams scramble to fill holes in their lineups as rosters are decimated by COVID-19.
Before the Timberwolves signed him, Monroe was tolling away in the G-League for the Capital City Go-Go, the Wizards' minor-league affiliate.
According to ESPN, Monroe's appearance with the Timberwolves made him the 541st player to appear in a game this season — an NBA record. His return came 960 days since his last NBA game, when he logged just 1:41 for the Philadelphia 76ers on May 19, 2019 in a Game 7 loss to the Toronto Raptors in the Eastern Conference semifinals.
He's far from alone when it comes to his length of absence. Other veterans who have recently signed after being more than a year away include Lance Stephenson (Atlanta Hawks), Darren Collision (Los Angeles Lakers) Brandon Knight (Dallas Mavericks) and Joe Johnson and C.J. Miles (Boston Celtics).
Johnson, a seven-time All-Star, is 40 and hadn't appeared in a regular-season game since 2017-18.
"Sometimes these guys are (out of the league) before they're ready to be done," Go-Go general manager Amber Nichols told The Washington Times. "Just because they're done doesn't mean they don't have anything left in the tank. … To see Joe Johnson, (Isaiah Thomas) and Greg and guys like that be able to come in and fill in on a whim, I just think it speaks to this idea that you just never know.
"It's all about guys taking advantage of their opportunities."
Nichols, the G-League's second female general manager, said Monroe had been nothing but a professional during his time with the Go-Go. Though Nichols knew Monroe's ultimate goal was to make it back to the NBA, she praised the way Monroe bought into his role with the Go-Go and mentored the team's younger players.
"What kind of intrigued me about Greg is first and foremost, he just wanted to play basketball," Nichols said.
Nichols said it makes sense why some teams have opted to lean on veterans as replacements during the pandemic. For one, their experience paves the way for coaches to trust them more, she said. And in turn, they'll be able to adequately fill in for spot minutes. She added that their veteran savviness can help guide younger players through an unprecedented situation.
"It's killing two birds with one stone," Nichols said.
Earlier this month, the NBA adjusted its coronavirus protocols — now requiring teams to sign at least one new player after two on a roster have tested positive. That number then becomes two upon three testing positive and three upon four or more. A team is granted a roster spot for each positive test — so, if six players test positive, a team can then sign six replacements.
The measure, in place until at least Jan. 19, is aimed at cutting down on postponements. Still, the league has been forced to postpone nine games in 2021-22 — all this month.
The G-League, meanwhile, has provided a showcase for veterans to show teams they're still worthy of earning a call-up. Before the Lakers signed Isaiah Thomas to a 10-day contract, which expired Sunday, the former Wizards point guard went off for 42 points in his G-League debut for the Grand Rapids Gold on Dec. 15. The Lakers signed Thomas, who appeared in only three games last season, to a deal the next day.
Teams can poach players off any G-League team as long as that player isn't on a two-way contract or a standard NBA deal. The Timberwolves, for instance, were able to sign Monroe from the Go-Go despite having their own G-League affiliate in the Iowa Wolves.
Some teams like the Wizards have opted to go the more conventional route by taking flyers on younger prospects. With eight players placed in protocols in the past week — including Tuesday's addition of Montrezl Harrell and Rui Hachimura — the Wizards have called up forward Jordan Goodwin and Jordan Schakel from the Go-Go and signed 25-year-old Alize Johnson.
Such moves, however, don't tend to carry the same type of intrigue that signing players as Monroe and Johnson tend to bring. During Johnson's first game back with the Celtics — the team that drafted him almost 20 years ago — the Boston crowd broke out into a "We Want Joe" chant late in the fourth quarter.
Celtics coach Ime Udoka obliged. And shortly after stepping onto the floor, Johnson — nicknamed "Iso Joe" — delivered: He crafted his way around the defense and scored an isolation bucket over his defender.
Not bad for a guy who thought his NBA career was all but done.
"I wouldn't say give up, but I didn't have high hopes (of making a return)," Johnson told reporters. "My son's 14, so he keeps me in the gym. We work and work and work, and I always talk to him [and say], 'Just work. Even when you can't see what's next, you just gotta continue to work.'
"At my age, man, you just try to relish every moment," he added later.
Correction: Due to an editing error, Monroe was misspelled in one instance.