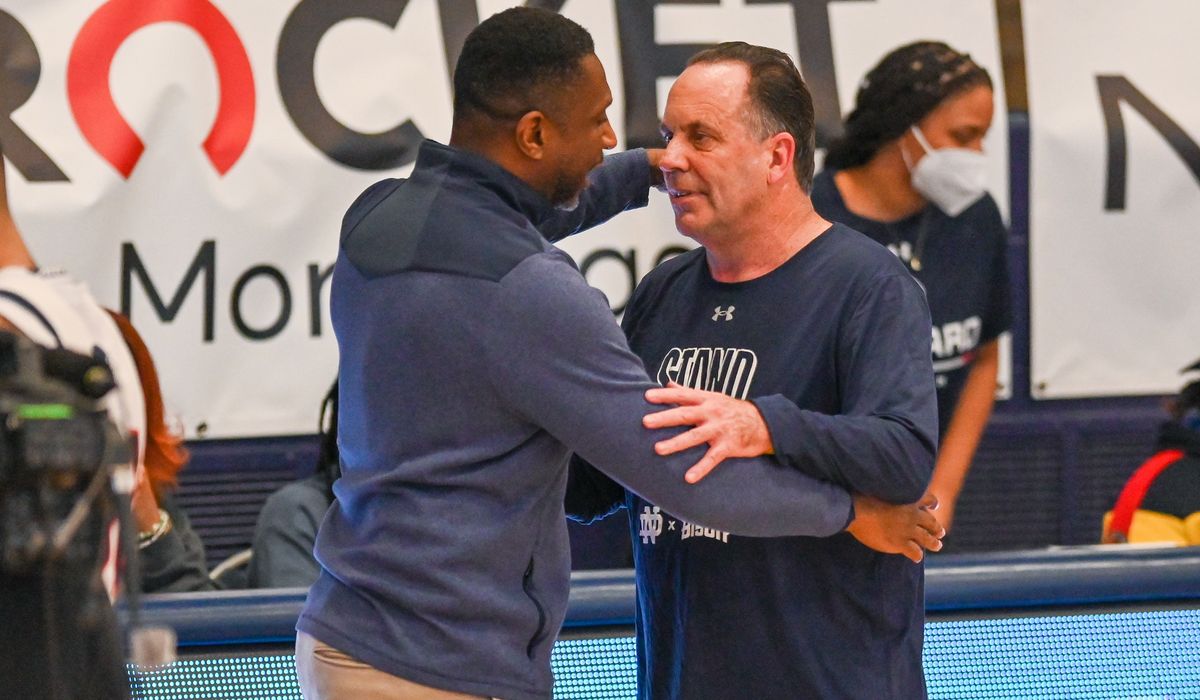 Mike Brey and Kenny Blakeney go way back.
Their relationship started at Duke, where Brey was an assistant coach and Blakeney a player in the early 1990s. Both Brey and Blakeney grew up in the D.C. area and played high school basketball at DeMatha under legendary coach Morgan Wootten. Then, when Brey moved on to be the coach at Delaware, he hired Blakeney to be an assistant.
On Monday, the two coaches crossed paths again in an unlikely venue.
Blakeney's Howard Bison welcomed Brey's Notre Dame Fighting Irish to Burr Gymnasium for the Martin Luther King Jr. Classic. The game — a 71-68 Irish win — marked Notre Dame's first road contest at a historically Black college or university.
"I've been hearing the word historic thrown around this game," Blakeney said. "And it is historic."
"It was a great atmosphere," Brey said. "Certainly it was a great message for our university to be on an HBCU campus on MLK Day. Very powerful."
It's rare for a major Division I school to visit a mid-major college, especially an HBCU. Notre Dame is the first Power 5 school to play at Burr Gymnasium since Oregon State in 2010.
"I want to give [Brey], my big brother and a guy who has been a little bit of a father figure, a lot of credit," Blakeney said. "Ninety-nine percent of the Power 5 universities will not come and play us."
Brey doesn't think a game like Monday's, which was originally scheduled for last season but was postponed due to COVID-19, should be uncommon any more.
"We should do this more," he said. "I know it was a painful day and every major coach watched and said, 'That's why I'm not going to play on a mid-major floor or an HBCU campus.' But we owe it. We have to do it."
The atmosphere in The Burr was one that isn't often seen for teams like Notre Dame. The small gym with a capacity of 2,700 — along with Howard's band, cheerleaders and spirited public-address announcer — created a more personal feel to the game. Even the concession stand — a table with candy and drinks — resembled one you'd see at a high school game, not one being broadcast on Fox Sports.
"This is the best crowd we've had this year. It was a good, fun fight on this great day," said Howard sophomore forward Steve Settle III, who had a career-high 25 points.
"We have been in some tough road atmospheres — Pittsburgh, Georgia Tech, Virginia Tech. This one was harder," Brey said. "It felt like they were on top of you the whole time. The court seemed smaller, especially when they started pressing and we started throwing it away. This was as good as any ACC atmosphere where it's hard to win on the road."
After an even first half, the Bison (6-8) took a small lead early in the second half. But the lead would only last for about five minutes, as Notre Dame's Dane Goodwin knocked down a 3-pointer and then a pull-up jumper to put the Irish (11-6) back in the lead. Brey's squad wouldn't relinquish the lead for the rest of the game and even went up by 10 on two different occasions.
But Howard didn't back down, as Settle and company roared back to take the game down to the wire. The Bison trailed by one in the final minute when Notre Dame's Prentiss Hubb made the biggest play of the game, cutting to the hoop and making a left-handed layup to put the Irish up three.
"He had 15 people here. He was so excited to play," Brey said about Hubb, an Upper Marlboro native. "I think he was a little over excited at times. He wanted to make the plays when the game was on the line."
After Hubb's layup, Howard guard Elijah Hawkins' game-tying 3-point attempt at the buzzer came up short.
"We escaped," Brey added. "I'm just thrilled we were able to get out of here alive."