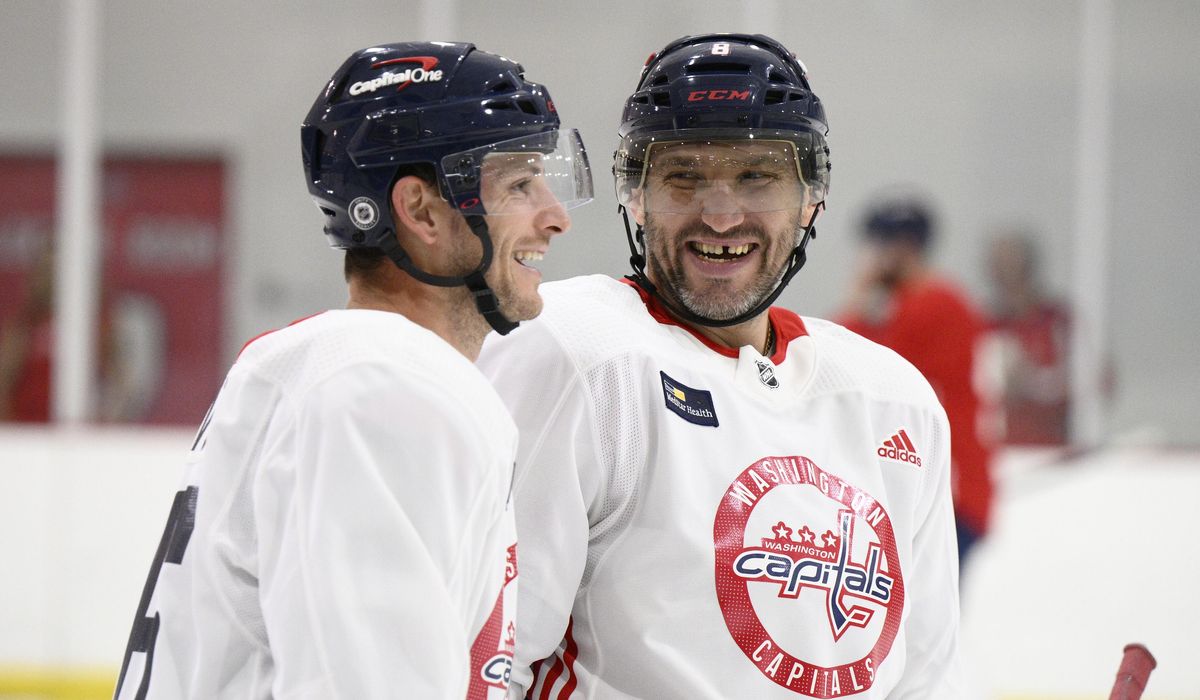 ARLINGTON — The Washington Capitals aren't getting any younger.
Now, to be fair, no one in the NHL (or planet Earth, for that matter) is. But in hockey years, the Capitals' roster is past its prime.
However, to general manager Brian MacLellan, that doesn't mean the Capitals can't go on one last run, even after the team's struggles in the postseason the last four years.
"I think players, coaches, everybody is a little frustrated that we haven't had more success," MacLellan said. "… There's teams that have younger star players that are ahead of us. Then we're with Pittsburgh [as] aging teams that are still good that can still pull it off. I think we're one of those teams."
Washington kicked off training camp Thursday, and the mood at the facility was understandably more upbeat than it was just a few months earlier when the team was bounced from the postseason in the first round. The early exit in six games versus the Florida Panthers marked the fourth straight Capitals campaign to end in the first round.
Since reaching the pinnacle of the sport in 2018, the Capitals haven't won a playoff series. Each exit "burns" more than the previous one, coach Peter Laviolette said.
"The last time I was able to win a Stanley Cup was a long, long time ago," said the third-year Capitals coach, referencing the Cup he led Carolina to in 2006. "Every year you go into it hoping to do that again, hoping to get back on top again. And when you don't have the success that you want in the playoffs, it almost stings and burns even more."
Lars Eller, a veteran entering his 14th NHL season and a member of the 2018 Stanley Cup champion Capitals, said he still believes this roster can make a run. He said the veteran core — Alex Ovechkin, John Carlson and T.J. Oshie — combined with the newcomers — goalie Darcy Kuemper, center Dylan Strome and forward Connor Brown — puts the team in position to compete once again. Washington went 44-26-12 last season, finishing fourth in the Metropolitan Division.
"Every playoff loss hurts. It hurts you deep inside. It stays with you," Eller said. "We just haven't gotten it done the last four years. I don't know what to say other than I am still hungry. I think the hunger is still in the room.
"That's what it comes down to because we've got the talent, we've got the quality, we've got the experience. We've got all of these assets, and now it has to come together at the right time. Yes, we haven't gotten it done. But do I believe that we still have a run in us? Yes."
The Capitals have some hurdles to overcome before thinking about winning a Stanley Cup, though. Injuries will be a concern as center Nicklas Backstrom (hip surgery), winger Tom Wilson (ACL surgery) and winger Carl Hagelin (eye, lower body) are all recovering from major injuries and are expected to miss significant time.
The most consequential — and questionable — among them is Backstrom, whose invasive hip surgery in June puts the future of his career in jeopardy. But the 34-year-old, who carries a $9.2 million cap hit, is "optimistic" that he will play this season.
Wilson, who tore his ACL in Game 1 against the Panthers in May, said he believes he's "ahead of schedule" with his recovery. Hagelin, however, is out "indefinitely," MacLellan said, with injuries to his eye and lower body.
Replacing Wilson and Backstrom is a Herculean task, but Ovechkin believes the Capitals have the depth to make it through until they return. The captain said he's excited to get to work with Strome, Brown and the other additions from the offseason.
"They're key players for us," Ovechkin said about Wilson and Backstrom. "But the pieces that we got, they have experience, they have skill, and we're going to work hard to welcome them and they're going to play good."
Normally, having a star player entering his 18th season at 37 years old would be a concern for a team with high hopes. But, if last season is any indication — 50 goals and 40 assists for arguably his best statistical season in more than a decade — there's no reason to believe Ovechkin can't continue to be one of the best goal-scorers in the NHL.
"I wouldn't bet against him," MacLellan said.