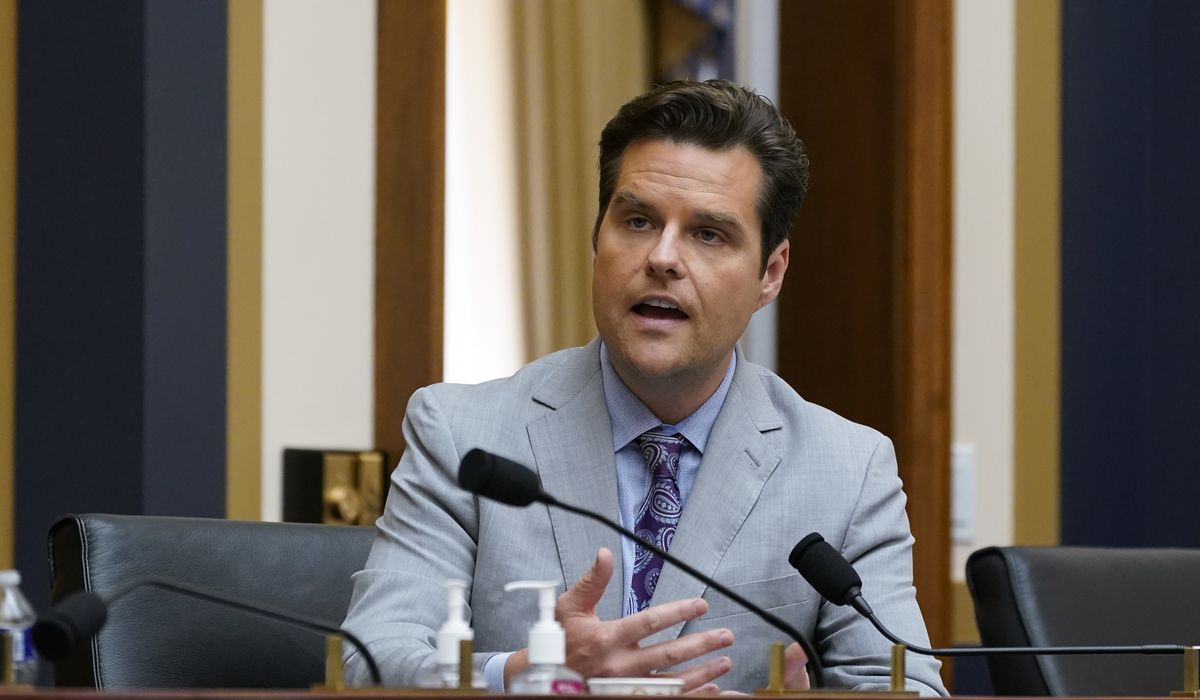 Rep. Kevin McCarthy was unable to convince a group of five hardline Republicans to support his bid for speaker as of late Monday, the eve of the full House vote to anoint the GOP's new leader.
Mr. McCarthy met with dozens of his fellow Republicans throughout the day on Monday in an attempt to shore up still-shaky support within the conference with just hours to spare.
Rep. Matt Gaetz, one of five Republicans who have pledged to oppose the California Republican's bid for speaker, gave a conflicting sign that he may be willing to relent late Monday as he entered the speaker's office to meet with Mr. McCarthy.
"We may be on the verge of a new year's miracle," the Florida firebrand told reporters as he made his way to the speaker's office alongside House Freedom Caucus Chairman Scott Perry of Pennsylvania and Rep. Lauren Boebert, Colorado Republican.
But as he emerged from the "brief and productive" meeting minutes later, Mr. Gaetz said he remained unconvinced.
"I'm a no," he said as he departed the meeting, according to Robert Costa of CBS News. He added that Mr. McCarthy still faces five firm "no" votes.
Given the Republicans' slim majority with 222 seats in the House, Mr. McCarthy can afford to lose no more than four votes to become speaker.
Nine Republican lawmakers signaled Sunday that they remain on the fence about backing Mr. McCarthy from becoming speaker despite the California Republican making a series of concessions to conservative die-hards.
Among the concessions Mr. McCarthy has proposed is a House rule that would make it easier for any member to remove him as speaker. Currently, only members of leadership can offer a motion to vacate the chair, due to a rule put forward in 2019 by House Speaker Nancy Pelosi, California Democrat.
In a letter led by Mr. Perry and Rep. Chip Roy of Texas on Sunday, nine Republicans signaled that Mr. McCarthy's detente still might not be enough to bring them on board.
"At this stage, it cannot be a surprise that expressions of vague hopes reflected in far too many of the crucial points still under debate are insufficient," they wrote. "This is especially true with respect to Mr. McCarthy's candidacy for speaker because the times call for radical departure from the status quo — not a continuation of past, and ongoing, Republican failures."
Former House Speaker Newt Gingrich lashed out against the Republican lawmakers opposing Mr. McCarthy's bid, saying the group of GOP hardliners risks sowing chaos within the conference.
"They're not voting against Kevin McCarthy, they're voting against over 215 members of their own conference," the former Georgia Republican told Fox News earlier Monday. "Their conference voted overwhelmingly, 85%, for McCarthy to be speaker, so this is a fight between a handful of people and the entire rest of the conference."
"They're saying they have the right to screw up everything," he said. "Well, the precedent that sets is … any five people can get up and say, well, I'm now going to screw up the conference too. The choice is Kevin McCarthy or chaos."