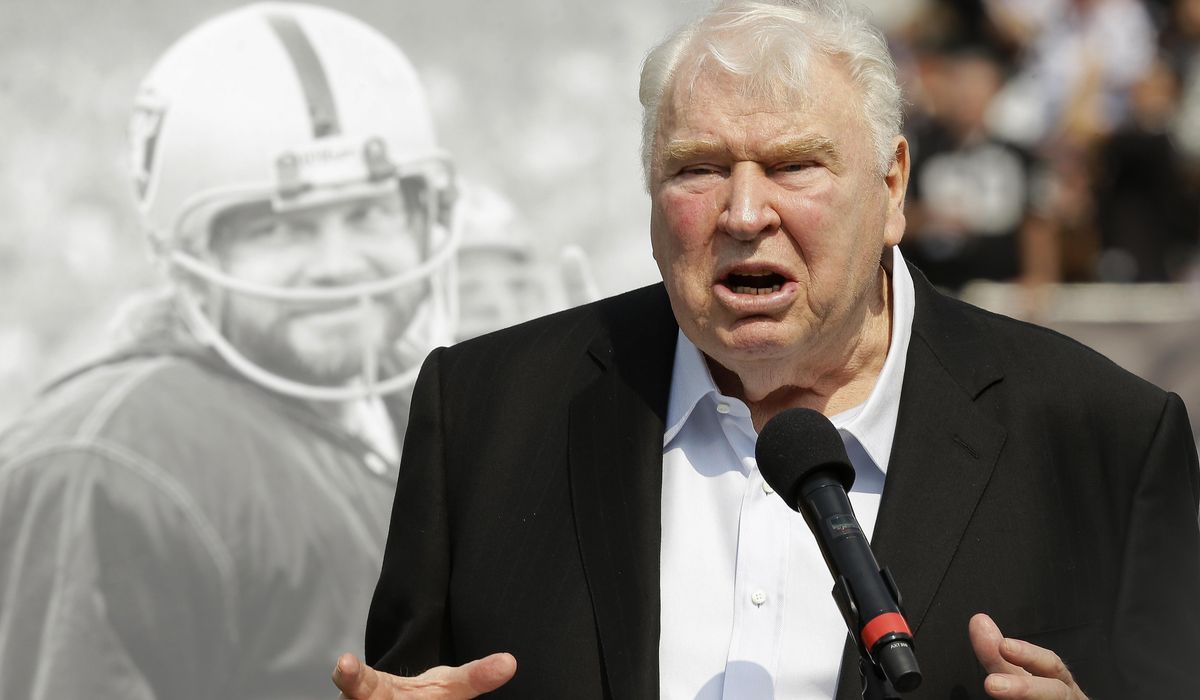 Super Bowl-winning coach and legendary broadcaster John Madden died Tuesday, the NFL announced.
He was 85.
NFL legend John Madden died unexpected this morning. He was 85. pic.twitter.com/FoC1mAzoF6

— Adam Schefter (@AdamSchefter) December 29, 2021
"Nobody loved football more than Coach. He was football. He was an incredible sounding board to me and so many others. There will never be another John Madden, and we will be forever indebted to him for all he did to make football and the NFL what it is today," NFL Commissioner Roger Goodell said in a statement.
There was no immediate word on cause of death, or on memorial services.
As coach of the Oakland Raiders from 1969 to 1978, he led the team to seven AFC West titles, seven AFC title games, and one Super Bowl victory — in 1977 over the Minnesota Vikings. His regular-season record of 103-32-7 gives him the highest-ever winning percentage (.759) of all NFL head coaches with more than 100 games on the sidelines.
He quickly moved over the broadcast booth and he became the best-known color commentator in the sport, working at all four major broadcast networks at one time or another over the next three decades. He called 11 Super Bowls, including at least one for all four major networks — the only man to do so.
His big personality, knowledge of the game's Xs and Os, and unpretentious manner — he famously dressed down — made him his own brand for decades even after leaving coaching, winning an unprecedented 16 Emmy awards for outstanding sports analyst/personality.
"I am not aware of anyone who has made a more meaningful impact on the National Football League than John Madden, and I know of no one who loved the game more," Dallas Cowboys owner Jerry Jones said in a statement.
Madden was one of the first analysts to use telestrators to analyze and break down plays, and punctuated him with exclamations for hits like "Bam!" "Doink!" and "Pow!"
He also created such traditions as the light-hearted "All-Madden Team" (one year it was nothing but middle linebackers), and the turkey (or turducken) prize to the best player on the Thanksgiving Day games he would call.
"For me, TV is really an extension of coaching," Madden wrote in his best-selling book "Hey, Wait a Minute! (I Wrote a Book!)." "My knowledge of football has come from coaching. And on TV, all I'm trying to do is pass on some of that knowledge to viewers."
He has lent his face and voice to the "Madden NFL" games from EA Sports since 1988, hosted "Saturday Night Live" and became a legendary pitchman for restaurants and other sports-related products, including an early Miller Lite commercial.
Madden's legendary fear of flying — which precipitated his leaving the Raiders — lasted his adult life and led to another element of his public face — the Madden Cruiser, a customized coach bus that allowed him to travel and see the country between broadcasts.
But when he was elected to the Pro Football Hall of Fame in 2006, he said, "people always ask, 'are you a coach or a broadcaster or a video game guy?' I'm a coach, always been a coach."
Madden is survived by his wife, the former Virginia Fields and sons, Joseph and Michael, both of whom played football at Ivy League schools.