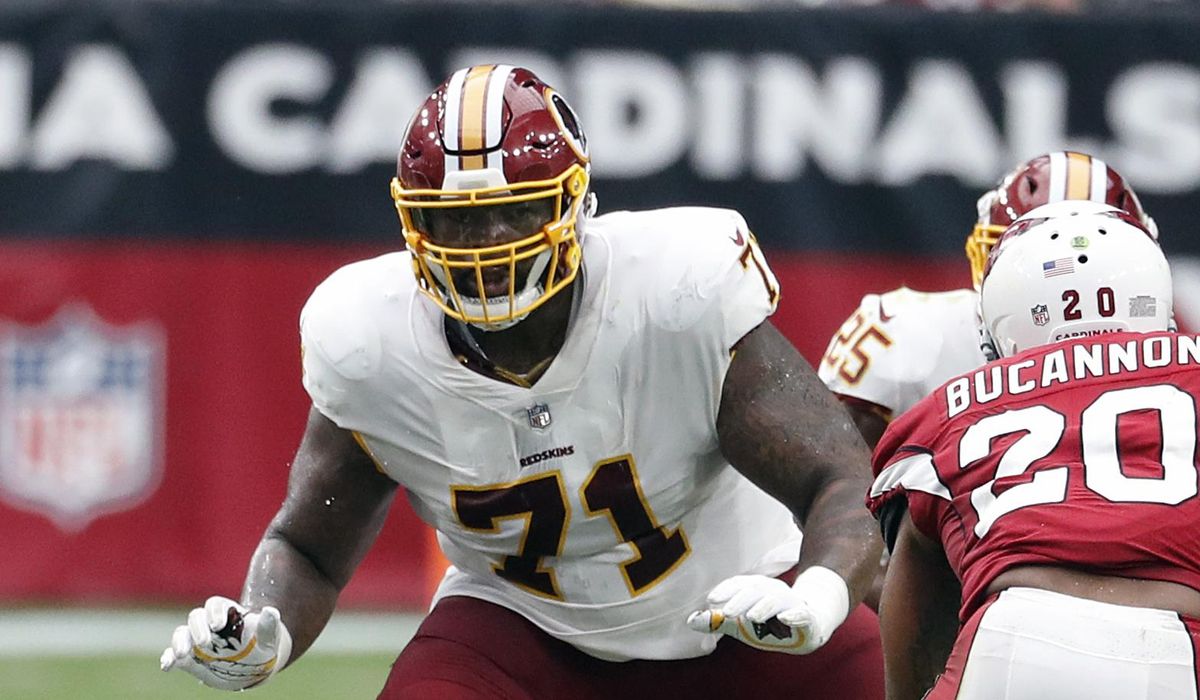 You can certainly apply one of Loverro's rules when it comes to the business of the Washington Commanders:
"When things look bad from the outside, they are usually much worse on the inside."
In fact, it may be the team motto when it comes to this organization, which can't even get a list of its own players right.
The latest Commanders embarrassment (they really should publish one of those 365-day-a-year calendars — one blunder a day) is the rollout of their 90 Greatest franchise players list as part of their celebration of the 90th year of the team, going back to 1932 in Boston.
They did this 10 years ago for the 80 Greatest Redskins. Now they want to add 10 more to reach 90. If Dan Snyder owns the team for much longer, they may have to start subtracting players, or simply take the word "Greatest" out of the promotion.
The list had several misspellings, biographical errors, photo errors for some already on the list and others under consideration — and conspicuously left off at least one name that was a no-brainer. Trent Williams was the greatest player on this team for the 10 seasons he was in Washington — a seven-time Pro Bowler who was acknowledged as one of the best offensive tackles in the game.
Just not good enough to be one of the 10 latest and greatest players for this franchise.
Maybe the next time they embark on a historical promotion, they might want to consult Snyder's favorite book — "Hail Victory: An Oral History of the Washington Redskins."
About a year after my book was published in 2006, I got an email from Snyder's henchman, Karl Swanson, with the title of the book in the header. I thought for sure I was getting sued for something because, well, it was Dan Snyder.
It turns out that Snyder read the book, liked it, and wanted to send me about a dozen copies to autograph, which I did.
If those in charge today had read their boss' favorite book, they might have managed to accomplish this latest promotion without it blowing up in their face — and maybe actually exhibit a little soul instead of a lack of heart. Soul? My contribution to the 90 greatest players list — Otis Wonsley.
Wonsley played for Washington from 1981 to 1985. He is one of the most valuable special teams player in franchise history. He was the one that led the way for John Riggins to make that historic Super Bowl XVII run that was voted the greatest moment in franchise history.
He was also one of Joe Gibbs' favorite players. "People will ask me, 'Who are the players you remember the most, what's the one or two players?'" Gibbs said in an interview for my book. "I can't do that because when they me who were the great players, I start off with Otis Wonsley, Greg Williams, Pete Cronin, and they'll go, 'Who?' Those are the special teams guys that I remember, probably more so than the stars."
Special teams have often been the soul of this franchise, from the George Allen years to Gibbs.
Wonsley is not on the list for consideration.
They did add Williams, after being roasted by the team's focus group (it's a stretch to call them a fan base anymore) along with Robert Griffin III, to the amended list, and no matter how they spin it, Williams was likely initially left off because of the bitter fight he had with the team over his contract and accusing them of mishandling his cancer diagnosis.
The Commanders did not respond to a request for comment.
The only other explanation would be a remarkable level of incompetence. I'm willing to entertain that, based on the series of miscues that have emerged from this organization — the shameful Sean Taylor tribute last season, the new name rollout fiasco, the Jack Del Rio Twitter catastrophe among them — that this could possibly be a simple case of ineptitude.
That doesn't make it any better.
This franchise can't afford to make these kind of public mistakes. Anything that comes out of that building should be checked, double-checked and then reviewed again — out of fear of failure, if for no other reason.
There should an announcement in that building every morning, like they did in school, about somehow getting through the day without embarrassing the organization. They should have one of those boards upon entering the building that they used to have at factories — how many days without an accident. Except for the Commanders, it would say how many days without a public shaming — not counting the owner, of course, who is beyond control.
The rest of it, though, falls at the feet of team president Jason Wright, whose only accomplishment still appears to be he is not Bruce Allen.
The inability to control something as simple as a list of your own players speaks to what likely happens on the inside. If you can't get the small things right, how can you possibly do the big things — like changing the culture of an organization?
• Hear Thom Loverro on The Kevin Sheehan Show podcast.