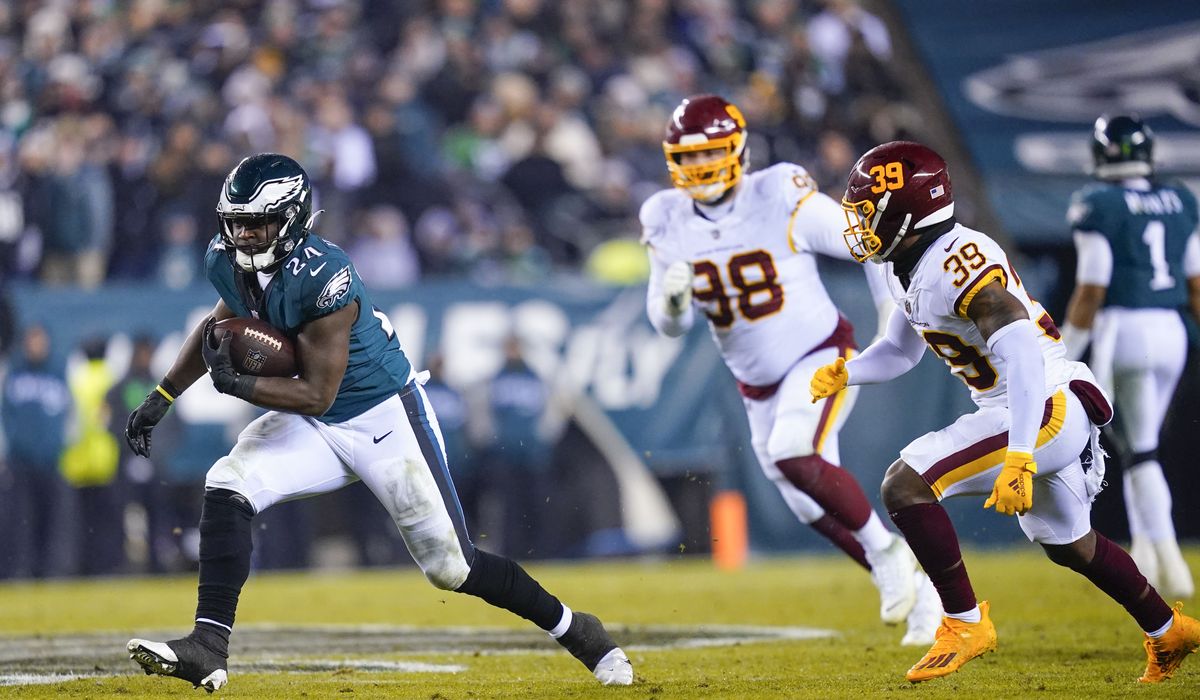 What did we learn about the Washington Football Team's 27-17 loss to the Philadelphia Eagles Tuesday night?
It's not the benches that matter. It's the butts that make use of those benches.
Someone in Dan Snyder's organization thought it would be a good idea to follow the Dallas Cowboys' blueprint for victory in their 27-20 win over Washington the week before and had special "Washington Football" benches brought to Phily's Lincoln Financial Field.
The Cowboys had done it first for their Dec. 12 game at Ghost Town Field, reportedly because the heated benches provided for visiting teams there don't work very well. Of course, that appears to be true, based on this report from NBC Sports Washington about the Washington benches brought into Philadelphia.
"FedEx Field has our old equipment. They're probably 10-plus years old. These are brand new," Dragon Seats Chief Operating Officer Franklin Floyd said.
There are no such reports about old benches malfunctioning at Lincoln Financial Field. Yet apparently Washington felt the need to give the Eagles a taste of the mind game the Cowboys had played on Washington a week earlier.
"We really put our foot on the gas with our manufacturing team last week," Floyd said. "So these are brand new, this will be the first time they will be used."
Washington Football coach Ron Rivera apparently had nothing to do with the decision to bring in their own benches. I know this because after the game, someone asked the coach why the team decided to bring its own heated benches.
"I couldn't tell you," Rivera responded. "That had nothing to do with what happened on the football field."
He expanded slightly on that Wednesday, telling reporters, "We just wanted to be comfortable. To me, it's got nothing to do with the game other than just someplace to sit."
Rivera doesn't want to talk about the benches, and why would he? It's the sort of silliness that has the exiled owner's fingerprints all over it. The puppy who so often tries to emulate and beat the big dog, Cowboys owner Jerry Jones. As with most things the puppy gets into, he makes a mess.
Seriously, benches? Seems plenty petty, but among the sins this franchise has committed, this was petty among the petty.
If they really wanted to get take a shot at Dallas, they would have ordered Cowboys benches and sat on them in Philly. That would have at least been good for a laugh. This just seemed small, though the team's house organ didn't seem to think so.
"The Burgundy and Gold is making sure it has every possible advantage on Tuesday night vs. Philadelphia," NBC Sports Washington wrote. "Getting a divisional win on the road is hard enough, but with the forecast promising high 30-degree weather with a 63% chance of rain plus 10 mph winds, the brand-new heated benches will be a welcome addition to Washington's sideline no matter who is sitting in them."
How about they bring them back to Ghost Town Field on Jan. 2 for Eagles fans to use? They'll need the additional seats.
Now that was a petty sentence. In fact, this column seems pretty petty.
If you're looking for kudos about the valiant effort the Washington Football Team turned in Tuesday night in the wake of the COVID catastrophe that left them with Garrett Gilbert, a New England Patriots practice squad quarterback signed Friday, behind center, you'll need to look elsewhere.
The truth is that Washington (6-8), even with Gilbert at quarterback, had the chance to win this game when the Eagles (7-7) destructed early with two turnovers that led to a 10-0 Washington lead.
"We had our opportunities," Rivera told reporters after the game. "We missed some opportunities that we didn't take advantage of on both sides of the ball."
The defensive side of the ball missed big. Philadelphia gained 519 total yards of offense, with 238 yards coming on the ground. This came against a defensive line that had been decimated by positive COVID tests last week but by game time was healthy, for the most part.
"I don't think we did anything well today when you give up however many yards we did today on the ground," defensive tackle and team captain Jonathan Allen said after the loss Tuesday. "We got our a–—- kicked."
Here's an idea — nobody sits on any benches for Washington Sunday night in Dallas. George Foreman was 45 years old when he knocked out 28-year-old Michael Moorer in the 10th round in 1994. The entire fight Foreman refused to sit on his stool in between rounds.
If we're sending messages, that's a message — to everyone, your players and theirs.
Hear Thom Loverro on The Kevin Sheehan Show podcast.