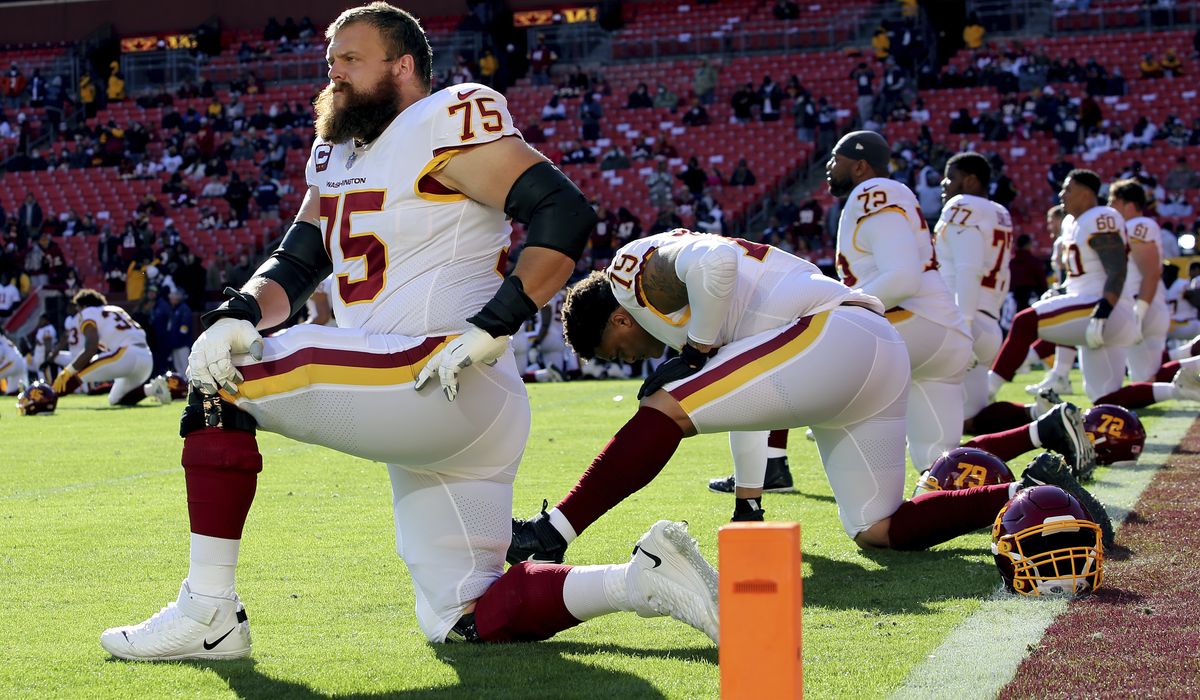 ASHBURN — Over the last few years, the Washington Football Team and Brandon Scherff haven't been able to come to terms on a long-term contract. And with the All-Pro guard set to hit free agency in March, there's a realistic possibility Scherff could have very played his last game for the Burgundy and Gold.
The team might even be setting the stage for his departure.
During a season-ending press conference Tuesday, general manager Martin Mayhew made an interesting comment regarding Scherff's future in Washington — one that hearkened back to Bruce Allen's famous "Kurt" press conference in 2017 after negotiations with Kirk Cousins broke down.
"Our fans should know, we've made every effort to get something done," Mayhew said. We've continued to work on that. Last year we made an offer to be the highest-paid offensive guard in the history of the National Football League. and we'll keep that dialogue going on and see where things go."
For those who don't remember, Allen blasted Cousins for not accepting a two-year offer that would have paid him $53 million fully guaranteed and $72 million guaranteed for injury. In the process, Allen repeatedly called mispronounced Kirk as "Kurt" and said the offer would have made the quarterback "at least the second-highest-paid player by average per year in NFL history."
On Tuesday, Mayhew didn't dive into salary specifics — or mispronounce Brandon as "Braden," for that matter — but that comment likely isn't made if Mayhew was optimistic about signing Scherff to a new contract.
There are other parallels between Scherff and Cousins. Both played under the franchise tag for two years. In Cousins' case, he left for the Minnesota Vikings in 2018 and signed a three-year, $84 million contract that was fully guaranteed. This past season, Scherff played on a one-year, $18 million deal that made him the highest-paid guard in the league in terms of salary.
Scherff and Washington haven't been able to see eye-to-eye on negotiations, though each side hasn't publicly acknowledged why.
Scherff is a tremendously talented player who is a five-time Pro Bowler and, in 2020, became Washington's first All-Pro since 1996. Despite the talent, the 2015 fifth overall pick hasn't been able to stay on the field, including this year when he missed five games because of a knee injury and the virus. Scherff has only appeared in every game in a season twice, last doing so in 2016.
Before bringing up the team's offer, Mayhew did praise Scherff for being an "outstanding player" whose leadership is respected in the locker room.
"You can't replace that kind of production," Mayhew said.
If Scherff does leave, the team still has Wes Schweitzer on the roster. The 28-year-old has started in Scherff's place in the past, though is also coming off an injury.
Scherff, meanwhile, said Monday he wants to remain with Washington.
"I'd love to be here and I hope I can end my career here," Scherff said. "I said that the last couple times, and that's always the goal for me is to kind of finish where you started. I think we got something good building here. Yesterday was just a good stepping stone of where we can go."