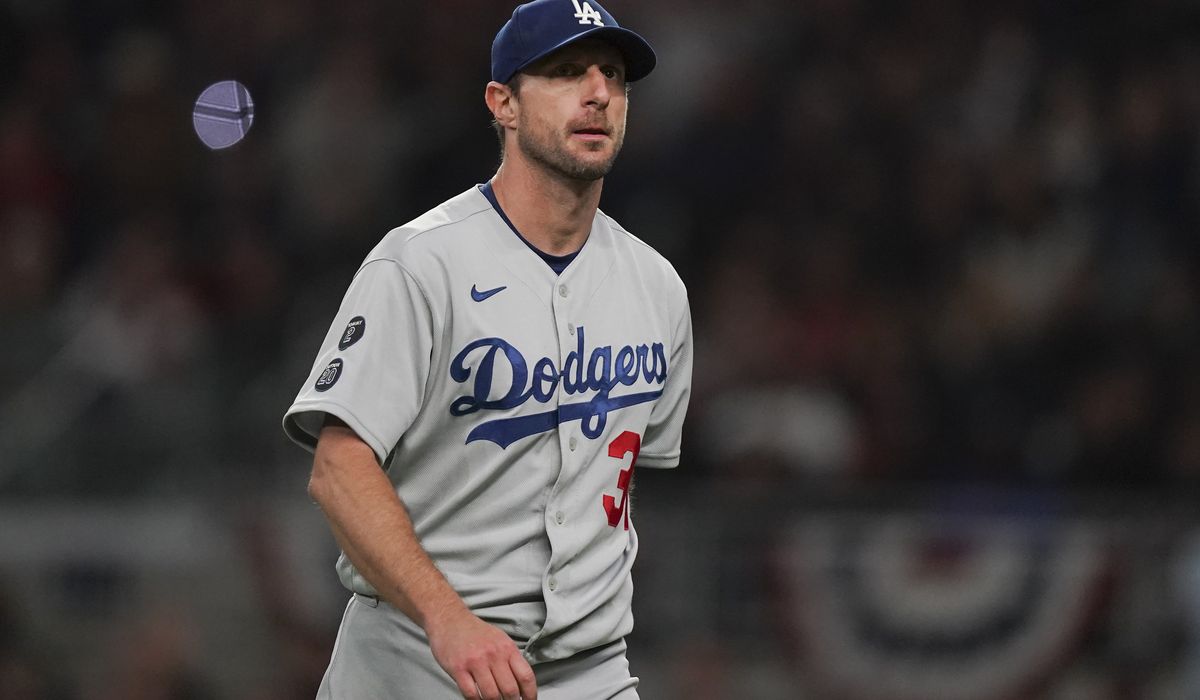 Mr. Met, meet Mr. Max.
Former Washington Nationals pitcher Max Scherzer is expected to join the New York Mets in a massive three-year, $130 million deal, according to multiple reports. The Nationals traded Scherzer to the Los Angeles Dodgers last summer at the trade deadline and will now have to regularly face off against their former ace as Scherzer joins an NL East rival.
MLB insider Jon Heyman first reported Scherzer was nearing an agreement with the Mets.
With an estimated annual salary of $43.3 million, Scherzer would become MLB's highest-paid player on a per-year basis. And that appears to be by a substantial margin. According to Spotrac, the Yankees' Gerrit Cole ($36 million) and the Angels' Mike Trout ($35 million) are the next highest-paid players in baseball. There are others, such as Philadelphia's Bryce Harper ($330 million) and the Dodgers' Mookie Betts ($325 million), who have bigger contracts in terms of overall value, but the salaries are weighed down by the length of the deal.
Under billionaire owner Steve Cohen, the Mets were looking to make a major splash this offseason as they look to get back into contention — and signing Scherzer, a three-time Cy Young winner, qualifies as such.
Even at 37 years old, Scherzer was dominant in 2021 — finishing as a Cy Young finalist with a 15-4 record and a 2.46 ERA. He was even better after his trade to the Dodgers. Scherzer was a perfect 7-0 with a 1.98 ERA in 11 appearances. In the postseason, Scherzer was solid — though he was limited in the NLCS as he was forced to skip a start due to a "dead arm." The Dodgers fell to the Atlanta Braves in six games.
Scherzer's deal comes days before MLB's collective bargaining agreement is set to expire. If a new deal is not reached before 11:59 p.m. Wednesday, as expected, MLB owners will likely lockout the players for the league's first work stoppage since the players' strike in 1995. Scherzer is one of eight players who sit on the players' union executive committee.
There has been a rush of free-agent deals in recent days because of the impending lockout — a change from past years when MLB's free agency had become slow-moving. According to ESPN, there was $405 million worth of contracts handed out Sunday — including Marcus Semien's seven-year, $175 million deal with the Texas Rangers and Kevin Gausman's five-year, $110 million agreement with the Toronto Blue Jays.
Regardless of baseball's labor tension, it will be jarring for Washington fans to see Scherzer in a Mets uniform next season. Scherzer spent six-plus seasons in the District after arriving on a seven-year, $215 million contract in 2015. He not only won the Cy Young twice in that span, but helped the Nationals win their first World Series title in 2019. Scherzer became a fan favorite for his intensity and precision on the mound.
In July, the Nationals sent Scherzer and shortstop Trea Turner to Dodgers for a package of young players that included catcher Keibert Ruiz, seen as one of the best prospects in MLB.
"We got everything out of this group that we could've got out, and we reached the highest level," Nationals general manager Mike Rizzo said then. "There's no shame in having to take a step back, refocus, reboot, and start the process again. And that's what we're preparing to do."
Scherzer is the second former Nationals star to join a Washington rival in recent years. Harper signed a 13-year, $330 million deal with the Phillies in 2019.
By joining the Mets, Scherzer gives New York a top pitching tandem alongside two-time Cy Young winner Jacob deGrom.
It is not immediately clear who the Mets will start yet on opening day (March 31). But their opponent?
The Washington Nationals, who will be in the Big Apple for a three-game series.