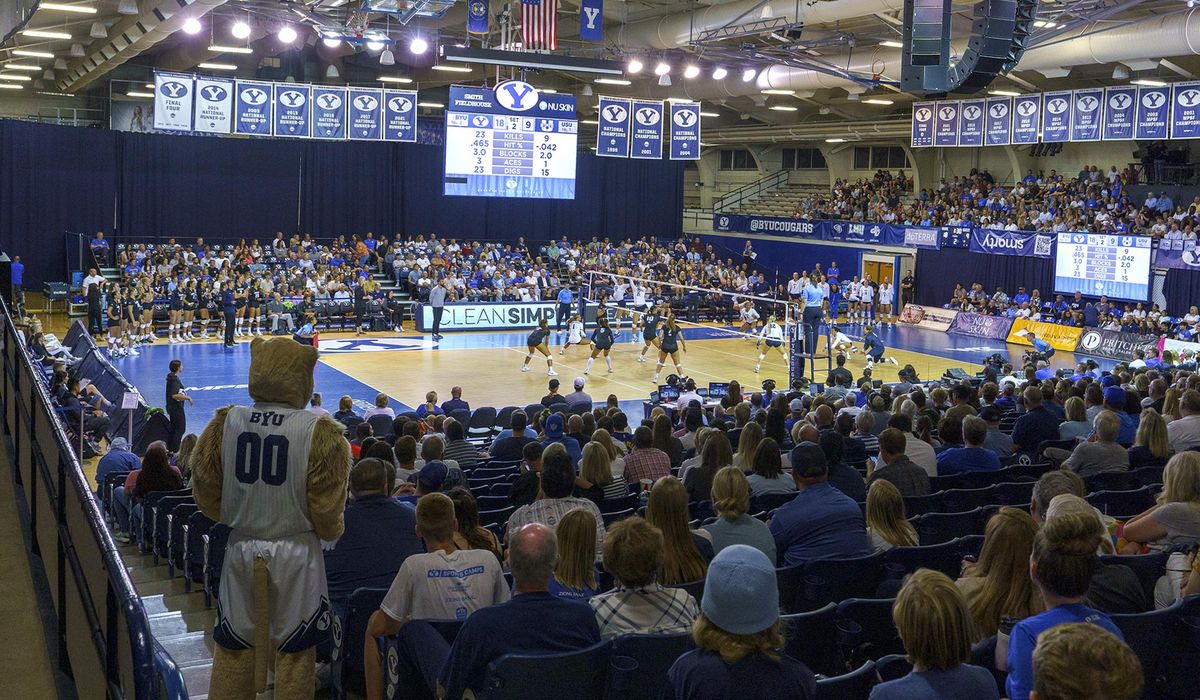 Mainstream media outlets and university officials are being accused of a rush to judgment in response to allegations of racial slurs at a Brigham Young University volleyball game, a claim challenged by a recent investigation.
A BYU probe released Friday said it found no evidence to corroborate the accusation by Duke volleyball player Rachel Richardson that she and her teammates were targeted with racial taunts during an Aug. 26 game at Smith Fieldhouse in Provo, Utah.
But the investigation's findings, which came after reports in the Utah press cast doubt on the accuracy of the player's accusation, prompting calls for a reckoning by media outlets that presented the racism allegation as if it were fact.
"There's no way the media outlets who screwed this up can make up for it, but they sure should try," tweeted conservative media critic Steve Krakauer, host of the Fourth Watch podcast.
He emphasized that the BYU report isn't the final word. The university itself urged anyone with information contrary to its findings to come forward, but the inability by school officials and Utah media outlets to find a corroborating witness comes in stark contrast to the tone of the initial news reports.
For example, the New York Times ran an Aug. 27 article saying that a "Duke University player who is Black was called a racial slur during a game the night before."
MSNBC posted an Aug. 29 op-ed by Dave Zirin headlined "The racism on display at Brigham Young Friday fits a historical pattern," while CNN host Brianna Keilar said in an Aug. 29 report that "Black players from Duke University endured racial slurs from at least one fan in the crowd."
Multiple ESPN personalities also blasted the university. "BYU, you did it, by allowing this to happen and not addressing it expeditiously," host Stephen A. Smith said Aug. 29 on "First Take."
Since then, however, some media figures have tempered their earlier criticism, including Mr. Smith.
"Racism, prejudice still exist in this country. We all know it. We know how prevalent it is, and we know it is something that completely needs to be eradicated," Mr. Smith said on a Friday show. "Having said that, we're not doing ourselves any favors if we bring it up and broach it when it doesn't exist, and that's the key that we need to focus on."
Also pulling back was CNN. In an Aug. 29 interview, CNN host Brianna Keiler said that a "Division I volleyball match at Brigham Young University turned really ugly, when Black players from Duke University endured racial slurs from at least one fan in the crowd."
On Monday, however, CNN anchor John Avlon used the BYU incident to launch a segment on media accountability called Upon Further Review.
"Now, healthy skepticism is always a virtue, but this doesn't read like a cover-up," Mr. Avlon said. "Instead, it feels like there was a rush to judgment because of a well-intentioned impulse to believe the Duke player's accusations."
He pointed out that the BYU report never calls Ms. Richardson a liar, but "leaves open the possibility that she sincerely believes that she heard repeated racial heckling and that some sort of misunderstanding occurred."
"When investigations turn up a very different fact pattern, it's incumbent upon everyone to acknowledge it and adjust," said Mr. Avlon. "Fidelity to the facts is all that we as journalists and citizens should ask."
We debuted a brand new segment on @NewDay today focused on journalist accountability – we're calling it: "Upon Further Review" – check it out – https://t.co/P3L5xbGD0d

— John Avlon (@JohnAvlon) September 12, 2022
Ms. Richardson said in an Aug. 28 statement that she and her fellow Black teammates were "targeted and racially heckled throughout the entirety of the match," but BYU said that interviews with more than 50 spectators, including Duke personnel, and reviews of audio and video footage failed to turn up any such behavior.
"From our extensive review, we have not found any evidence to corroborate the allegation that fans engaged in racial heckling or uttered racial slurs at the event," said the BYU statement. "As we stated earlier, we would not tolerate any conduct that would make a student-athlete feel unsafe. That is the reason for our immediate response and our thorough investigation."
So far the universities that were most critical of BYU have stuck by their initial criticism.
University of South Carolina women's basketball coach Dawn Staley announced Sept. 2 that she had canceled the Gamecocks' 2022-23 and 2023-24 series with BYU, and that she would seek a different opponent for the Nov. 7 home opener.
In a Friday statement, Ms. Staley said she had not changed her mind despite the results of the probe by BYU, which is owned and operated by the Church of Jesus Christ of Latter-day Saints.
"I continue to stand by my position," Ms. Staley said. "After my personal research, I made a decision for the well-being of my team. I regret that my university, my athletics director Ray Tanner and others got drawn into the criticism of a choice that I made."
The South Carolina Freedom Caucus, a group of 14 conservative state House legislators, accused her of an "ill-advised overreaction" and demanded records related to the decision to cancel the games in a Sept. 7 letter to athletic director Ray Tanner.
"We share the important belief that there is no place for racism in sports or society. We also share the common belief in fairness, which is a fundamental basis for athletic competition," said the caucus letter. "An equally important belief, that I hope we share, is the cherished principle of the presumption of innocence."
Duke University President Vincent Price said in an Aug. 28 statement that he was "outraged by the racist slurs and taunts directed at members of our volleyball team at BYU this weekend."
After the results of the BYU investigation, Nina King, Duke vice president and athletic director, issued a statement with the hashtag "#HateWontLiveHere."
"The 18 members of the Duke University volleyball team are exceptionally strong women who represent themselves, their families and Duke University with the utmost integrity," she said. "We unequivocally stand with and champion them, especially when their character is called into question. Duke Athletics believes in respect, equality and inclusiveness, and we do not tolerate hate and bias."
Ms. Richardson and her family have not commented publicly on the BYU conclusions.