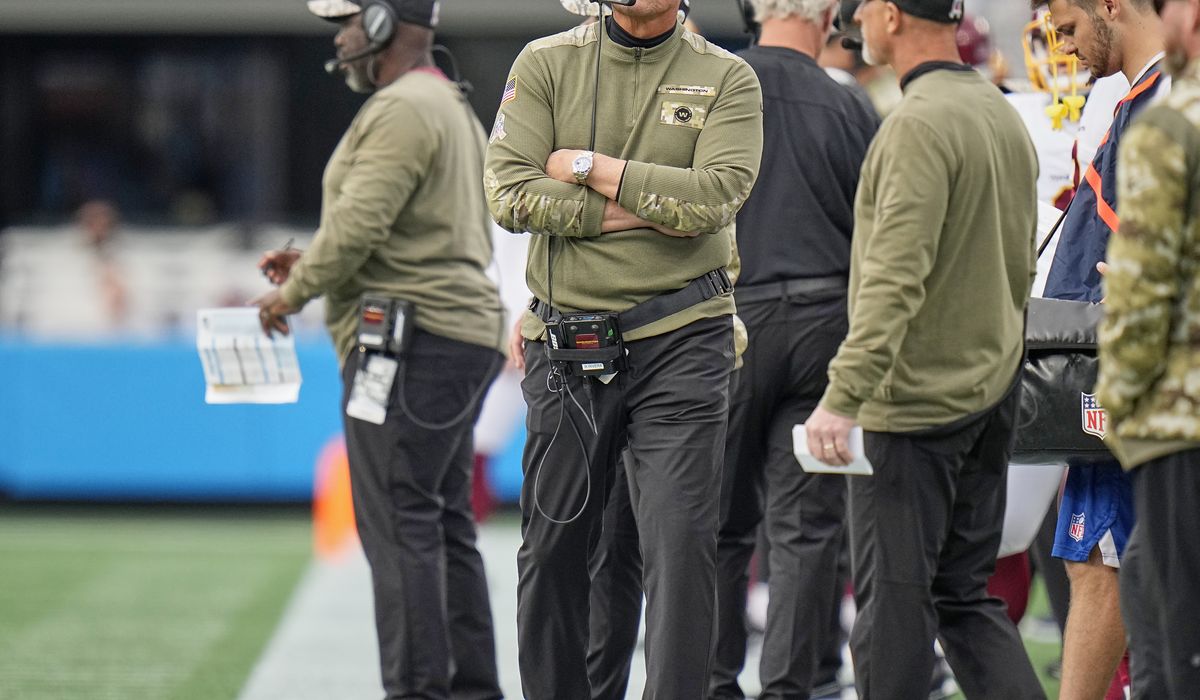 Every NFL game is more important than the previous one.
But Washington's game Monday night against the visiting Seattle Seahawks is more than just that. It's a make-or-break contest — one that could vault the team into the playoff picture or make those hopes more like a dream.
Entering the night with a two-game winning streak, Washington could put itself in a solid position in the wild card hunt — and even a chance at winning the division — with a win against the Seahawks.
According to FiveThirtyEight, a win Monday to move the Burgundy and Gold to 5-6 would give Washington a 46% chance to make the playoffs and a 25% chance of winning the NFC East.
Meanwhile, in the actual standings, Washington would be the No. 7 seed. If the season were over, that would be good enough for the final wild-card spot thanks to Washington holding a tiebreaker over Minnesota, New Orleans and Atlanta.
FiveThirtyEight, best known for its presidential forecast models, has a playoff projection model for the NFL season, but it gives Washington a better chance than other websites.
Before Monday's game, ESPN's FPI model gives Washington just a 13.2% chance of becoming a playoff team, less than half the chance FiveThirtyEight gives the team. (ESPN's FPI doesn't have a user function to predict future games like FiverThirtyEight's model does.)
Either way, the fact that Washington would be sitting in a playoff spot with a win Monday is both welcome for a team that won the division last season — albeit with a 7-9 record — and surprising for a squad that was 2-6 entering its bye week.
That team — the one coming off a loss to Denver in which the offense put up only 10 points — had one of the NFL's worst secondaries, a running back with a nagging shin injury and a quarterback who had thrown twice as many interceptions as touchdowns over the previous month.
There are three main reasons Washington has a shot at the playoffs if it wins Monday.
The first is Washington's play itself. Two straight wins coming off a bye, one at home over the defending Super Bowl champion and Tom Brady-led Tampa Bay Buccaneers and another on the road against an energized Carolina team in the return of Cam Newton, was no small task. Without those wins, Washington wouldn't be eyeing up the wild card, but the same could be said if it loses to Seattle on Monday.
The second reason is thanks to Roger Goodell and the NFL. The seventh playoff spot, which was added last season, has given hopes to Washington and every other middling team in the NFL. In previous seasons, a team two games below .500 on Thanksgiving would not be considered a potential playoff team — that is, unless their division was as dreadful as the NFC East was last season.
Lastly, during Washington's two-game winning streak, multiple other NFC contenders have done Ron Rivera's squad several favors.
Dallas, once a 7-2 shoe-in to win the NFC East, has lost two straight games — most recently a 36-33 overtime loss to Las Vegas on Thanksgiving. That's why Washington even has a chance to win the division, as two of its remaining games are against the Cowboys on Dec. 12 and Dec. 26.
Philadelphia, a team that entered Sunday with a chance to compete for the NFC East and in a good spot to earn a wild card spot, lost to the Giants and severely hurt their postseason odds. Carolina also lost to Miami to fall to 5-7.
Also in the wild card hunt, Chicago's playoff chances diminished in Week 11 with a loss to the Lamar Jackson-less Ravens, and the Saints (5-6) have lost four straight games, with the latest being a 31-6 drubbing by the Bills on Thursday night. Finally, a Washington win on Monday would put the final nail in the coffin on Seattle's wild card hopes.
While Washington's odds would be markedly better with a win Monday compared to a few weeks ago, they're still not as likely as other NFC wild card contenders. San Francisco (6-5) has won three straight games, while the Kirk Cousins-led Minnesota Vikings are 5-6 and one spot behind Washington in the standings. If Washington wins Monday, FiveThirtyEight gives the 49ers a 73% chance of earning a wild card spot and the Vikings a 48% chance, slightly higher than Washington.
None of this matters, though, if Washington doesn't win Monday. A loss to the Seahawks puts Washington's playoff odds at just 17%, according to FiveThirtyEight, with less than a 10% chance of winning the division.