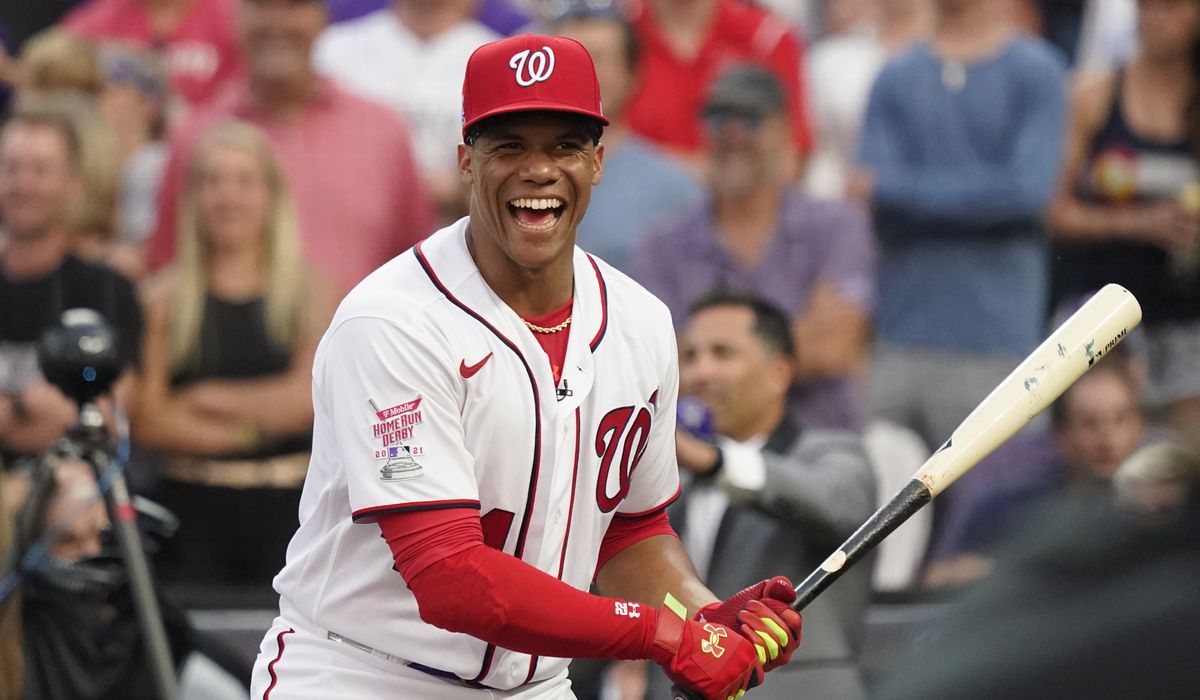 While other baseball teams were making high-profile free agent signings before the game closed up shop due to the owner's lockout in their labor dispute — Max Scherzer to the New York Mets was particularly painful — the Washington Nationals were doing their grunt work, signing a one-year deal with infielder Cesar Hernandez and bringing back infielder Alcides Escobar on a one-year deal.
These were solid deals, but no press conferences and nothing in particular to make their fans feel encouraged about climbing back from their last-place finish 65-97 in 2021.
But Washington made a big splash last week doing international business, landing one of the prize young free agents and one of the top prospects in the pool — Cuban outfielder Cristhian Vaquero, who came to the Dominican Republic in 2020.
Vaquero was one of 10 international free agents the Nationals reached deals with, and the one that should make their fans feel pretty good about the future — though that future is not 2022 or the year after.
He'll join the team's Dominican Winter League camp, then play his first season in the Dominican Summer League later this year.
Vaquero is just 17, but, according to mlb.com, he would still be a high school player and on his way to being a top five pick in the amateur draft.
Here is the scouting report on Vaquero from mlb.com: "a potential five-tool player with lots of potential, Vaquero is one of the most dynamic international prospects on the market. He's also one of the most athletic.
"Vaquero was originally a left-handed hitter, but he learned to switch hit once he left Cuba, which has resulted in improved pitch recognition and more confidence at the plate. At 6-foot-3 and close to 190 pounds, he is a physical specimen with tons of raw strength and power. He can really cover ground in center field, shows a strong arm and has a chance to be a plus defender at the position. He plays hard with lots of energy and shows tons of natural instinct in practice and in games."
Maybe he reminds you of a slightly bigger version of you-know-who.
Speaking of Juan Soto, the other big news that came out last week was that the Washington City Paper reported Washington has a verbal deal to sign Juan's brother, 16-year-old Elian Soto. It is a verbal agreement because Soto can't be officially signed until 2023.
It had been reported that the Mets were about to sign Soto. There was a video posted on Elian's Instagram account of him working out in a Mets uniform. But he changed course — perhaps a bigger move than this simple transaction.
If you are reading tea leaves, Juan Soto — who is on the clock to be a free agent in 2025 — wanted his brother to sign with Washington, according to sources.
Another big picture view is that the Nationals' Dominican scouting and player development operation — once the source of embarrassment for the franchise from the Smiley Gonzalez scandal in 2009 — has become a source of strength for the organization, thanks to Washington general manager Mike Rizzo and Johnny DiPuglia, assistant general manager in charge of international operations.
Nearly 25% of the Nationals' roster is comprised of players that came through that international scouting operation — such as Armando Cruz, the Dominican shortstop the Nationals signed last year. Cruz is in West Palm Beach now, along with other club top prospects like pitchers Cade Cavalli, Cole Henry and Jackson Rutledge, and Dusty Baker's son, Darren, as the team is conducting a winter prospects camp in West Palm Beach.
What's that mean for 2022? Not much. Rizzo has made it clear that the team is in a "retool" and not a rebuild, and insists they are not far off from a championship-caliber contender again. But without putting a competitive team on the field this season, they risk losing a young fan base (entering its 17th season in Washington) with a third straight losing season. The answer to those questions is in the health of Stephen Strasburg, the effectiveness of Patrick Corbin and the team's willingness to spend once that free agent market opens again.
Internationally, though, the Nationals have made a significant investment in the future. The big, consuming question, as it will continue to be, is will Juan Soto be around to be part of it?
⦁ Hear Thom Loverro on The Kevin Sheehan Show podcast.