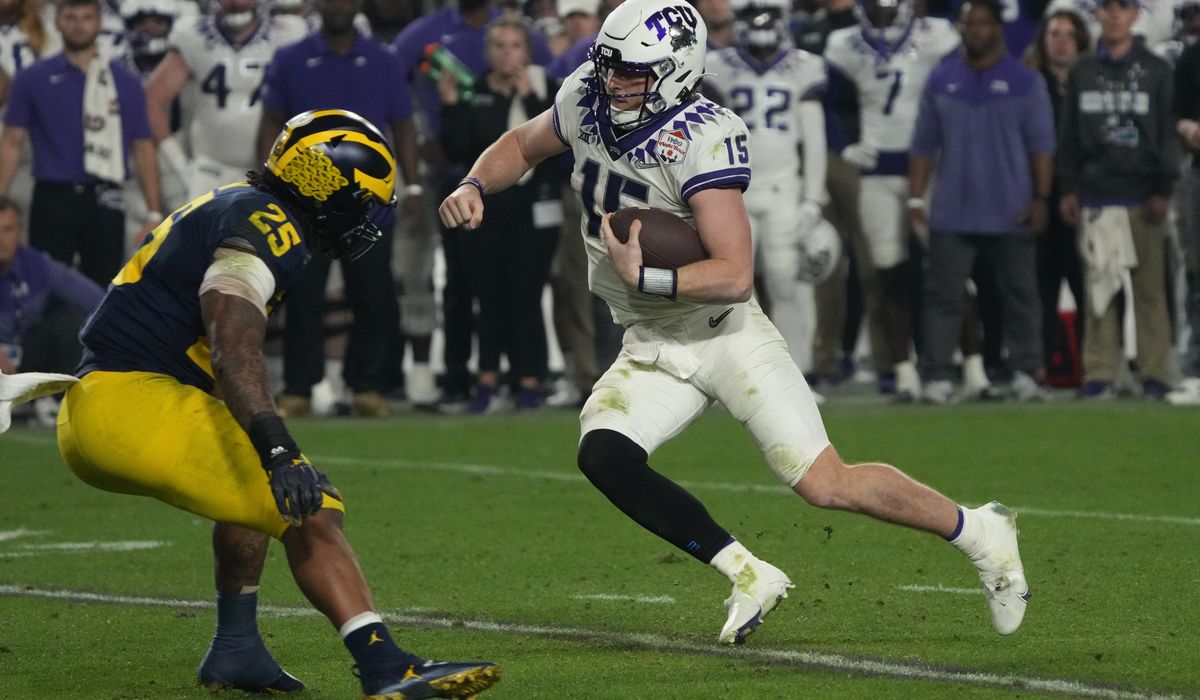 GLENDALE, Ariz. — Max Duggan accounted for four touchdowns, TCU returned two interceptions for scores and the third-ranked Horned Frogs withstood a frenetic second-half surge by No. 2 Michigan to win the Fiesta Bowl 51-45 on Saturday night and advance to the College Football Playoff national championship.
TCU (13-1), the most unlikely team ever reach the four-team playoff in its nine-year history, has one more game left in its improbable season and it will come against either No. 1 Georgia or No. 4 Ohio State on Jan. 9 at Sofi Stadium in Inglewood, California.
Coming off a losing 2021 season and picked to finish seventh in the Big 12 in Sonny Dykes' first year as coach, the Horned Frogs will try to win the program's first national championship since 1938.
Duggan and the Frogs will no doubt be underdogs — again. That didn't matter much against Michigan (13-1) as they took it to the big, bad Big Ten champions and turned the Fiesta Bowl into circa-2010, Big 12-style scorefest.
It was the highest-scoring Fiesta Bowl ever and the second-highest scoring CFP game behind Georgia's 54-48 Rose Bowl victory against Oklahoma on Jan. 1, 2018.
This one was 34-16 with 2:46 left in the third quarter and the Hypnotoads, a nickname borrowed for the animated TV show "Futurama," and their purple-clad fans could sense their wild ride wasn't over.
Of course, nothing has come easy for these Frogs all year. During their unbeaten regular season, they won seven straight games by 10 points or fewer.
What followed was five touchdown drives — with a TCU turnover tucked in between — each taking less than a minute.
Roman Wilson's 18-yard touchdown run on a reverse and a 2-point conversion pulled Michigan within 41-38 with 14:13 left in the fourth quarter.
Back came the Frogs, unleashing their best weapon. Future first-round draft pick Quentin Johnston took a short crosser from Duggan and turned it up the sideline for a 76-yard score that put the Frogs up 10.
TCU finally got a stop on Michigan's next possession and turned it into a 33-yard field goal by Griffin Kell to go up 51-38 with 10:02 left.
After the Frogs and Wolverines combined for 62 points in 20 second-half minutes, the pace was throttled back. But Michigan cut the lead to six with 3:14 left on J.J. McCarthy's 5-yard TD pass to Wilson.
TCU couldn't ice it and Michigan got one more shot, starting from its 25 with 52 seconds left — but couldn't get first first down.
Before TCU could line up in victory formation, there was an officials' review for targeting on the Frogs. What was another minute or so of drama in a season filled it for TCU?
The play was clean. Duggan, the Heisman Trophy runner-up, took one last snap and a knee and the exhausted Frogs rushed the field and celebrated under cloud of purple and white confetti.
Copyright © 2022 The Washington Times, LLC.