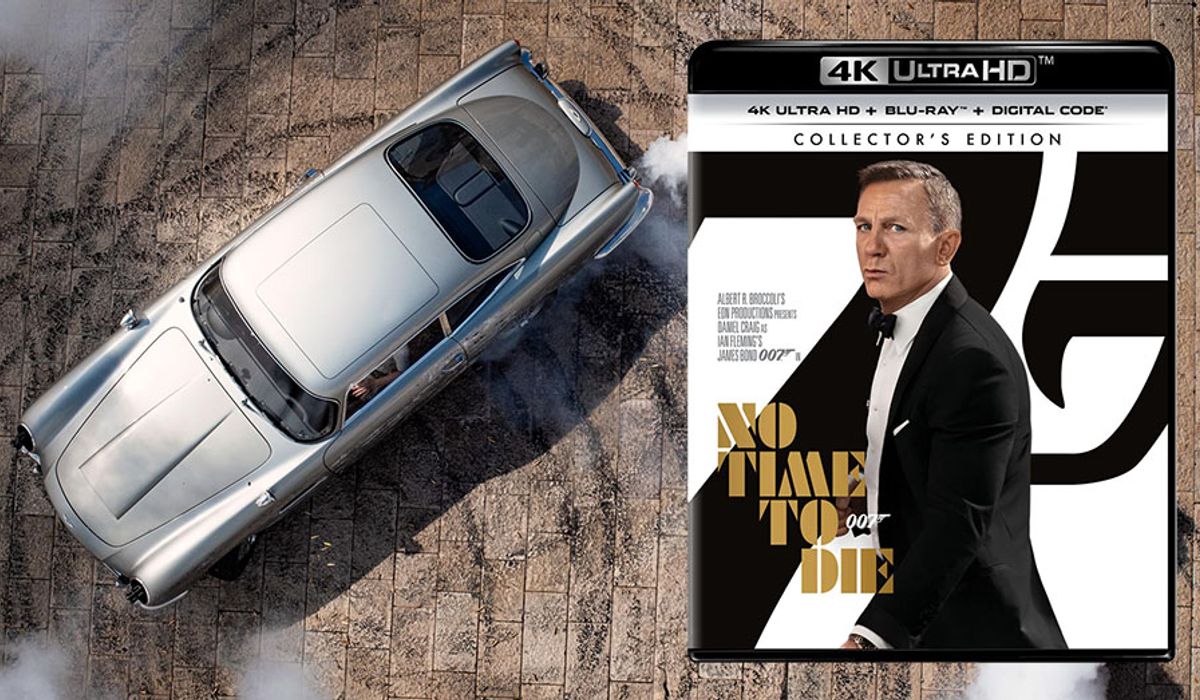 Daniel Craig's swan song as the super-agent James Bond finally made it to theaters after a long pandemic pause to reach blockbuster status and now lives on ultra-high definition disc in No Time to Die: Collector's Edition (Universal Studios Home Entertainment, not rated, 1.37:1 aspect ratio, 119 minutes, $59.95).
The 25th film in the franchise finds 007 now retired and in love with psychiatrist Dr. Madeleine Swann (Léa Seydoux) while still hunted by former enemies such as Ernst Stavro Blofeld (Christoph Waltz) and his Spectre minions.
He's plucked out of retirement when the revenge-seeking killer Safin (Rami Malik) steals the British-made biological nanoweapon nicknamed Heracles and threatens humanity.
Viewers get another perfectly mixed though uninspired Bond film only taken to a new level of emotion wrapped around the exit of Mr. Craig.
That still translates into extreme action such as motorcycle acrobatics; a spinning Aston Martin BD5 with machine-gun turrets replacing headlights; fierce firefights; close-quarters combat; high-speed car chases; 007 free-falling off the side of an aqueduct; and a high-tech airstrike.
And, more fun, is the return of a familiar supporting cast including Ralph Fiennes as Gareth Mallory aka M (the head of MI6); M's secretary Eve Moneypenny (Naomie Harris); tech equipment specialist Q (Ben Whishaw); and Bond's CIA buddy Felix Leiter (Jeffrey Wright).
Fans of Mr. Craig's final performance will not be disappointed with the results despite its potentially controversial ending for the pop culture icon. I still don't believe it.
4K in action: As with all of the Bond films released on UHD, viewers get a panoramic, eye-popping travelogue of some of the most beautiful and exotic places on earth as the agent tackles another worldwide threat to humanity.
This time out, the visual quest begins, with help from uber-crisp and high dynamic range enhancements, in a dreamlike snowy Langvann in Norway moving to the ancient cave dwellings of Matera in Southern Italy; London at dusk (as Spectre agents walk down the side of a building); a sunny inlet off the coast of Jamaica; and eventually ending up in the stark concrete confines of the Poison Garden.
The action and nearly three-dimensional locations look so lifelike, rich in clarity and color, that moments literally pop out from a home entertainment screen.
Best extras: Viewers get a quartet of featurettes (roughly 30 minutes). The featurettes explore the use of practical stunts; the epic locations; production design and costuming; a dangerous motorcycle jump; an exploding and sinking ship on the Cuban coast; and the detail poured into building the Havana bar set.
Next, and best of the bunch, is a 47-minute retrospective that originally appeared on Apple TV about Mr. Craig and his 15-year, and five-film career as Bond.
Through an offscreen conversation with producers Barbara Broccoli and Michael G. Wilson and the actor, the trio reminisces over visuals starting with Mr. Craig being selected as the next 007 much to the chagrin of the press (too blond and too dour, too unworthy and too ugly).
They then continue the nostalgia trip with moments from "Casino Royale," Skyfall," "Quantum of Solace," "Spectre" and "No Time To Die," including Mr. Craig's final appearance on the set.
Viewers also get a digital copy of the film that is exclusive to iTunes, a rare decision and not standard in the world of multiple, compatible streaming services with Universal usually aligned with the Movies Anywhere service.