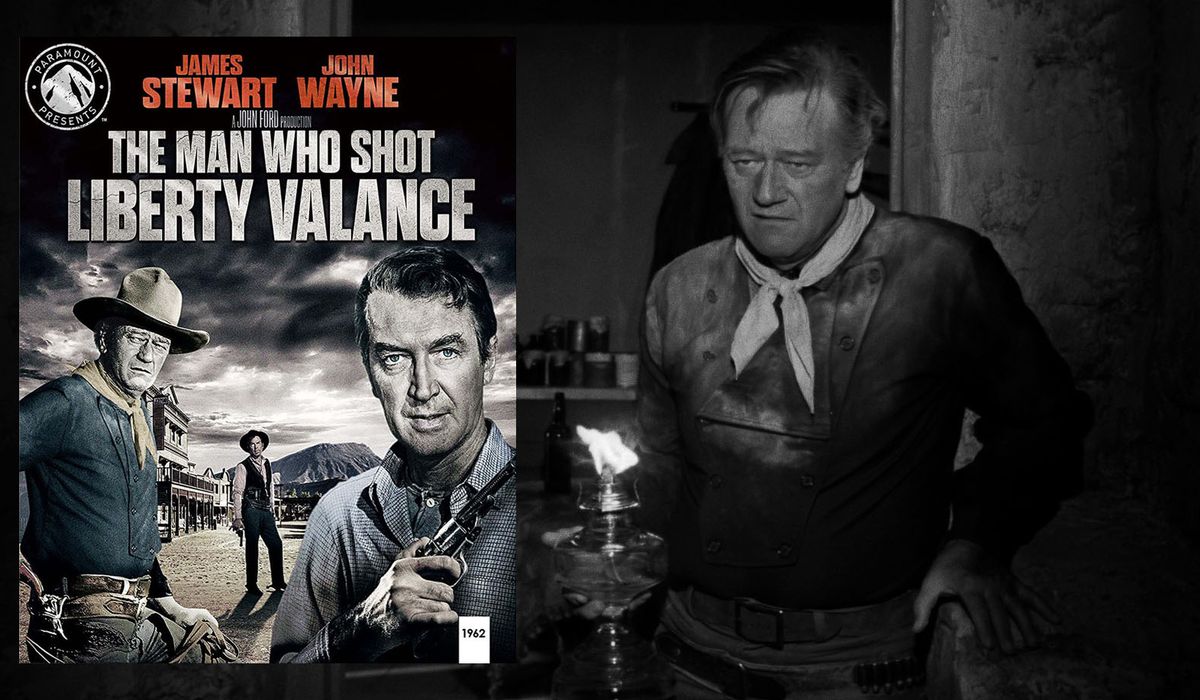 Director John Ford's last great Western debuts on ultra-high definition in Paramount Presents: The Man Who Shot Liberty Valance (Paramount Pictures Home Entertainment, not rated, 1.85:1 aspect ratio, 123 minutes, $39.99).
The 1962, black-and-white classic starts with the once simple lawyer, now famous senator, Ransom Stoddard (James Stewart) returning to the small town of Shinbone to mourn the death of his friend Tom Doniphon (John Wayne).
He quickly gets cajoled by a nosy news editor to tell the tale of how he gained notoriety as the individual who killed the vicious and sadistic outlaw Liberty Valance (Lee Marvin).
That fatal act now comes to light as the film flashes back 25 years to the beginning with Ransom's repeated humiliations by the outlaw leading to his ultimate gun duel with far-reaching results.
It also focuses on his budding friendship with the gunslinging Doniphon and Ransom's romantic interests in Doniphon's girlfriend, Hallie Stoddard (Vera Miles).
Suffice it to report, the performances from the two veteran actors do not disappoint.
Wayne is classic cowboy with his mythical swagger, all-knowing grin and dropping his famous "pilgrim" lexicon within minutes of getting onscreen.
Stewart maintains his classic and ultra-sincere, common-man persona showcasing a determination to muster the courage to fight evil, alone and against the odds.
They are well-supported by a group of known character actors including Academy Award winner Edmond O'Brien as news editor Dutton Peabody, Roy Rogers' sidekick Andy Devine as Marshal Link Appleyard and Spaghetti Western staple Lee Van Cleef and "Cool Hand Luke's" Strother Martin as Valance's henchmen.
Ford's masterpiece goes outside the typical early Western genre by offering a rebuke of the violence that romanticized the Old West. A revelation in the plot shows the consequences of murder, even if justifiable, that eventually builds one man into a legend and emotionally destroys another's life.
4K in action: Paramount boasts a new and meticulous ultra-high definition remastering of the movie to deliver to home theater owners the best possible version of this important Western selected for preservation by the United States National Film Registry.
The 2160p visuals deliver exceptional clarity with only slight grain and zero pops, dirt or specks while high dynamic range tweaks focus on bringing the best of Ford and cinematographer's William H. Clothier choice of light and shadows especially relevant during the final gun duel.
Sharp details show off some of the arduous work done to give "The Man Who Shot Liberty Valance" new life in the digital realms.
Viewers will love to inspect the textures of a cloth vest; braids of twine; crinkled bindings on the side of a book; tufts of dirt on Doniphon's shirt; the nicks and blemishes in the front wood face of a podium; and the ornate metal work on the handle of Valance's whip.
Best extras: All contained on the included Blu-ray version of the film, the goodies starts with a Filmmaker Focus, standard for the "Paramount Presents" collection.
This time featuring almost eight minutes with venerable film critic Leonard Maltin as he touches on the story's origins; the atypical shooting locations for a Ford Western; the cinematography; and reminding us that the actors were too old to play the characters, but they still delivered.
Next, Paramount offers a collection of extras culled from its 2009 DVD Centennial Collection Edition, starting with a commentary track from esteemed director and film historian Peter Bogdanovich and peppered with archival insight from Ford and Stewart.
Bogdanovich is in a very soft-spoken and deep introspective mood throughout, sometimes making it hard to stay awake to appreciate his scholarly and analytical remarks, but the addition of the director and star's comments make it worth a listen.
A second, limited, track stars Ford's grandson and biographer, Dan Ford, commenting on only seven select scenes helped by archival interviews with the director, Stewart and Marvin.
Rounding out the digital goodies is "The Size of Legends, The Soul of Myth," a seven-chapter, nearly hourlong retrospective on the movie.
It's supplemented with home movies; still images; archived interviews with producer A.C. Lyles and Marvin's wife Pamela; while featuring analysis by critics such as Molly Haskell, Richard Schickel, Scott Eyman and historians Michael F. Blake, all offering insights on the production, actors and cantankerous director.
Also, the slipcover opens into a fold-out reproduction of the original color poster.