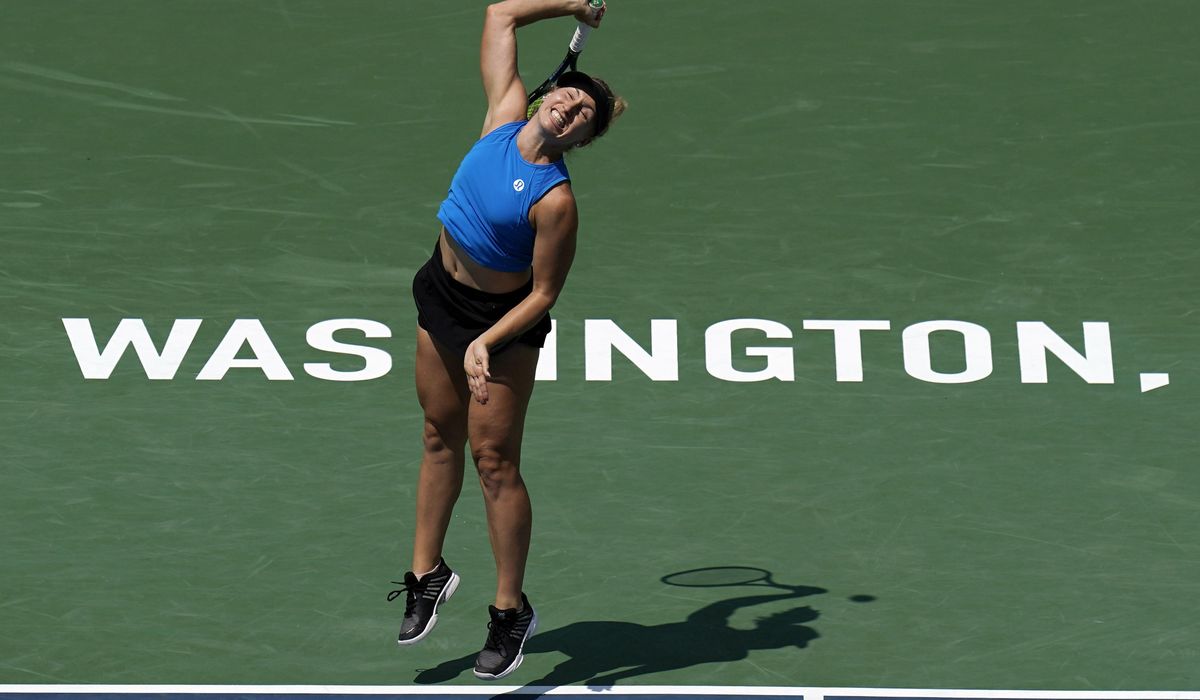 A slew of upsets Wednesday broke open the men's and women's draws as the Citi Open in Rock Creek Park filled out its third round.
World No. 7 and top-seed Jessica Pegula was knocked-off in defense of her 2019 tournament title by Australian Daria Saville, 7-5, 6-4. The American had 10 opportunities in the match to break Saville's serve, but only converted on one of them.
"I felt like it was really, really important to win the first set," Saville said after her victory. "I thought that, like, for me it would have been really hard to be composed in the second set if I lost the first set."
Saville is no stranger to upsets. She advanced over current world No. 10 Emma Radacanu due to a retirement in Mexico earlier this year.
"I was really excited to play against a top-10 player again," Saville said. "It was a great challenge. To get away with a win is even better."
Third-seed and two-time Grand Slam champion Simona Halep is also out of the tournament. The Romanian retired due to illness in the second set of her match on Stadium Court against Russian Anna Kalinskaya down 7-5, 2-0.
Seeding attrition has come quick in the WTA 250 tournament. Of the eight seeded players who began on the women's side of the draw, only three remained after Wednesday's daytime session. Two of them, defending U.S. Open champion Radacanu (2) and former world No. 1 Victoria Azarenka (4) return to action Thursday.
Men's No. 2 seed Hubert Hurkacz of Poland also went down in his first match of the tournament, losing to upstart Finn Emil Ruusuvuori in straight sets, 6-4, 7-6 (3). Hurkacz won another ATP 500 tournament in Halle, Germany, over world No. 1 Daniil Medvedev in June. But he's now been upset in the first round in his last two tournaments: Wimbledon and here.
Australia's Alex de Minaur, the 11 seed here, was up a set and even had a match point in the second in his match against Yoshihito Nishioka. But he too got caught in the wave of upsets, as Nishioka fought back for the 3-6, 7-6 (6), 6-2 win.
The Japanese player has now defeated the runner-up and winner of last week's ATP Atlanta Open, respectively, in his first two matches here after dispatching American Jenson Brooksby in the first round.
The top American man, world No. 13 Taylor Fritz, had no problems in a 6-4, 6-3 victory over Australian Alexei Popyrin. The No. 3 seed has won nine of his last 10 matches and will face 16th-seeded Daniel Evans of Great Britain in the third round.
"I felt pretty good. I played a pretty solid match," Fritz said. "Considering the preparation leading in, I felt it was a really solid match."
The lone loss in that run was a memorable, marathon five-set quarterfinal match against Rafael Nadal at Wimbledon. His win today is his first action since, as the Californian has been resting a nagging foot fracture. But now, heading into the hard court season, Fritz said he's not feeling the effects of it.
"I think coming here the first day or two…it was on my mind definitely when I was practicing, because we were ramping up,, going really hard, doing two-hour practices, doing a lot of moving to kind of test it out," Fritz said. "The last couple of days, it's felt great. No pain at all. It's a really good sign, really good sign moving forward."
Fellow American Sebastian Korda also advanced to the third round, winning the 'Sebastian Battle' over 12th-seeded Argentinian Sebastian Baez 6-1, 6-4. The increasing heat during his session didn't bother Korda as much as it did in a first-round loss last week in Atlanta.
"I had a good first set in Atlanta last week. Unfortunately lost but kind of just wasn't physically ready to battle in the heat just yet," Korda said. "[I'm] just kind of getting my body ready to [play] matches again. Just been feeling good on court, and hopefully I can just keep going."