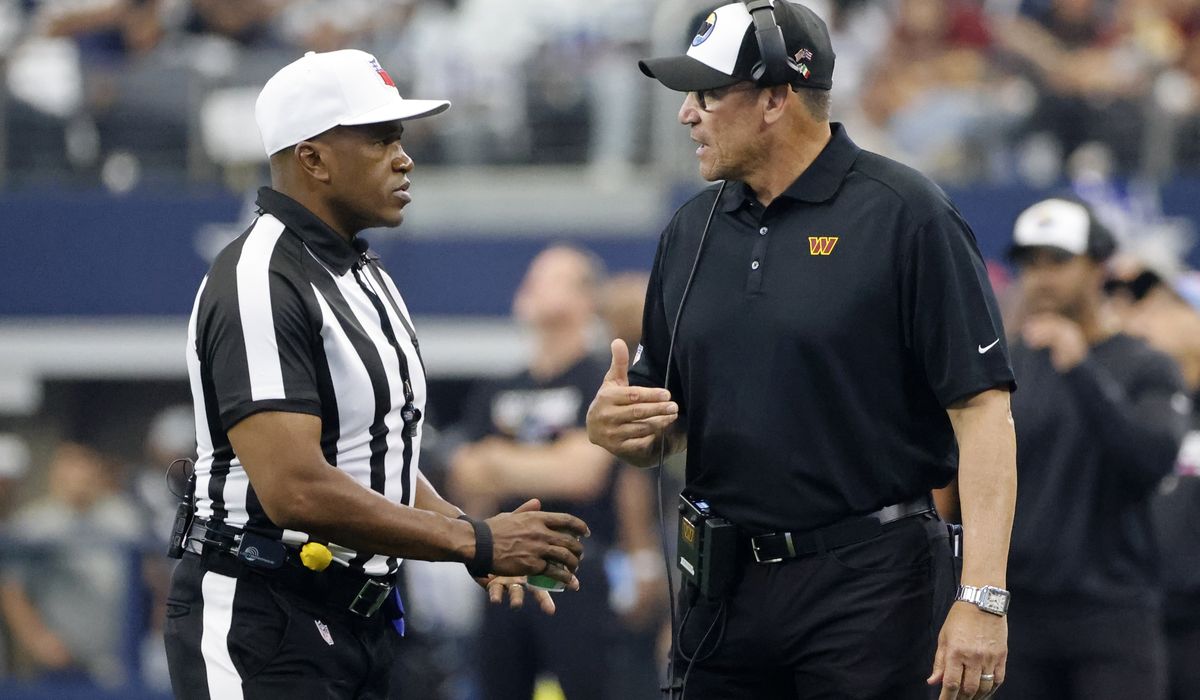 ARLINGTON, TEXAS — Benjamin St-Juste lept up to pick off the pass from Cowboys quarterback Cooper Rush. But before the Commanders cornerback could even celebrate, there was a flag on the ground. Illegal contact. Defense. No. 25.
Rush's interception — St-Juste's takeaway — was taken away. Just like that.
"It's tough, man," said St-Juste, who was called for impeding receiver Noah Brown.
St-Juste's penalty was one of 11 on the Commanders in Sunday's 25-10 loss to the Dallas Cowboys, an area that proved to be a huge difference in the loss. The flags cost Washington 136 yards, gave the Cowboys four first downs and wiped out two would-be interceptions. Later in the game, Kam Curl's takeaway was also negated: William Jackson III was called for holding.
How damaging were the penalties? After St-Juste's illegal contact, for instance, the Cowboys went on to score their first touchdown of the game — and retake the lead from Washington. The Commanders had just engineered their best drive of the day with a Carson Wentz touchdown throw to Jahan Dotson. The Cowboys answered with a 15-play, 75-yard drive that ended with a Rush touchdown to Michael Gallup.
The score gave the Cowboys a 12-7 lead, which they took into halftime.
"I'm disappointed for the most part," Commanders coach Ron Rivera said. "Certain penalties are concentration focused. … We've got to sit in there and we've got to be disciplined. That's something that we as coaches got to make sure gets corrected. That was not good enough.
"We hurt ourselves and took ourselves out of certain opportunities."
The penalties weren't just on the defense. Far from it. Too often, the Commanders would wipe away positive offensive plays with back-breaking penalties that squandered offensive drives.
No sequence better encapsulated this than quarterback Carson Wentz's intentional grounding in the third quarter. Down 15-7, technically a one-score game, the Commanders had broken into the Cowboys' red zone. But on the very next snap, pressure had gotten to Wentz — who made a desperate attempt to throw it away rather than take the sack.
There was a problem, however: The referees determined no receiver was in the area. The Commanders went from second-and-8 to third-and-22.
Then, to make matters worse, tackle Sam Cosmi was called for a false start. Third-and-27.
The Commanders picked up on a chunk of yards and settled for a 45-yard field goal. Opportunity wasted.
"You can't get away with shooting yourself in the foot like that and it definitely cost us," Wentz said.
Wentz actually had two intentional grounding penalties. He was called earlier in the game for one after his pass failed to clear the line of scrimmage. On that particular play, the quarterback appeared to hold the ball for way too long as he likely could have thrown it away before he was on his way to the ground.
The penalties were part of a rough day for Wentz, who also had two interceptions and threw for just 170 yards. The quarterback was hit a total of 11 times, a week after he was sacked nine times against the Philadelphia Eagles, his former team.
On defense, Jackson's penalties also hurt. Even more so than the interception that was taken away, Jackson was whistled for pass interference that helped the Cowboys gain 38 yards. Jackson appeared in position to make the play, but used too much contact with Gallup before the ball arrived.
That error moved Dallas into scoring territory. Two plays later, Rush hit wide receiver CeeDee Lamb for a 30-yard touchdown. On that play, Jackson said he expected help from safety over the top and played outside leverage — only there was no safety. The Cowboys had drawn Washington's other defensive back away from the area, Jackson said.
Defensive tackle Jonathan Allen, meanwhile, expressed frustration at the discrepancy in calls. The Cowboys finished with only four penalties for 20 yards.
"The officiating was horrible," Allen said. "But that's not the reason we lost. It helped, but that's not the reason we lost. We have to do better as a team."