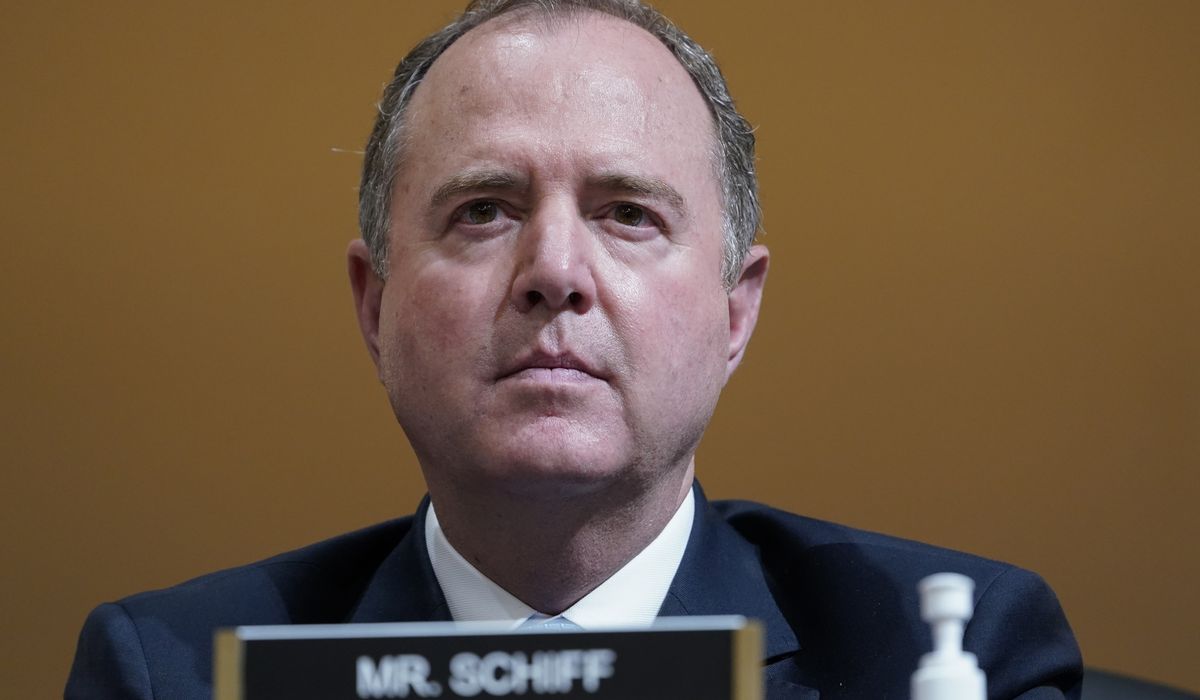 Rep. Adam B. Schiff, California Democrat, said Sunday that he will need to weigh the "validity" of any subpoenas for testimony that a Republican-controlled House may dole out to him next year.
Mr. Schiff is one of several Democrats whom House Republican Leader Kevin McCarthy of California has said will be removed from committee assignments as his new majority launches probes into the Biden administration's and Democratic-controlled Congress' handling of several issues.
"We will have to consider the validity of the subpoena. But I would certainly view my obligation, the administration's obligation to follow the law," Mr. Schiff, the outgoing intelligence-committee chairman, said on CNN's "State of the Union."
He said that Republicans' refusals of subpoenas from several Democratic-led panels would not justify a tit-for-tat refusal, but still added that he would be the judge of any subpoenas' legality.
"The fact that they have disrespected the law is not a precedent I would hope that would be broadly followed. But we will have to look at the legitimacy or lack of legitimacy of what they do," he said.
House Republicans have vowed to investigate the administration's handling of several hot-button issues, including the COVID-19 pandemic, the U.S. withdrawal from Afghanistan and the surge of migrants illegally coming across the southern border.
---
SEE ALSO: Rep. Adam Schiff denies reported rift within Jan. 6 committee
---
Mr. McCarthy, if he becomes House speaker as expected, also plans to remove Mr. Schiff and at least two other Democrats who have consistently butted heads with Republicans — Reps. Ilhan Omar of Minnesota and Eric Swalwell of California — from their positions on national-security related committees.
Mr. Schiff charged Mr. McCarthy with doing "nothing but carry Donald Trump's water" as he tries to lock down enough speakership votes amid dissension from his right flank.
"McCarthy's problem is that he cannot get to 218 without Marjorie Taylor Green and Paul Gosar and Matt Gaetz," he said. "So he will do whatever they ask."
Rep. James Comer, the Kentucky Republican who is in line to chair the House Oversight Committee, offered Sunday a preview of the dozens of investigations he plans to conduct into the Biden administration.
He said there are "between 40 and 50 different things" requiring probing because "the Democrats on the House Oversight Committee haven't investigated anything in this administration."
"They've investigated the Washington Commanders football team, we've had several hearings on social issues that the oversight committee has absolutely nothing to do with, issues like abortion," Mr. Comer told NBC's "Meet the Press."
"We believe that there have been hundreds of billions, if not trillions of dollars, wasted over the past three years, so that spans two administrations, in the name of COVID. We want to have hearings on that," he said.
He added that "waste, fraud, abuse and mismanagement" of pandemic relief money will be a top priority.
"We want to try to determine what happened with the fraudulent unemployment insurance funds, the fraudulent PPP loan funds, some of this money that's being spent for state and local governments in the COVID stimulus money," Mr. Comer said. "That's going to be the goal of the House Oversight Committee."
Mr. Schiff, who sits on the House Jan. 6 panel in addition to his position atop the Intelligence Committee, denied reporting that there is a rift among staffers and Vice Chair Rep. Liz Cheney ahead of their final report about the U.S. Capitol attack.
Mr. Schiff suggested it was untrue that the Wyoming Republican and staffers were butting heads over her reported push to make their final report center on former President Donald Trump while leaving out other key elements.
"No. I mean, at least I certainly hope not," Mr. Schiff told CNN's "State of the Union" of whether the story was accurate.
"I would like to see a report be as broad and inclusive as possible. We are discussing as a committee among the members, what belongs in the body of the report, what belongs in the appendices of the report, what is beyond the scope of our investigation. And we'll reach those decisions in a collaborative manner," he said.