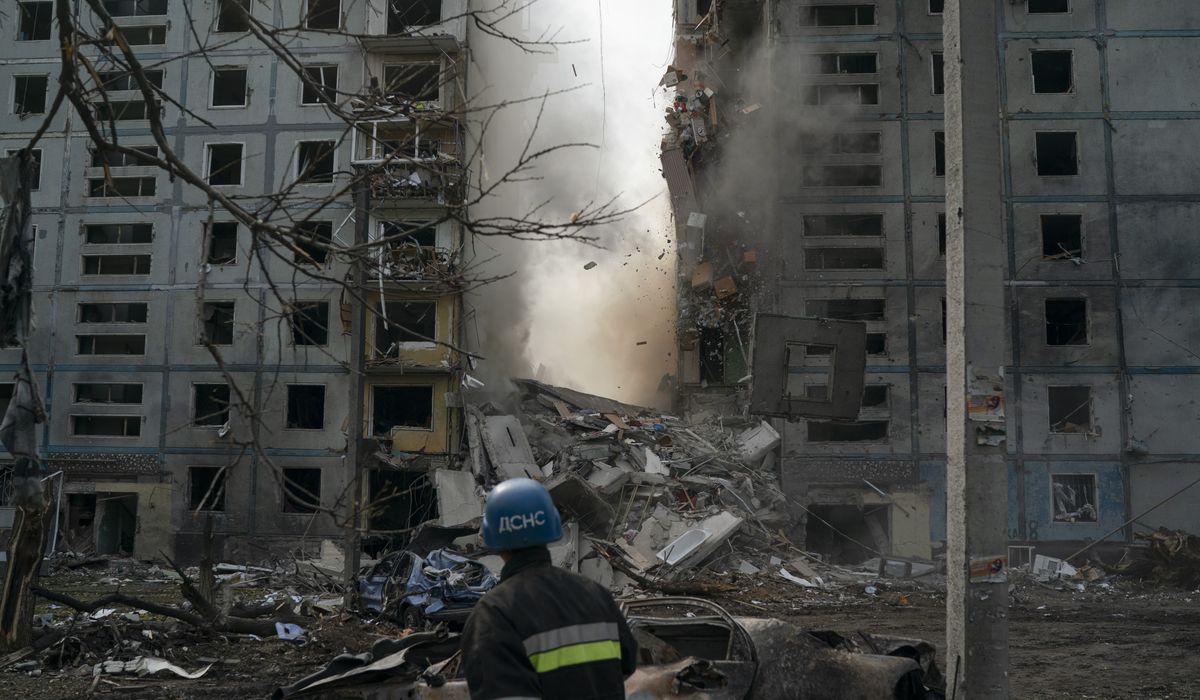 Russian forces pounded an apartment complex in southeastern Ukraine on Sunday, killing at least 19 people and wounding more than 85 others, a day after a blast damaged a bridge linking Russia to the Crimean Peninsula.
Ukrainian officials said a Russian missile attack had struck an apartment block and other residential buildings in the city of Zaporizhzhia.
A Ukrainian state-run television said the predawn bombardment was the second of its kind against the city in three days, according to Reuters.
The news agency reported that Russian aircraft had launched at least 12 missiles, partially destroying a nine-story apartment block, leveling five other residential buildings and damaging many more.
The strikes came after a large explosion Saturday that partially collapsed the bridge over the Kerch Strait — the longest bridge in Europe and a key supply-line passage vital to Russia's military operations in southern Ukraine.
While Ukrainian forces have not claimed responsibility for Saturday's bridge blast, the explosion triggered expressions of satisfaction from Ukrainian officials on social media over the weekend. It also came after threats by Ukrainian officials to strike the bridge leading to the Crimean Peninsula, which Moscow seized from Ukraine in 2014.
Russian President Vladimir Putin claimed Sunday that the bridge explosion was a "terrorist attack" carried out by Ukrainian special forces, a characterization that could open the way for Moscow to try to recast aspects of its nearly eight-month-old invasion of Ukraine as "counterterrorism" operations.
Such a move could be used by the Kremlin to further broaden the powers of Russian security agencies domestically to ban rallies, tighten censorship, introduce restrictions on travel and expand a partial military mobilization that Putin ordered last month.
"There's no doubt it was a terrorist act directed at the destruction of critically important civilian infrastructure," Mr. Putin said in a video of a meeting Sunday with the chairman of Russia's Investigative Committee, Alexander Bastrykin, according to Russian news reports.
Other Russian authorities said a truck bomb caused the blast and claimed Sunday that freight and passenger trains were still able to use the bridge.
Russian military forces appeared to be responding with escalation. The strikes targeting civilian buildings in Zaporizhzhia added to recent fighting that has focused on regions just north of Crimea.
Ukrainian President Volodymyr Zelenskyy lamented the latest attacks in a Telegram post. "Again, Zaporizhzhia. Again, merciless attacks on civilians, targeting residential buildings, in the middle of the night," he wrote.
"From the one who gave this order, to everyone who carried out this order: They will answer."
Ukrainian Foreign Minister Dmytro Kuleba called the attacks on civilians a war crime and urged an international investigation.
The strikes come as Russian forces have suffered a series of setbacks in the war. Ukrainian forces have staged a counteroffensive in recent weeks and retaken areas of the country's south and east, while Moscow's decision to call up more troops has led to protests in Russia and an exodus of tens of thousands of Russians.
The Kerch Bridge attack marked the latest setback for Russia, damaging an important supply route for the Kremlin's forces and delivering a blow to Russian prestige.
Mr. Putin personally opened the Kerch Bridge in May 2018 by driving a truck across it as a symbol of Moscow's claims on Crimea.
• This article is based in part on wire service reports.