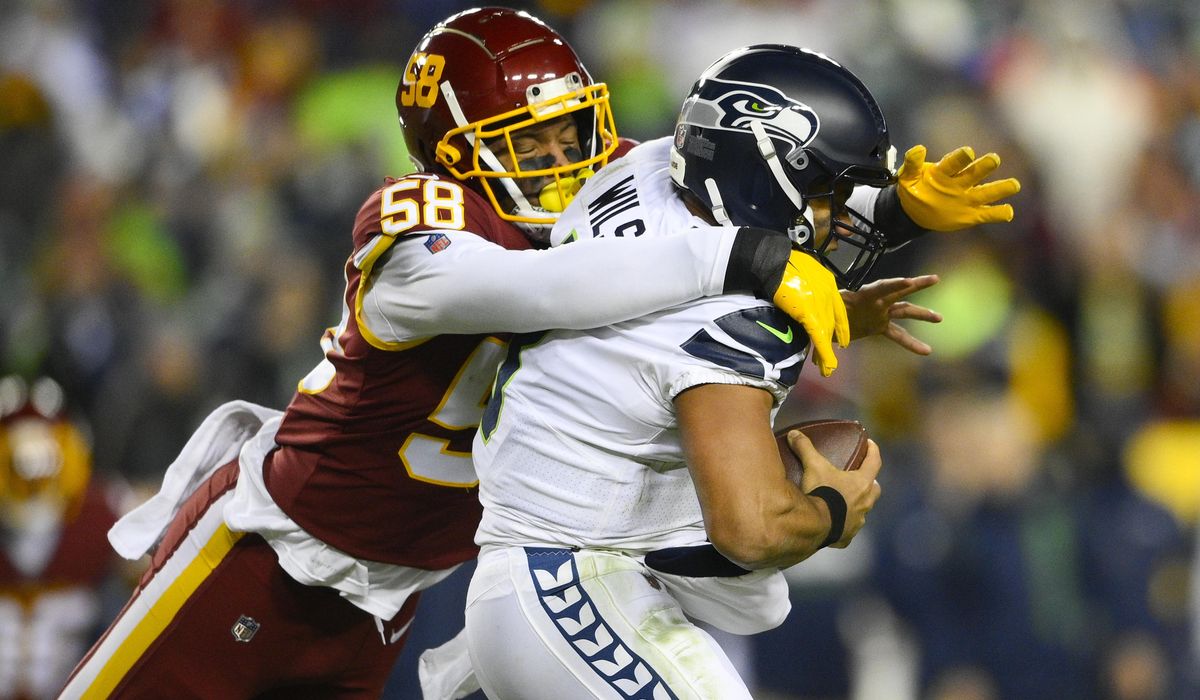 ASHBURN — Shaka Toney used to follow his mom everywhere around Philadelphia. Deborah Toney-Moore was a widowed mother of five, and with Toney the youngest of the bunch, where she went, he was in tow. Errands. After-school activities. Community meetings.
But it was on those trips, she says, that her son developed a "strong sensibility" — a sense of curiosity, an interest in people and processes that carried over at home. The youngest Toney might seem disinterested at first, but his mom could tell by the questions that came later that her son was quietly tuned in to everything he heard or saw. She remembers the 2008 Democratic primary, and there was 9-year-old Shaka, suddenly weighing in on the race between Hillary Clinton and Barack Obama.
"He doesn't say much, but he's always watching," said Toney-Moore, a high school executive administration associate who also organized a youth camp for 30 years. "He catches on fast."
This weekend, the 23-year-old defensive end for the Washington Football Team returns to his hometown with the Burgundy and Gold to face the Eagles, a few miles away from the West Philadelphia neighborhood where Toney grew up.
Against the Eagles, the seventh-round rookie is in line to start his second straight game as the virus has decimated the Burgundy and Gold, with 21 players sidelined on the league's COVID-19 reserve list — 14 on the defense.
A few weeks ago, Washington coach Ron Rivera, unprompted, brought up Toney while discussing his team's ability to deal with adversity. At the time, Toney was still a seldom-used, undersized edge-rushing rookie out of Penn State. But Rivera said he could see he "had some tough times coming up" by the way he plays.
Rivera's brief comments don't tell the full story. They don't explain how Toney made it to the NFL despite being 6-foot-2 and 238 pounds, significantly smaller than other players at his position. Or how his father, Anthony, died unexpectedly at age 39 when Toney was 2. Or how a fire burned their home in 2004.
"We call him Shaka Toney — shocked the world — because so many people count him out," Toney-Moore said. "But he just keeps finding a way."
'She saved all of us'
Toney was in his bed when his mom yanked him up from the mattress, with the rest of the house already in flames. Even now, 17 years later, Toney vividly recalls feeling the heat of the fire, riding in the back of an ambulance and even going to school the next week with ash still on his clothes.
In that moment, Toney-Moore gathered her kids as quickly as she could and rushed them out of the house.
"My mom," Toney said, "she saved all of us."
"I'm a spring-to-action person," she said. "I'll cry later. .. When this comes in, and you have to just do it, you do it."
As much as the fire affected Toney's life, what followed was might have mattered even more. Without a home, Toney's neighbors took his family in. And Toney's school at the time — Harambee Institute — started a project called "Operation Toney." Toney-Moore said the "whole community came out to rebuild our home." People helped clean, paint and even provided carpeting and sheet-rocking.
Toney-Moore said her family was out of their house for a little more than a year, but were able to eventually come home.
Toney, even then, was grateful that everyone seemed to understand. No matter how hard the situation was, he said, classmates didn't make light of it or point out the ashes on his clothes. Most kids, he thinks, probably would have teased him.
"People really helped my mom out," Toney said. "And those blessings — I want those type of blessings. God forbid something ever happen to me, somebody would look after my family. Somebody would take my family in. … I try to do right by people the best I can because I remember those moments."
Coincidentally, the year of the house fire is the same year that Toney started playing football. And there, he'd learn to overcome plenty, as well.
Chasing a dream
When a player falls to the seventh round of the NFL draft as Toney did, there's a debate that occasionally happens that centers around whether it would just be better if he went undrafted. After all, at that point, most of the contract is unguaranteed anyway and there's an argument that a player could stand to benefit from getting to pick his team, rather than having no say in the matter.
But posed this theory, Toney rejects it. He wanted the honor to hear his name called. He worked too hard for that not to happen, he said. It was something he needed to "check off" in his life.
"No matter what, if a team drafts you, they see something in you," said Toney, the 246th pick. "That means they got a plan for you."
Washington's plan was for Toney to be a situational pass rusher. At Penn State, Toney earned first-team All-Big Ten thanks to an explosive first step and speed off the edge. But he wasn't seen as the same type of player as, say, Micah Parsons, Toney's college teammate who went in the first round and now stars for the Dallas Cowboys. Toney, too, wasn't even a hyped recruit coming out of high school, committing to Penn State as a three-star prospect.
Yet, Washington is counting on Toney in more ways than expected. He's shown flashes — dating back to training camp. In Week 12, he recorded his first career sack by dragging down Seattle's Russell Wilson. Two weeks later, he earned his first start with Montez Sweat, James Smith-Williams and Casey Toohill all sidelined with the virus.
"He's got a little bit of natural slither to him in terms of his movement skills," Rivera said. "And he's a guy that if he can get into a little bit of a rhythm, especially for a young guy, he could help make an impact."
Toney believes he's ready for the opportunity. Already this year, he's had a lot to juggle. During training camp, Toney spent his hours after practice focusing on finishing his degree in rehabilitation and human services. As part of that, Toney worked an internship remotely with his old high school, Imhotep Charter — guiding kids who needed tutoring. He'd squeeze in time in between practice and meetings, while also learning Washington's playbook.
Asked how he managed to balance it all, Toney doesn't have much to say other than he "got it done" and "figured it out."
Chalk it up to a mother's influence.
"She did more than enough to get her kids," Toney said, "to where they needed to be."