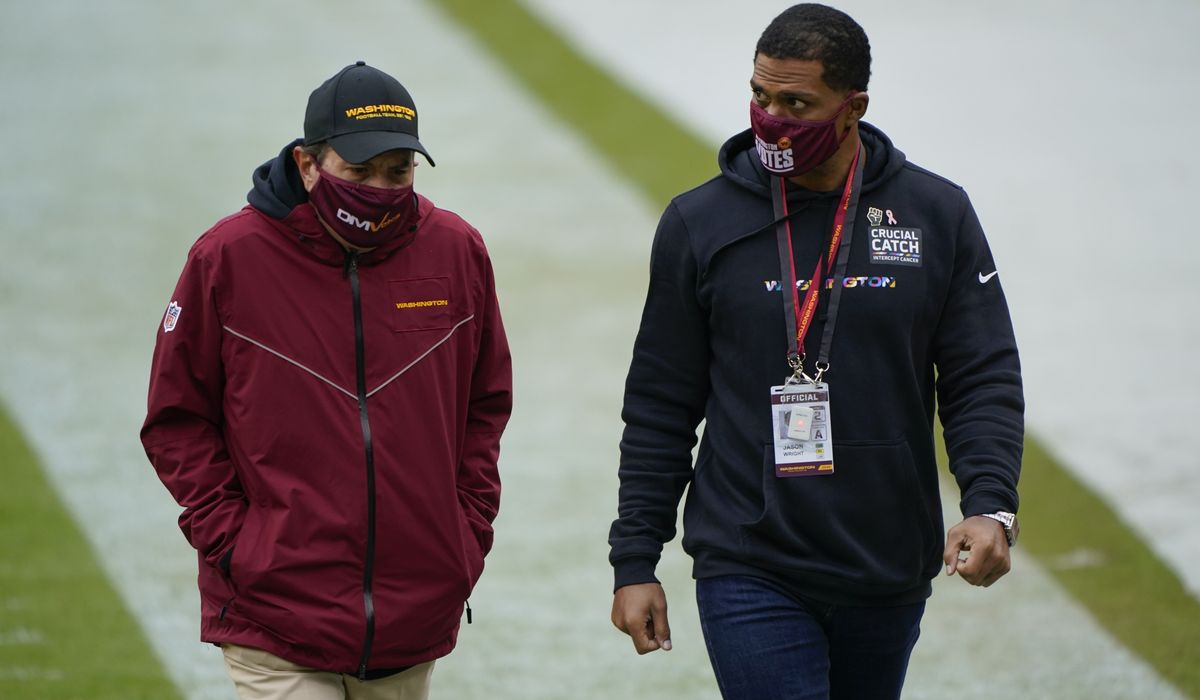 There were so many Philadelphia Eagles fans at Lincoln Financial Field South in Landover Sunday that the stadium couldn't hold them all.
A railing above the north field entrance collapsed while a group of Eagles fans were trying to reach out to their winning quarterback, Jalen Hurts. The fans toppled down to the ground, but still managed to get up and get selfies with Hurts.
They should have finished the job and torn down the rest of the stadium. Washington Football Team fans would have probably helped.
The secondary story, as it typically is, is that Washington lost 20-16 to the Eagles, dropping its record to 6-10 with the season finale a useless game against a hapless Giants team next Sunday at MetLife Stadium.
Coach Ron Rivera calls it a "character" game.
"What I take away is hopefully we're developing the character … when you have these types of situations, circumstances," he said. "The most important thing is how we finish. We got one more game left to go and hope we show up, we do the things that we're supposed to Wednesday, Thursday, Friday and we go from there and see how we are. That's probably the most important thing. It's that old saying, you get knocked down, well it's how you get up that's important so we'll see."
Funny. A few years ago, in a season-ending meaningless game against a hapless Giants team, coach Jay Gruden declared it was important for his team to win so they could finish 8-8 and not have a losing record.
"Finishing strong is what we've been preaching here the last two to three weeks and that'll be the case again this week against the Giants," Gruden told reporters.
They lost, 18-10, to the 2-13 Giants.
What happened on the field Sunday and what will happen next Sunday has, for the most part, become background noise. It was in 2017 and it is in 2021, as it has been for much of the time since owner Dan Snyder took over what was once one of the marquee franchises in the NFL.
The story following their loss to Philadelphia became the stadium. "It should come as no surprise that a stadium as old and janky as FedEx Field is endangering folks even after the game is over," NBC Philadelphia reported.
The Washington Football Team would prefer that the story be about the new stadium — the one it supposedly will try to build near West Virginia.
The Washington Post reported last month that the team has been meeting with Virginia legislators to get support for a new stadium and commercial complex in either Loudoun or Prince William counties.
The rich part is that they want the state General Assembly to use Virginia Baseball Stadium Authority — the agency started in 1995 to get a ballpark built in Northern Virginia — to come up with the financing and construction of a new football stadium, the Post reported.
What's ironic is that there was a time when Snyder himself was a bidder to bring a baseball team to the Washington area. In 2002, he and former BET founder Robert Johnson were reported to be partners in a bid to purchase the Montreal Expos, the Major League Baseball-owned franchise that would be moved to the District in 2005 and purchased by the Lerner family a year later.
"We're a force that knows sports, marketing and television," Snyder told the Washington Post. "We can be a powerful force in the effort to get a baseball team here and make it successful. I think we're a good fit."
No one took the bid seriously — sort of like this so-called plan for a new stadium in Virginia.
There are many reasons why Snyder's latest project will likely not happen. There is a graveyard full of projects like this in Virginia.
Let us not forget Jack Kent Cooke — who was respected and admired publicly with three Super Bowl trophies, the opposite of Snyder — stood at a press conference with Gov. Doug Wilder to announce a new stadium in Alexandria in 1992.
Five years later, Cooke opened his stadium in Landover, where Snyder will also likely wind up building his new one. Next door to the old one.
A stadium project in a state like Virginia — where they are well-accomplished at saying no — requires significant political will and good political friends. And, let's face it, when it comes to friends, the only kind Snyder has are the ones he can buy.
Enemies, though — the Washington owner has some big ones, including former team president Bruce Allen, who has been accused by Snyder in court documents of participating in a smear campaign against the NFL owner.
Allen, once the team's point man on new stadium talks, is unlikely to be much help to Snyder now. Allen's brother George, the former Virginia governor, just helped elect Republican Glenn Youngkin as the new governor.
Maryland? Well, Snyder charged in those same court documents that Baltimore investment banker John Moag, former chairman of the Maryland Stadium Authority and a powerful political figure in that state, was in on some of the "smear campaign" conversations.
Snyder, as is his modus operandi, has alienated powerful people on both sides of the Potomac.
The District? They barely acknowledge his existence.
If there is a path to a new football stadium in the city, it is not likely through city politics. The only chance might be to go the federal route — the RFK land is owned by the National Park Service and leased by the District. However, they won't find any friends in the Biden administration.
"The hate for Snyder is a big hurdle to overcome," said one District source familiar with the politics.
It is a hurdle that stretches from Washington to West Virginia.
You can hear Thom Loverro on The Kevin Sheehan Show podcast.