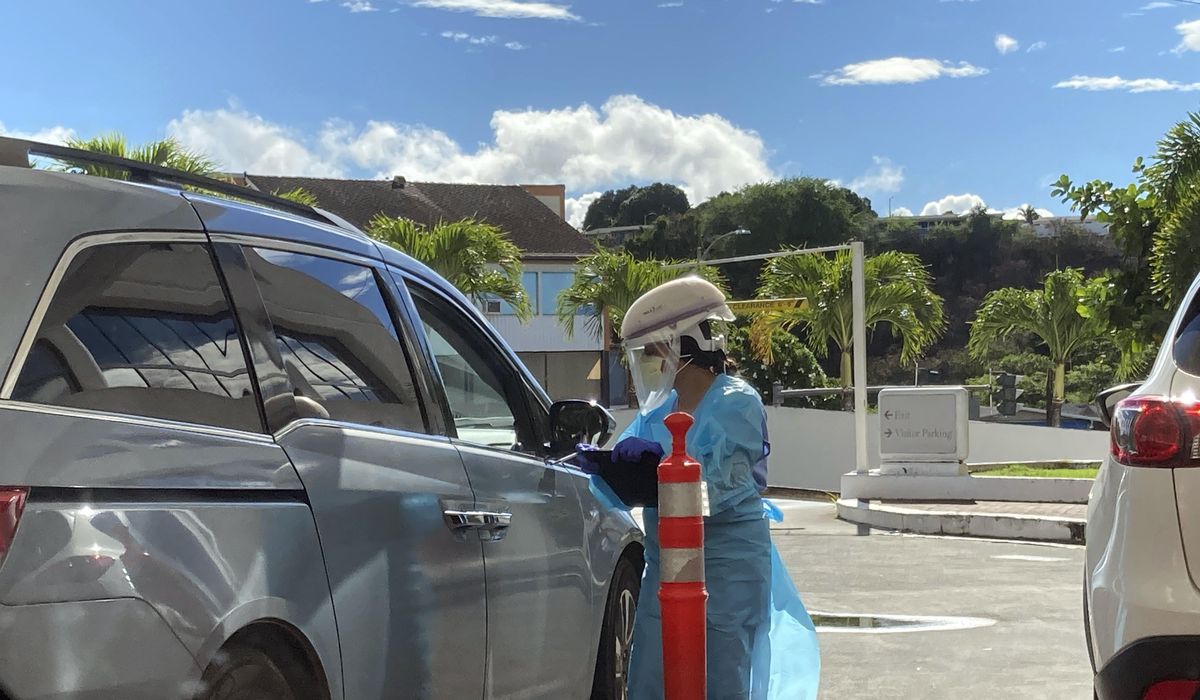 Hawaii reported an omicron case in an Oahu resident who hadn't left the state, as states grapple with the likelihood that the new variant is circulating within their communities instead of coming in piecemeal on planes, and might be reinfecting people who recovered from the coronavirus.
"This is a case of community spread. The individual has no history of travel," the Hawaii Department of Health said Thursday.
The Hawaiian, who had mild symptoms, had been previously infected with the coronavirus but not vaccinated.
South African scientists said the omicron variant may have a "substantial ability" to evade immunity from a prior infection based on population-level studies of the recent spike in cases in their country, where omicron was first detected, versus waves from the beta and delta variants.
"This finding has important implications for public health planning, particularly in countries like South Africa with high rates of immunity from prior infection," the study, which hasn't been reviewed or published in a journal, said.
If confirmed, the finding would have major implications for persons who were relying on "natural immunity" versus vaccine-induced immunity against the virus and its mutations.
"I think the risk for the future is that states that are relying on a lot of delta infection to provide immunity for their populations, and saw their prevalence levels come down because they had huge delta waves like the South — states like Florida, Louisiana and Mississippi — they could be more susceptible to this new variant," former Food and Drug Commissioner Scott Gottlieb told CNBC's "Squawk Box."
He said states that have high vaccination rates "may be less susceptible."
"I think it's tragic that there's going to be a lot of people who get delta infection going forward because they are unvaccinated and then they're going to turn around and find that perhaps that immunity they acquired from the delta infection isn't going to be protective against this new variant," Dr. Gottlieb said.
He cited demographic and vaccine distribution data from South Africa that suggested persons who got delta but weren't vaccinated are the ones getting slammed by omicron.
Drugmakers are trying to figure out if omicron is able to puncture through the protection afforded by existing vaccines and should know more within a week or two.
Their scientists and the Biden administration will decide whether existing vaccines and boosters are a sufficient bulwark against the variant or if omicron-tailored shots will be needed.
"CDC laboratories are working in collaboration with public health and academic partners and across agencies to understand the science of this new variant, assessing its susceptibility to therapeutics and vaccines," Rochelle Walensky, director of the Centers for Disease Control and Prevention, said Friday in a White House COVID-19 briefing. "We are continuously monitoring vaccine effectiveness in our real-world surveillance studies and publicly reporting those data and we are doing an in-depth investigation of the first initial cases of omicron so that we can understand transmission and severity of omicron disease."
"We should remember," she added, "that 99.9% of cases in the country right now are from the delta variant."
So far, cases of omicron have been reported in California and Colorado in vaccinated persons who recently traveled to South Africa and a Minnesota resident who traveled to New York City for an anime convention.
New York Gov. Kathy Hochul encouraged convention attendees to get tested and reported five cases of omicron in New York City and Long Island, including a 67-year-old who returned from South Africa.
For more information, visit The Washington Times COVID-19 resource page.
Health, The New York Today