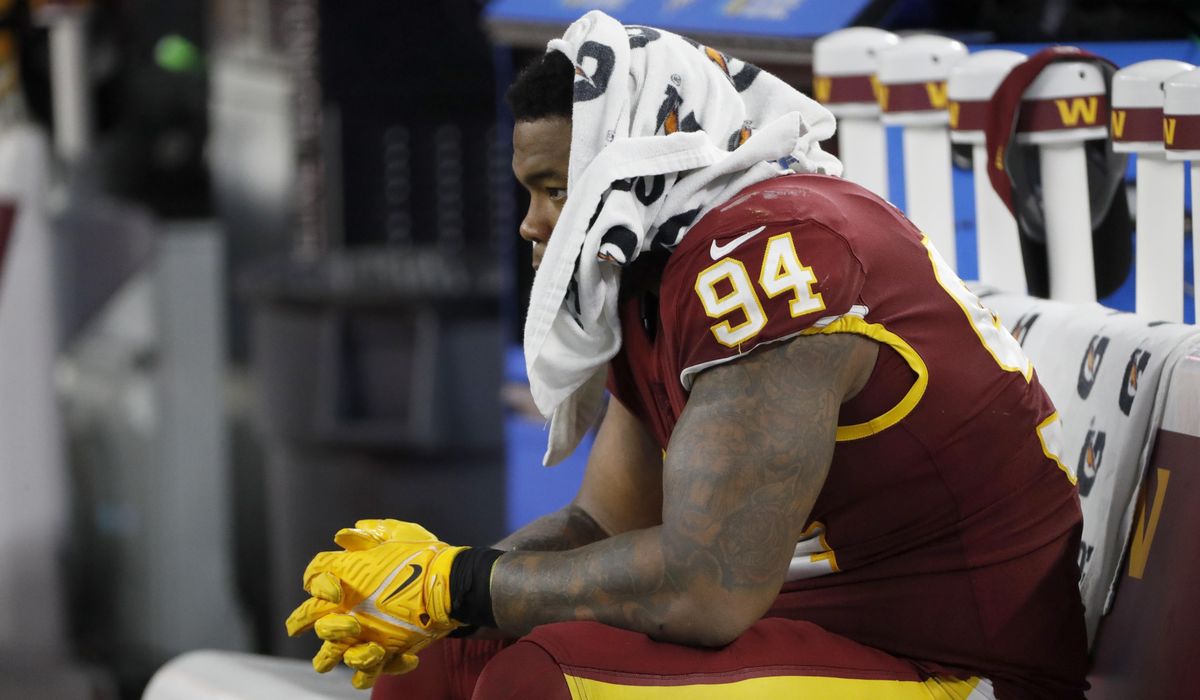 ARLINGTON, TEXAS — To fully grasp the embarrassment of Washington's 56-14 loss to the Dallas Cowboys, start with the punch — because that was the most fight the Burgundy and Gold showed all night.
Shortly after Ezekiel Elliott scored another touchdown to add to Dallas' lead, defensive tackle Jonathan Allen — a captain, no less — swung full force at teammate Daron Payne on the sideline. Payne had instigated the moment by poking Allen in the head, but that hardly excused what happened.
During a season when the defense repeatedly boasted about sticking together when adversity struck, the defensive line fractured in real-time for everyone to see.
NBC's cameras for "Sunday Night Football" caught the moment, as well as Payne jawing at Allen even after the two were separated by teammates. That's unerasable, no matter how much the duo tried to downplay it afterward.
"Brothers fight," said Allen, who was also college teammates with Payne at the University of Alabama.
"You got brothers?" was Payne's rhetorical reply to reporters. "Brothers fight, right?"
Never mind that Sunday's loss all but killed Washington's already-slim playoff hopes — and it did, to be clear — this defeat now will likely be remembered for more than that. In the Dan Snyder era, Washington has had more than its share of blowouts — especially in primetime. But this? This one falls into a special category.
Nicknames get coined for losses like these, ala the "Monday Night Massacre" of 2010. Images get burned into fans' memories, akin to the shot of a barren, snow-covered FedEx Field during a 2013 wipeout to the Chiefs.
Allen's punch will be remembered. So will the 42 points the Cowboys hung in the first half — which, it turned out, tied a franchise record for America's Team. (Don't worry, for Washington, that was only the most since 2010, when the Eagles hung 45 with Michael Vick under center.)
Washington (6-9) had yet to have a moment like this under Ron Rivera. Yes, there have been one-sided losses and yes, the coach is, after all, under. 500 since taking over in 2020. But at the same time, Rivera had prided himself on getting his group to respond when they needed it the most. And until this point, they arguably had. Just look at last year's late-season run to the playoffs, or this season's four-game win streak.
Rivera argued that Sunday's debacle was the result of Washington's earlier struggles mounting. "It spills over," he said. Beyond the lengthy list of players missing either because of COVID-19 or injuries, Rivera pointed to Friday's car crash involving safety Deshazor Everett — and the impact that it can create. Everett, a special teams captain, was the driver in a fatal accident in which a female passenger died. Everett suffered serious but non-life-threatening injuries.
"It's tough," Rivera said. "You have an opportunity and you don't have everybody playing. That's hard on them. That's not normal (stuff). That's real-life (stuff), and that's what they're dealing with. These are young men, and we're just trying to help them along the way."
Rivera said he spoke with Payne and Allen, and everyone says there will be no lingering ill will over the poke or the punch. Rivera told reporters he would not impose discipline over the fight.
Entering Sunday's game, Washington was looking to respond to adversity again. A pivotal loss to the Philadelphia Eagles on Tuesday put the team in a hole in the playoff race. Even with a depleted roster, the team had hoped the return of starting quarterback Taylor Heinicke from the COVID-19 reserve list would provide a spark. After all, Heinicke, who missed the Eagles game, had mostly delivered gutsy performances all season long.
But the Cowboys (11-4), who have clinched the NFC East, shut the door on any of those narratives as soon as the game started. Heinicke's first pass was intercepted — and it only got worse from there.
Initially, the game resembled a replay of the first meeting between these two teams from earlier this month. Washington shutout (18-0 on Dec. 12, 21-0 on Sunday) in the first quarter? Check. A defensive lineman (first, Randy Gregory, then, DeMarcus Lawrence) picks off Heinicke? Check. Heinicke battered and beaten by the Cowboys defense? Definitely check.
But this time, there would be no Cowboys collapse letting Washington back into the game — no inexcusable throw or two from Dak Prescott to help a late Washington push. Instead, the Cowboys quarterback completed passes with ease, spreading the ball around to an array of targets for 330 yards, four touchdowns and a 71.8 completion percentage.
According to NFL Research, Prescott became the first player in NFL history to throw a touchdown to a running back (Elliott), a wide receiver (Amari Cooper), a tight end (Dalton Schultz) and an offensive lineman (Terence Steele) in the same regular-season game.
Yes, Prescott really found an offensive lineman in the end zone for a touchdown. Steele, who checked in as eligible on the play, scored to make it 35-7 in the second quarter.
If a big-man touchdown wasn't enough of a blackeye for Washington, the team also had a blocked punt returned for a score in the second half.
"They just kicked our (butts) in all three phases of the game," Heinicke said.
Washington's offense, meanwhile, rarely generated anything of note. Running back Antonio Gibson scored the team's first touchdown when he caught a pass in the flat that he took to the end zone for eight yards. Rookie wideout Dyami Brown also caught a flashy 48-yard pass to help set up that score. And later, with Heinicke benched for backup Kyle Allen, rookie tight end John Bates crossed the goal line on a 12-yard pass.
It would be easy to blame all of Washington's deficiencies on injuries and COVID-19-related absences. Easy to excuse Washington's inept offense on the absences of Brandon Scherff (COVID-19), Curtis Samuel (hamstring) or Logan Thomas (ACL). Or the defense's letdown without Landon Collins (foot), William Jackson III (ankle) or Cole Holcomb.
But a lot of teams deal with those circumstances. And they still manage to fight on a week-to-week basis. Washington? Well, the Burgundy and Gold went down swinging Sunday night — albeit in a different fashion.
"It's unfortunate, for sure," Allen said. "We're better than that. But as a man, I'm going to take full responsibility for my actions and (Payne) will do the same."