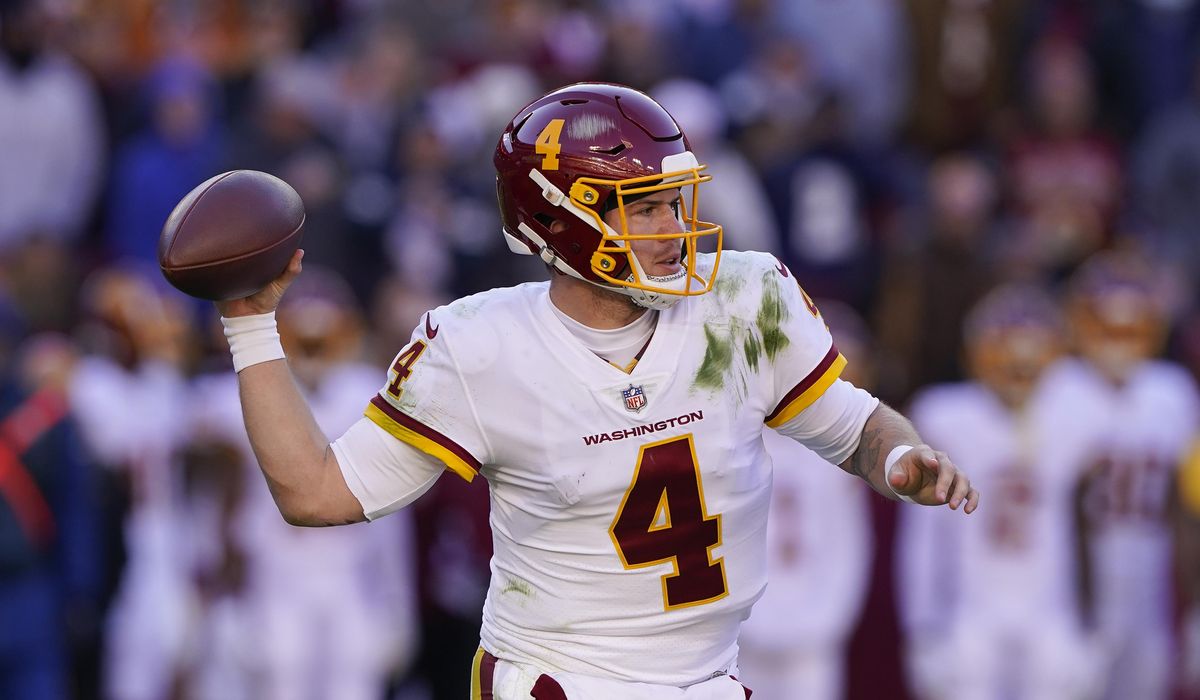 Washington quarterback Taylor Heinicke was put on the NFL's COVID-19 reserve list Friday — arguably the worst-case scenario for a team already decimated by the virus ahead of Sunday's game against the Philadelphia Eagles.
Mr. Heinicke becomes the latest Washington player to land on the list that currently stands at 21 players and could be rising. Sports Illustrated reported that defensive lineman Daniel Wise and running back Wendell Smallwood also have tested positive, though they have not been officially placed on the list. Only two Washington players have been activated off the reserve list in the last week, with cornerback Darryl Roberts and center Keith Ismael (activated Friday) returning.
Mr. Heinicke's addition to the list leaves Washington without a clear starter under center in a game that figures to be vital for the team's playoff chances.
Mr. Heinicke's backup, Kyle Allen, tested positive for the virus several days ago.
Mr. Heinicke has said that he is vaccinated, which means he tested positive for COVID-19, as NFL protocols do not require vaccinated players to be put on the reserve list if they are deemed close contacts of those with the coronavirus.
The team is left with three signal-callers: Kyle Shurmur and Jordan Ta'amu on the practice squad and Garret Gilbert, who was signed to the 53-man roster Friday in wake of Mr. Heinicke's positive test. There is no indication yet as to who will start, though Mr. Shurmur has been with the Burgundy and Gold the longest. Mr. Shurmur, the son of Broncos offensive coordinator Pat Shurmur, was signed in September.
Of that group, Mr. Gilbert has the most NFL experience. He has appeared in seven games, with one start, since joining the NFL as a sixth-round pick in 2014. Mr. Gilbert has also spent time under coach Ron Rivera and offensive coordinator Scott Turner, overlapping with them in Carolina for two seasons. But it's not immediately known if Mr. Gilbert would be ready to play on such short notice given he was just signed off the New England Patriots' practice squad.
If Mr. Heinicke is asymptomatic, there's a chance he could still take the field Sunday. The NFL reworked its COVID-19 protocols Thursday — making it easier for vaccinated players who have tested positive to return to the field. Among the ways the protocols are now different: A player can be cleared if he produces two negative tests in the same day and is symptom free. Previously, the two tests had to come within 24 hours apart.
The NFL has resisted postponing games this weekend even as a handful of teams are in the midst of outbreaks. Besides Washington, the Cleveland Browns and the Los Angeles Rams each have had more than 20 players added to the reserve list.
Like Washington, Cleveland, which plays Saturday against the Las Vegas Raiders, is down its top two quarterbacks with Baker Mayfield and Case Keenum both testing positive.
For more information, visit The Washington Times COVID-19 resource page.