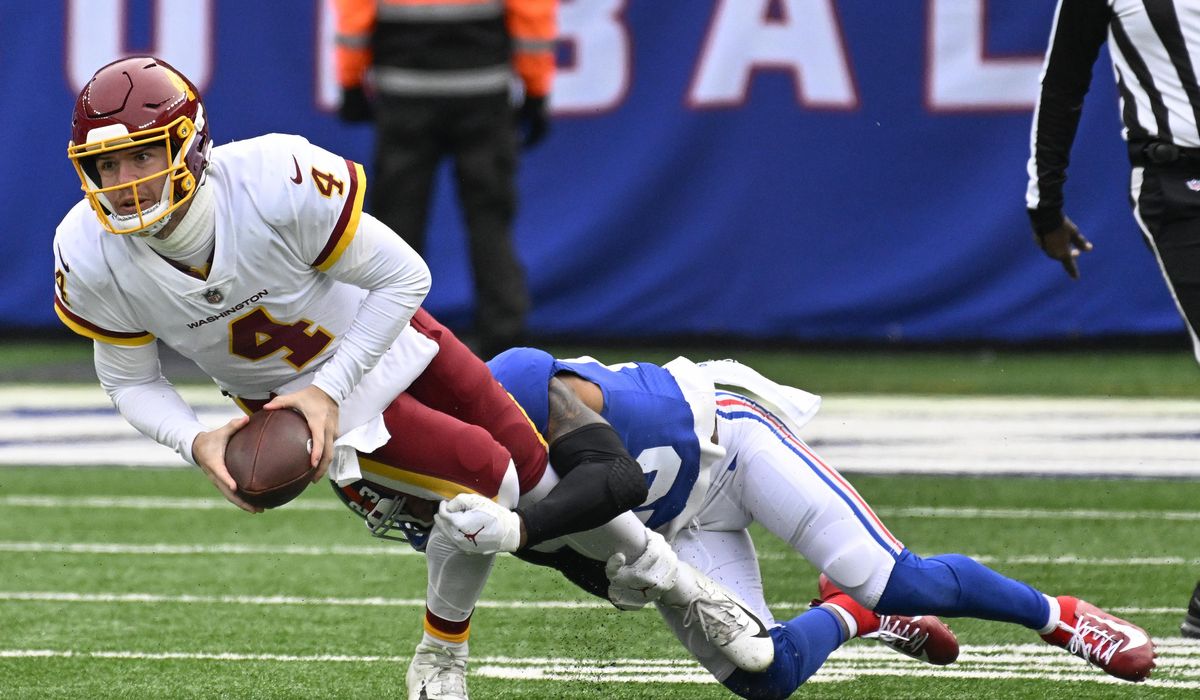 EAST RUTHERFORD, N.J. — Taylor Heinicke was unaware of the date.
Fresh off Sunday's 22-7 season finale victory over the New York Giants, the Washington quarterback had to be reminded that Jan. 9 marked the anniversary of last year's gutsy playoff performance against the Tampa Bay Buccaneers. So many possibilities have materialized for Heinicke since that game — including his dream of being an NFL starter.
But while Heinicke said he's proud of his personal progress, he knows that it wasn't enough.
He and the Washington Football Team have more work to do, and Heinicke said he wants to help where he can.
"I just want to keep playing ball," Heinicke said. "That could be starter, backup — I just want to be part of a team and help that team in any way I can."
Washington's season is officially over. The Burgundy and Gold finished 7-10 — matching their win total from last year (while adding one more loss, thanks to the new 17-game season). But after missing the playoffs this time around, the team enters the offseason with urgency. And at the top of the team's to-do list? Deciding on a starting quarterback.
Heinicke is in the mix, but there are no guarantees.
After starting 15 games, Heinicke showed flashes of NFL talent. But his shortcomings — lack of size and a tendency to hold the ball too long — were also apparent.
Coach Ron Rivera has acknowledged for months that the team will use the coming weeks and months to explore finding an upgrade at the position — and the success or failure of Rivera's tenure in Washington likely depends on whether he can find a solution under center that, so far, has eluded him.
There are other areas that will need to be addressed, as well. What will Rivera do after Washington's defense regressed in 2021? And how will he take advantage of the considerable salary cap space the team has this offseason?
Rivera said he'll use the upcoming week to weigh potential changes. For now, those don't appear to extend to the coaching staff.
"No, I don't anticipate doing anything other than the things we need to do to go forward," Rivera said when asked if he expected staff changes.
The Burgundy and Gold's situation could be worse. Sunday's game, if nothing else, was a reminder of that. Over the course of the afternoon, thousands of angry Giants fans consistently booed and booed — directing their wrath at coach Joe Judge, general manager Dave Gettleman and owner John Mara.
The Giants (4-13) have produced the league's worst record since 2017. And Judge's two-year tenure, in particular, has been especially fraught with drama. On Sunday, the coach drew heavy criticism for the Giants' back-to-back quarterback sneaks that were called on second and third down just so Riley Dixon would have more room to punt near his own end zone.
Despite earlier reports that indicated Judge's job would be safe, the Giants ended the season in such a manner — they've now lost six straight by double digits — that one can't help but wonder if ownership will reconsider.
"I'm not going to worry about those hypotheticals right now," Judge said.
Rivera, at the very least, can go forward without having to worry about job security. And after remaking the team's front office last year, Rivera said the "pieces are in place" to carry out the offseason plan.
Still, Rivera will need to restore hope to a fan base that rarely appeared at games this season. The team finished 31st in attendance — ahead of only the lowly Detriot Lions.
If Sunday was Heinicke's last game as Washington's starter, he'll have finished on a performance in which he threw for 120 yards on 9 of 18 passes. It wasn't the quarterback's best day, though Washington spent most of the afternoon running the back effectively (226 yards on 37 carries). Heinicke also found a connection with star wideout Terry McLaurin, who topped 1,000 yards for the second straight season after hauling in four catches for 93 yards against the Giants.
Days earlier, Heinicke said he felt as if he proved to critics that he could be durable throughout an NFL season. The only start that Heinicke missed was because he tested positive for COVID-19 — not because he got hurt. He said the work he put in to add 10 to 15 pounds of muscle in the summer paid off.
Against the Giants, Heinicke arguably didn't have much to prove. Even if Washington adds another quarterback this offseason, Heinicke will likely be on the roster thanks to the two-year, $4.75 million contract he signed last year.
Heinicke said he just hopes to get another shot to start next season. He added he's not worried about the uncertainty ahead. After all, before joining Washington in 2020, Heinicke was out of the NFL for more than a year. This time, Heinicke will have a job.
"You've kind of been through it before so you kind of know what to expect," Heinicke said, "but I was at the lowest of lows so everything from here on out I feel like I've already kind of been through.
"I'll be ready for it."