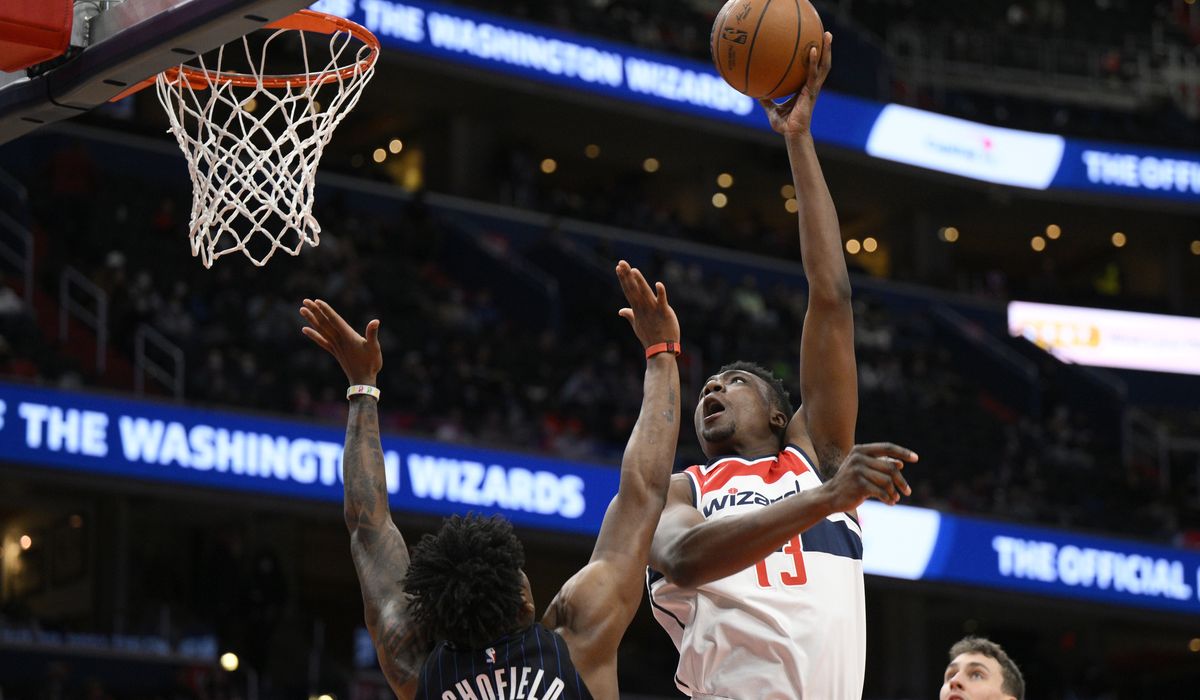 Before he checked in for the first time in more than a year, Thomas Bryant warmed up on an exercise bike by the tunnel to the locker room. An ice pack was wrapped around the Washington Wizards center's knee— a small reminder of the injury that temporarily took away his basketball dream.
So when Bryant finally entered in the second quarter to cheers, the 24-year-old was grateful.
"You almost have a newfound appreciation," Bryant said after Wednesday's win over the Orlando Magic.
In the process, Bryant was able to show what the Wizards had missed in his absence. Despite playing only 11 minutes because of a minutes restriction, the sharpshooting center stretched the floor, was active and went 2-of-2 for 6 points — including sinking a wide-open 3-pointer not long after returning to action.
Last year, Bryant suffered a torn ACL after just 10 games — an unfortunate injury that cut short the best start to the center's career. At that point, Bryant had averaged 14.3 points per game and was shooting 42.9% from deep, making him one of the league's best 3-point shooting bigs in the league.
Upon Bryant's return, the Wizards frontcourt now looks much different. Starting center Daniel Gafford was acquired during last year's trade deadline, and he impressed with his shot-blocking and rim-running abilities. Washington then traded for Montrezl Harrell, the undersized center who's become a vital and energetic sixth-man.
As well as those two have played, they can't shoot like Bryant — and that's why the Wizards were eager for his comeback.
"He's another skilled big," Wizards coach Wes Unseld Jr. said. "He's a big body, moves well. He can stretch the defense beyond 3. He can play in the post. He adds a different dimension. … His energy is infectious and he's going to play hard."
Unseld was careful to set the expectations for Bryant, whose minutes will be limited for the time being as he works his way back. Even when Bryant is fully healthy, though, the Wizards will have a log jam at center that Unseld will have to sort out. Last season, former coach Scott Brooks relied on a three-man center rotation of Gafford, Robin Lopez and Alex Len, but even Brooks acknowledged that was unusual. Most teams rely on two centers, and the Wizards are the deepest they've been in years.
For now, Bryant was just glad to be out there. During his recovery, Bryant said he understood he had to be "level-headed" when out. He made sure he had to be diligent about his rehab, working to regain the strength in his legs.
From that standpoint, Bryant seemed pleased with how he held up in his first game back. Not only did his legs feel fine after the game, Bryant said, but the former second-rounder added that he wasn't thinking about his knee during the game — allowing him to play in the fashion that he normally does.
"Man, my emotions were out of pocket," Bryant said. "I was just trying to stay calm and collected throughout the whole day, all the way up to the game."
Besides health, there are areas that could prevent Bryant from seeing consistent playing time. Even before the injury, Bryant's defense remained very much a work in progress — particularly in the paint, where Bryant failed to consistently protect the rim. And despite his 6-foot-10 size, Bryant doesn't post gaudy rebounding numbers, averaging only six per game since entering the league in 2017.
Still, Bryant is young and has shown he can improve. His growth on the floor was a reason the Wizards gave Bryant a three-year, $25 million contract in June 2019.
Bryant is now in the last year of that deal. So, the next few months will be crucial for him in order to show he can still perform at a high level. Wednesday was just the start.
"I knew what he was going to bring to the table, man," Harrell said. "It was just good to see him get back there."