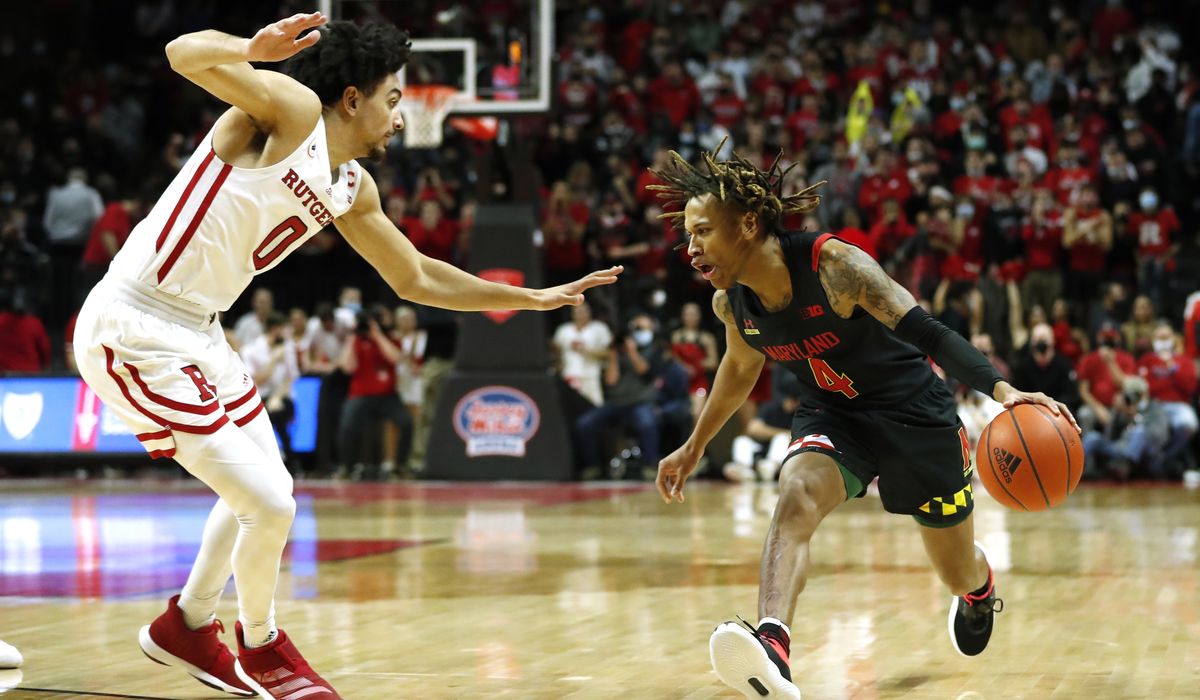 Fatts Russell scored a season-high 23 points, Eric Ayala added 22, and Maryland made a season-high 12 three-pointers in a 68-60 win at Rutgers on Tuesday night.
Maryland (11-9, 3-6 Big Ten) won back-to-back conference games for the first time this season by riding lights-out shooting from three-point range in what was their most complete Big Ten performance to date.
"I thought this was one of those games where we played tip to horn in a very unique and difficult place to play," said Maryland interim head coach Danny Manning of the sold-out crowd at Jersey Mike's Arena.
Fifteen of Ayala's 22 points came from deep, and Russell made a season-high five threes — part of a 48 percent effort from long-distance, the second-highest clip for the Terps this season.
"Fatts is a confident young man, and we're confident in him," Manning said. "He got it going early and made some big time shots for us late in the shot clock."
Center Qudus Wahab scored 10 points in 24 minutes on 5-of-7 shooting for his second double-digit effort in as many games. Seven different Terrapins registered points in the win.
"He's finding different ways to score the basketball and being really efficient when he gets his touches," Manning said of Wahab, "and that's something that we need to see continue to happen."
Rutgers (11-8, 5-4) was hampered by foul trouble and poor shooting. Forward Ron Harper Jr. scored 16 and played with three fouls for most of the second half after torching the Terps for a career-high 31 in their first meeting Jan. 15. Guard Geo Baker also added 16, and guard Paul Mulcahy committed four fouls and was held scoreless after scoring 15 in the previous matchup. The Scarlet Knights only shot 34 percent from the field for the game.
Wahab ate early underneath, scoring Maryland's first 6 points as both teams made their first three shots from the floor. Maryland would keep pouring it on from there, rattling off an 11-0 run to take a 15-7 lead as the Scarlet Knights went cold.
Rutgers would miss 14 of 15 shots in the middle of the first half thanks to an engaged and active Terrapin defense. Maryland took the opportunity, mounting a 17 point lead, 27-10, with under seven minutes left in the first half.
During that stretch, Ayala hit a three for his second bucket of the game and breached the 1,300 point mark for his Maryland career. It made him the 29th Terrapin in program history to do so.
The Scarlet Knights would start to get shots to fall, using an 8-0 run to trim what was once a 20-point lead to 12 at the half, 38-26. Maryland had their offense clicking in the first 20, shooting 53.8 percent from the field.
With a nearly identical halftime lead once again in a game against Rutgers (Maryland led by 11 before losing to the Scarlet Knights on Jan. 15), Russell and Co. made sure that wasn't going to happen again.
"We were just talking back and forth to each other," Russell said. "We've been here before, we just gotta keep our foot on the gas. We told each other that even if they make a shot, we can't let the crowd feel like it's an eight point shot instead of a two or three point shot."
As he is wont to do, Ayala stepped his game up in the second half, scoring 8 of Maryland's first 10 points after the break. Three of the Terps' first five buckets in the half were from three, including the 200th of Ayala's career — only the fifth Maryland player to reach that mark. Maryland wouldn't let up, as Russell promised: The Terps led for 36 of the game's 40 minutes in securing the win.
"This is one of the few games where we've had two guys go off like this offensively throughout the course of season," Manning said of Russell and Ayala. "When we get two guys to score like this, we're a dangerous team."