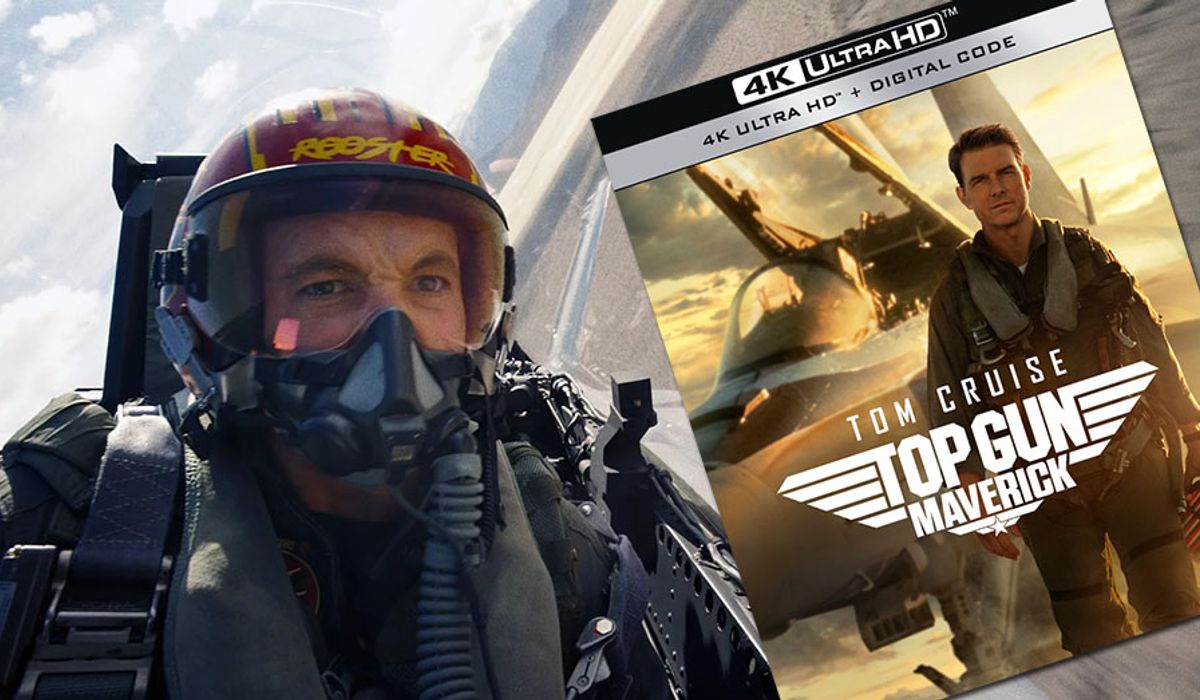 The reappearance of cocky Navy pilot Capt. Pete Mitchell to movie theaters sent blockbusting shockwaves around the world.
His latest adventure transfers to the ultra-high definition disc format offering the icing on a spectacular cake for home theater audiences to relive the riveting cinematic experience of Top Gun: Maverick (Paramount Pictures Home Entertainment, rated R, 1.90:1 and 2.39:1 aspect ratio, 131 minutes, $37.99).
The mighty Tom Cruise is back as "Maverick" Mitchell, three decades in the Navy and still a captain, and embracing a story of friendship, family, loss, forgiveness and a determination to overcome incredible odds.
After destroying a test aircraft by pushing past the Mach 10 speed limit and its G-forces, Maverick gets sent back to that familiar and elite Naval aviation training facility in San Diego nicknamed Top Gun.
His punishment is to now train pilots to attack a U.S. enemy's illegal uranium enrichment facility that is well-defended and requires a nearly one-in-a-million missile shot to destroy.
The caveat is that he has only three weeks to get the pilots ready as they face an impossible mission that Luke Skywalker could probably not survive.
Adding to the drama, one of the pilots in line for the mission is Bradley "Rooster" Bradshaw (Miles Teller), the son of Maverick's best friend and former radar intercept co-pilot Goose.
As flashbacked to the 1986 film, Goose died in a tragic training accident that has haunted Maverick ever since, even causing him to hold back Rooster, out of fear, early in the pilot's career.
Suffice it to report, director Joseph Kosinski packs the movie's story with drama, memories, and some unimaginable and practical aeronautical action.
Not only does Maverick rekindle a romance with former flame and current owner of the Hard Dock bar Penny Benjamin (Jennifer Connelly) but, most rewarding, he pays a visit to the man that has protected him during his career, former rival and now an admiral, Tom "Iceman" Kazansky (Val Kilmer), a scene that will bring tears to any fan of the original film.
Without a doubt, "Top Gun: Maverick" is a rare film these days, filled with a heartwarming story, the shock and awe of practical effects showcasing some amazing military aircraft, and a dose of American patriotism.
4K in action: The exquisite mastering of the film for home theaters bounces between widescreen scenes for the human drama and a screen-filling IMAX presentation for all of the crisp and magical aeronautic acrobatics.
Action-cinema lovers are in for a roller coaster of visual explosions throughout, always centered around capturing the exploits of the F-18 fighter jets and their pilots in the cockpits and in action.
I would argue that every IMAX shot, using 6K digital cameras and featuring aircraft and even a blazing motorcycle ride, is so crisp and perfectly color balanced that it's nearly three-dimensional and lifelike for anyone viewing the action on a large screen.
Other moments that beg appreciation include a boat ride in choppy waters with Penny and Maverick, with a panoramic pan of the choppy waters, and a ride in a vintage P51 Mustang as it flies into the sunset.
A Dolby Atmos soundtrack cements the action-packed deal and allows the jets to aurally explode across the screen and through a home theater viewer's entertainment room.
Best extras: Four featurettes clearly explain why this is a one-of-a-kind movie that could only be accomplished with the type of insane dedication that Mr. Cruise brought to the project. Simply put, they don't make movies like this anymore and may never again.
Preparing to execute and shoot a film with this level of practical effects aeronautics required extensive training by the actors who would need to withstand G-force pressures while flying inside the F-18 fighters at Mach 8 and the use of specially built cameras to cover the shots aboard the jets.
The filmmakers even contracted Lockheed Martin's experimental division to build a prototype jet called the Darkstar, shown at the beginning of the film.
Next, a 50-minute homage to Mr. Cruise at the Cannes Film Festival has him sit down and talk about his life in the business and his thoughts on his and cinema's future. He's one of the last great movie stars out there, and it's fun to hear him joyfully talk about and embrace his craft.