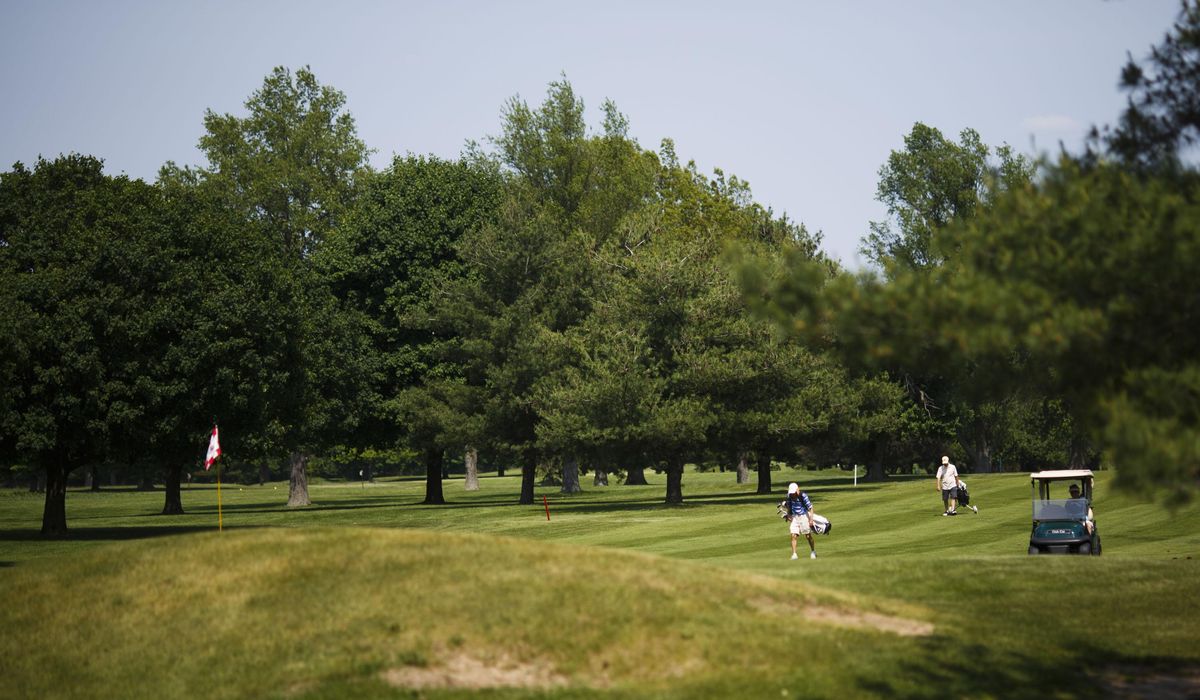 Hailey Davidson's bid to become the first male-born player to earn a spot on the top U.S. women's golf tour fell short, but the golfer's odyssey isn't over.
The 29-year-old Davidson, who began transitioning from male to female in 2015, missed the cut last weekend with rounds of 70-76-73 at the Ladies Professional Golf Association qualifying event, known as Q-School, at the Mission Hills Country Club in Rancho Mirage, California.
The scores mean that Davidson won't advance to Stage II to compete for an LPGA tour card. Under the rules, however, any golfer who records three rounds of 88 or lower earns status on the 2023 Epson Tour, the LPGA's qualifying circuit.
In 2010, the LPGA voted to end its policy requiring participants to be "female at birth," expanding eligibility to transgender athletes who complete gender-reassignment surgery.
The Scottish-born Davidson, who lives in Florida, has not commented publicly on whether the future includes the Epson Tour, but did take a swing at a prominent critic who accused the golfer of unfairly competing against female athletes.
It started when Judy Murray, a tennis coach and the mother of British tennis great Andy Murray, responded Saturday to Davidson's participation by tweeting: "No. Not fair at all. Protect women's sport. Listen to the facts, the scientists and the medics. This is wrong."
Davidson's mother Sandra Davidson blasted Murray, telling the Daily Record: "Shame on Judy Murray for attacking another mother's child."
"You do not know my daughter Hailey and most importantly you know absolutely nothing about transgender men or women and therefore have no rights whatsoever to give your opinion on something you know nothing about," Sandra Davidson said. "Unless you are a parent of a transgender child I suggest you keep your opinions to yourself."
Judy Murray hasn't 'attacked another mother's child' – she has, rightly, criticised the inclusion of a male in women's sport.

Mum of Scottish transgender golfer Hailey Davidson condemns critics https://t.co/33L6lvmNbM via https://t.co/EswjQLGqq2

— Anne Craig (@annejcraig) August 23, 2022
Davidson responded on an Instagram story with: "You tell her mom!!!"
Davidson played NCAA Division II men's golf at Wilmington College, then transferred to play on the men's team at Division III Christopher Newport University.
In 2015, Davidson began undergoing gender-transition hormone treatments. In January 2021, Davidson underwent six-hour gender-reassignment surgery.
Under the LPGA gender policy, those who are "transitioned female athletes" may compete by declaring that their gender identity is female; by completing at least a year of hormone therapy, and by undergoing "gender reassignment surgery (i.e., a gonadectomy)."
The Independent Women's Forum slammed the LPGA policy, tweeting: "We must protect #WomensSports. Allowing biological males to steal spots from female athletes in competitions like the LPGA is devastating to ALL women."
Davidson became the second transgender golfer to earn Epson Tour status.
In 2013, 63-year-old physician Bobbi Lancaster qualified for the tour, "but ultimately spent her time traveling the country as a human rights advocate," Golfweek reported.
In May 2021, Davidson notched a one-stroke victory at a National Women's Golf Association tournament, becoming what is believed to be the first transgender player to win a U.S. women's professional golf event.
"I guess that's what frustrates me the most," Davidson told Golfweek last year. "If I play bad, then people will feel justified – 'Oh well, she played bad and wasn't good enough.' If I do anything good, it won't be because of the fact that I put my whole life into this … it would be because I'm trans."