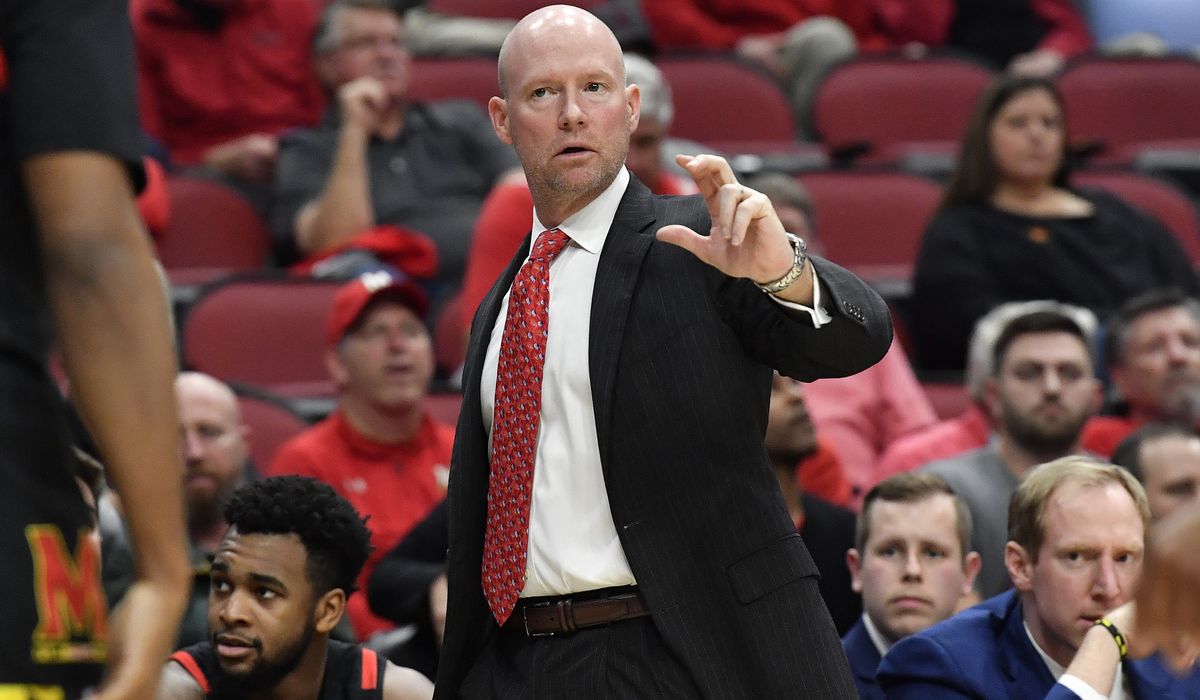 COLLEGE PARK — After every game this season, Maryland coach Kevin Willard said the opposing coach has complimented him on how hard his Terrapins played.
Through seven games, the defensive effort of Willard's squad hasn't just been praised by the platitudes of opposing coaches, but it's instead a defining feature of the team's promising start. But how exactly has the first-year coach convinced his new players — half of whom are new to Maryland, as well — to kick it into that next gear on defense.
"It's my secret sauce; we put it in the Gatorade," Willard jokingly said Thursday.
"No, I have a real simple philosophy. I tell all my guys, very simply: 'If you play hard on the defensive end, you can take any shot, do whatever you want, on the offensive end.' That's the deal," Willard added.
So far, the new identity has worked. Coming off the program's worst year since 1992-93 with a 15-17 record last season, the Terrapins are undefeated entering Big Ten play Friday and are ranked No. 22 in the nation.
"I've never taken anybody out for taking a shot. I've never taken anyone out for a turnover, for a play, nor will I on the offensive end. They have total freedom," Willard continued. "There has to be a trade-off. You can't sit there and expect them to play that hard on defense and tell them, 'don't shoot.' It just doesn't work."
Maryland (7-0) is holding opponents to just 60.3 points per game and 26.2% from behind the arc. Sure, the Terrapins have yet to fully get tested, without a contest against a top 25 team yet. But they've properly taken care of business, winning their seven games against Niagara, Western Carolina, Binghamton, Saint Louis, Miami, Coppin State and Louisville by at least 16 points.
"It's really nice. These guys are working extremely hard," Terrapins senior forward and leading scorer Donta Scott said. "Lately, it's been clicking for us. We're working together and staying together."
Maryland ranks 12th in the nation in per-game point differential at 21.8. The team just ahead of them in 11th — No. 16 Illinois — is who the Terrapins will welcome to the Xfinity Center Friday night for their Big Ten opener.
"I'm looking forward to the crowd. I think it's going to be great," Willard said. "That's what it needs to be to have a great college program, to get a great home-court advantage."
Illinois, led by guard Terrence Shannon Jr.'s 19.9 points per game, will pose a challenge to Willard's Terrapins they have yet to face this year. But it's not just the game against the Fighting Illini at 9 p.m. that will test Maryland.
After Illinois, the Terrapins play at Wisconsin, against No. 13 Tennessee at a neutral location and then at home against No. 21 UCLA.
"I think the good thing about this stretch is we're going to really figure out, going into January, some of our strengths and some of our weaknesses," Willard said. "After these four games, we'll really be able to throw some stuff out, keep some stuff and reinvent some stuff."
The Terrapins have been led this season by Scott, whose body transformation has made him a more well-rounded player. Scott lost almost 30 pounds in the offseason, and Willard said the lower weight has catapulted Scott's game.
Scott averaged 12.6 points and shot 29.1% from behind the arc as a junior; this year, he's scoring 15.9 points a game and is knocking down 43.3% of his 3-point attempts.
"When Donta lost his weight, everything became easier for him," Willard said. "I think one thing that always plagued Donta a little bit was that he always played physical and hard, but when he was carrying a little extra weight, I think his shooting percentage was down because it wore him down a little bit. He's shooting the ball better now because I think he's in such great shape."
Alongside Scott, returners Hakim Hart (13.3 points per game) and Julian Reese (13.7 points, 7.9 rebounds) as well as transfers Jahmir Young (13.9 points, 3.4 assists) and Don Carey (8.3 points) are also leading the way.
Before the season, Willard forecasted that the Terrapins may not look in sync early in the campaign. Either he was downplaying what was to come, or he's genuinely surprised at how seamless the transition has looked thus far — or both.
"I think I underestimated — I think the one good thing is that we do have an older group. The fact that they've all been understanding game plans much quicker than I thought they would," Willard said. "… I think that's really helped us get off to a better start than I thought we'd get off to."
Naturally, though, as an undefeated ranked team, there are greater expectations for the Terrapins than a month ago.
"We don't really worry about outside noise," Scott said. "There's no point of worrying about that. The only thing we can worry about is the things we do on the court."