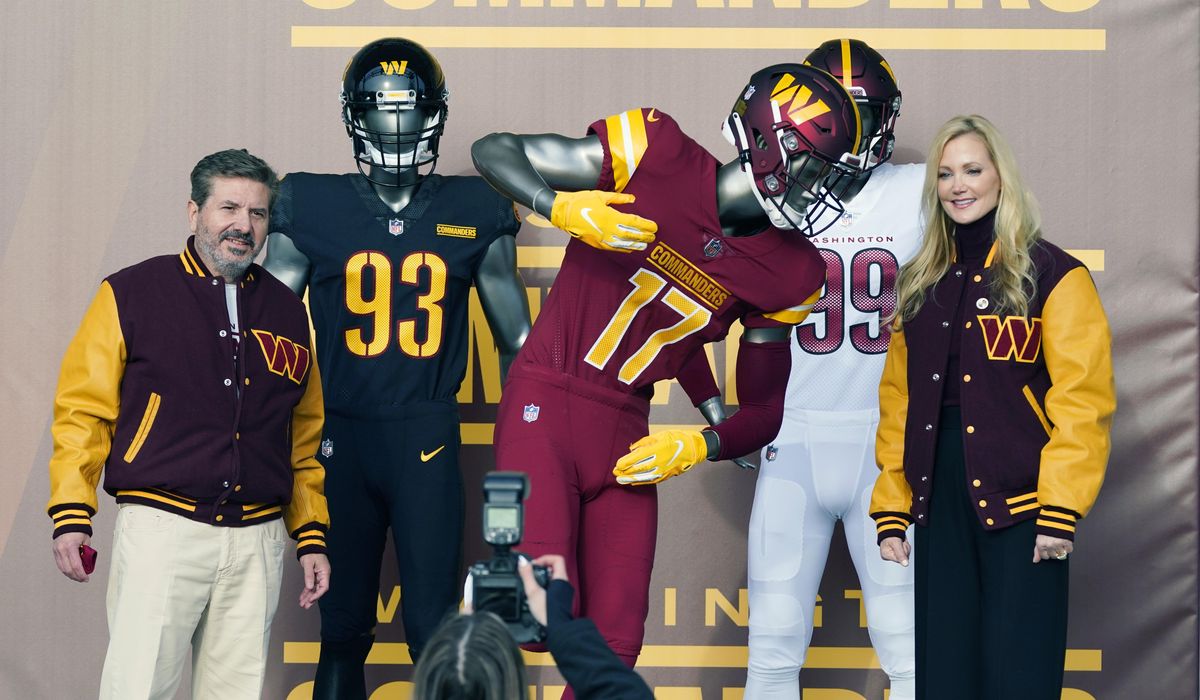 LANDOVER — Washington's NFL franchise is now — surprise! — the Washington Commanders, the team announced in a much-hyped, nationally broadcast unveiling that felt, for many fans, anticlimactic.
A steady stream of leaks drained much of the drama from Wednesday's event. Even owner Dan Snyder joked that the new name was the worst-kept secret in town. Many fans greeted the "Commanders" nickname with a shrug and a vague hope that it would eventually grow on them.
Not exactly a flawless start to the Commanders era for a franchise constantly struggling to live up to its past, when the Redskins — the nickname discarded two years ago as racist amid pressure from activists and business partners — ruled Washington and the region.
The big reveal at FedEx Field on NBC's "Today" show was somehow undercut by the team's social media account, which announced the change just minutes before the television segment aired. The news was mostly spoiled Tuesday night as helicopters from local news stations spotted Washington Commanders signage at FedEx Field.
"We wanted this to be a big deal," Washington President Jason Wright told The Washington Times. "The circumstances that led us here, not even a large part of the fan base embraced, right? But it's still a momentous moment that deserved that attitude and treatment. And when you do that, you've got to bring a lot of people in and you've got to have the merchandise ready.
"So the more people you bring in, the more likelihood of something leaking. And that's OK."
No matter what name the Burgundy and Gold chose, Washington's brass knew there would be critics.
In an old clip that resurfaced online, defensive end Chase Young gave "Commanders" an F during a segment that called for him to grade proposed Washington nicknames. Others tweeted that the name was "deeply boring and corny" and a "predictable outcome from a risk-averse team."
Clinton, Maryland, native Ed Bellafiore said he didn't think Commanders tied into the franchise's history. The 47-year-old said the team's new all-white and all-black uniforms look like they are from a generic sports movie.
"I loved the team all my life and I'll still love them, but with the leaks and everything, I feel like it was a botched rollout," Mr. Bellafiore said. "It was a little disappointing — but they kind of always disappoint a little bit."
Wright said he and other stakeholders tried to anticipate some backlash from longtime fans by incorporating elements that paid homage to the team's past — whether that was by maintaining the team's iconic burgundy-and-gold color scheme for the new uniforms and logos, or by keeping the crest emblem that references the years Washington won championships.
The rebrand, though, also features new wrinkles that will differentiate the Commanders from the Redskins who preceded them. The Commanders, for example, added black as a part of the color scheme palette, including the introduction of an all-black alternate uniform.
Wright said the team came up with the idea of a black alternate after soliciting feedback from fans.
"That was something we heard from our fans," Mr. Wright said. "They wanted something sleek and modern that was assertive, something a bit countercultural because they felt like this was an in-your-face sort of fan base. That black jersey, black uniform came up again and again."
Deploying three uniform color schemes will be an adjustment for many Washington fans, including former quarterbacks Doug Williams and Joe Theismann. Still, both were on board with the overall change and praised Commanders as a name.
"Commanders kind of does fit the area," Williams said. "Who we are, what this city is about, the military, you've got the president here. You've got people who are in control. And I think Commanders is a fitting name."
The Commanders name was well-received by others, including the nation's commander in chief.
President Biden tweeted a photo of his new dog, "Commander," along with the caption: "I suppose there's room for two Commanders in this town."
Outside the team's merchandise store, fans who lined up to buy the new gear came up with a chant. One fan shouted that the NFC East, Washington's division, was officially "put on notice."
Of course, it didn't hurt that co-owner Tanya Snyder dropped by and told them they could get one free piece of merchandise.
Coach Ron Rivera sees the new name as an opportunity to "start fresh." The comments were heard as an acknowledgment of Washington's decades-long history of controversy, including a still-bubbling sexual harassment scandal that resulted in a $10 million NFL fine for the franchise.
On Thursday, one day after the team's rebranding event, the House Oversight and Reform Committee will hear from several women — former team employees — who have accused former team executives of years of sexual misconduct in the workplace.
Rivera, meanwhile, understands that the Commanders name may not matter all if the team doesn't start to win consistently. To do that, Rivera and Co. are in the hunt for a franchise quarterback.
Rivera said he thinks the rebrand can help entice a quarterback to Washington.
"To me, it's an opportunity to work on and grow on our legacy," he said. "It's a clean slate as the Commanders. It's an opportunity to be part of something unique and special. I love where we are."