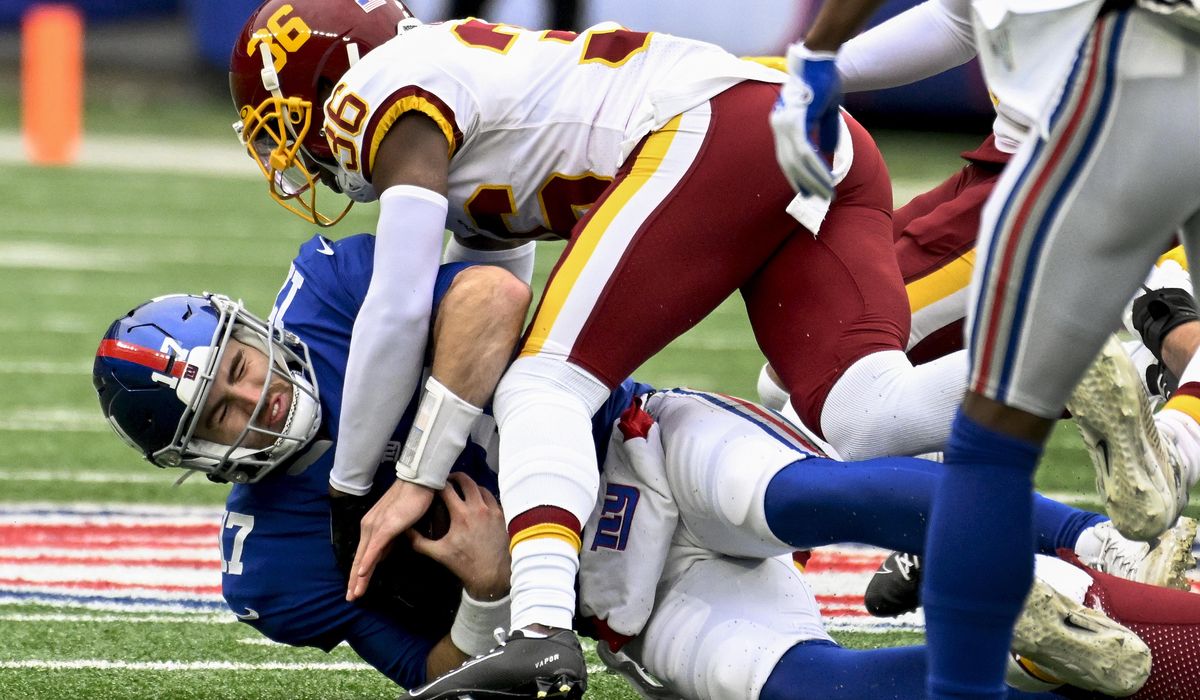 EAST RUTHERFORD, N.J. — If there were two plays to sum up the stakes of Sunday's season finale between the Washington Football Team and the New York Giants, look no further than the back-to-back quarterback sneaks that the Giants ran in the second quarter.
Backed up near their own end zone, the Giants used Fromm to plow ahead for minimal yards — just so Riley Dixon would have more room to punt.
The Giants' fans — those who were there, anyway — booed and booed. Washington? The Burgundy and Gold would more than take it.
Washington racked up an easy 22-7 victory Sunday over the Giants — improving to 7-10 to close the season. The victory put an end to a disappointing second season under coach Ron Rivera. While the team matched its win total from a year ago, Washington's campaign ends without a trip to the playoffs after making the postseason in 2020.
From a football perspective, Rivera said he would use its finale to take an extended look at the team's younger players. Because of COVID-19 and injuries, the Burgundy and Gold had already gotten a good look at most of its rookie class over the course of the season — but Rivera said Washington would use Week 18 to see if rookies like tight end John Bates and wide receiver Dyami Brown could take another step forward.
But that didn't stop the game from being borderline unwatchable.
With both teams eliminated from playoff contention, Sunday's contest came off at times as if Washington and New York were just going through the motions to get to the final buzzer. It should have surprised no one that the matchup was the first game of the NFL's early afternoon slate to finish first — both teams played it safe to drain the clock.
But among those conservative game plans, it was Washington who grabbed an early lead — a lead that felt insurmountable as soon as kicker Joey Slye nailed his 23-yard chip shot. Washington got into scoring position thanks to completions to star wideout Terry McLaurin, whose 93-yard day helped him top 1,000 yards for the second straight year.
The Giants, meanwhile, did little to push Washington. Starting third-stringer Jake Fromm at quarterback, New York coach Joe Judge seemed content by handing the ball off to running backs Saquon Barkley and Devontae Booker — even as the Giants fell behind.
Fromm finished with just 103 yards on 15 of 31 passing with one touchdown and two interceptions. Washington safety Bobby McCain picked off the 2020 fifth-rounder twice — a pick-six in the third quarter and one to end the game in the fourth. Fromm's lone touchdown came on a 22-yard, fourth-quarter strike to Darius Slayton.
Over the last month, Judge has come under increased scrutiny in New York — with the Giants' fan base calling for his firing. In response, Judge defended his record —10-22 entering Sunday — by resorting to passionate monologues in press conferences. Last week, he even took a swipe at Washington by saying his players haven't gotten into "fistfights on the sideline" as other "clown show organizations."
Though Judge denied he was referring to Washington, the comment appeared to be a clear reference to Washington's Jonathan Allen punching teammate Daron Payne. Rivera told a local radio station he was disappointed by the remark.
"To take a shot at people when people are going through what they're going through, that's not right," Rivera said Friday on The Team 980. "If you don't know and understand other people's teams, talk about yourself; talk about your own team. That's what's fair."
The Giants' fan base displayed their frustration for Judge repeatedly throughout Sunday's game. They sarcastically cheered practically each time Giants offensive lineman Korey Cunningham reported as eligible before the snap — a move that Judge went to often. They also booed often, such as when Washington running back Antonio Gibson (146 yards on 21 carries) put the game away with an 18-yard touchdown in the fourth quarter.
But their real discontent showed with the thousands upon thousands of empty seats. Like Washington, the Giants have alienated a once-proud fan base that appears to be fed up with years and years of losing seasons. The Giants haven't made the playoffs since 2016 and have failed to have a winning record in the years since.
Washington's record in that same span hasn't been quite as bad. But after a 2020 season that contained so much promise for the franchise, Rivera and Co. now enter the offseason trying to find a way to restore hope once again.