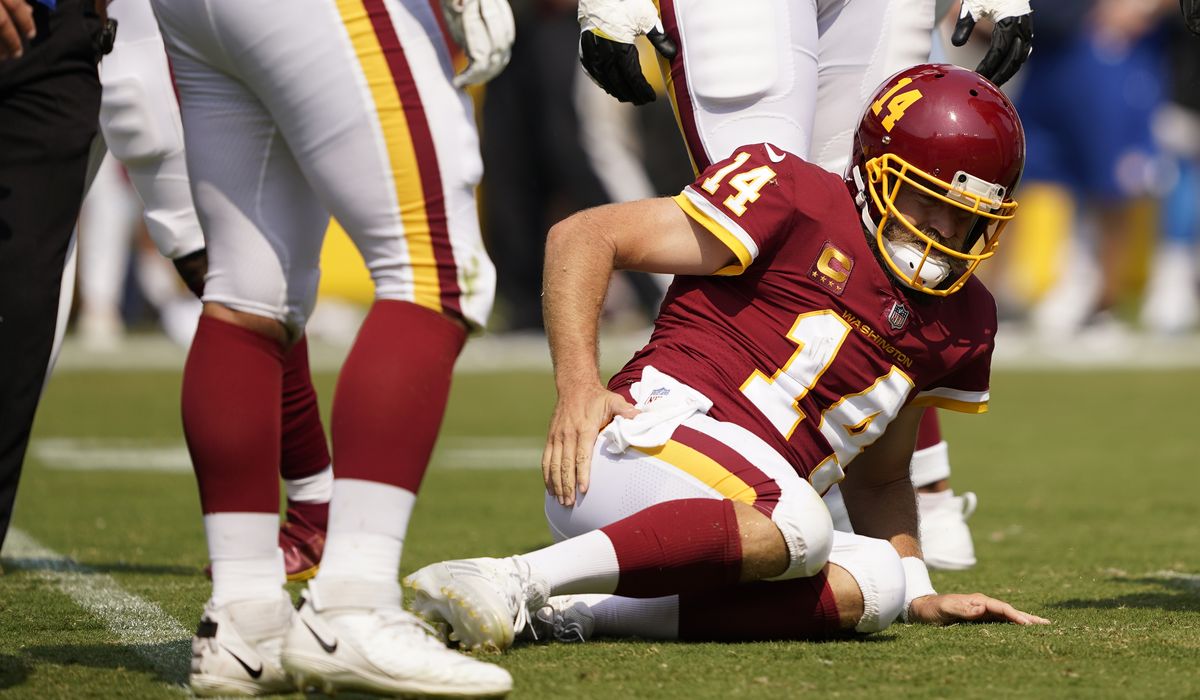 ASHBURN — For his first practice of the new year, Curtis Samuel did what he spent a good chunk of last year doing: He went to the side field. Samuel went to work with a trainer to rehab his hurt hamstring — the latest ailment to hamper the oft-injured receiver.
Samuel, who has battled a groin injury as well, has only appeared in five games this season. At this point, it would be a surprise if he's available for Sunday's finale against the New York Giants. If his season is indeed over, he'll have finished with just six catches for 27 yards.
That's not the production Washington's front office envisioned when they gave him a three-year, $34.5 million contract, obviously.
"I know what his abilities are," said Washington coach Ron Rivera, who signed Samuel after coaching him in Carolina. "It was unfortunate we never really got that on track."
In the spring, Samuel was one of the headliners from Washington's splashy free-agent class — joining quarterback Ryan Fitzpatrick (one year, $10 million) and cornerback William Jackson III (three years, $42 million). Months later, arguably none of the signings have panned out.
Of the trio, Jackson has appeared in the most games with 12 — but his season is likely over as the 29-year-old was placed on the COVID-19 reserve list Wednesday. It will mark the third straight missed game for Jackson, also dealing with a calf injury.
Together, Washington committed to pay Fitzpatrick, Samuel and Jackson a total of $48.5 million fully guaranteed. For that, the team got a combined 100 snaps from Fitzpatrick (hip) and Samuel and an uneven year from a corner who struggled to adapt from Cincinnati's man-based scheme to Washington's zone-based defense.
If they were the missing pieces for Washington to take a step forward, the team never really found out.
"It's unfortunately the nature of the game," Rivera said. "Those are things that happen and you can't always predict what's gonna happen. You can't predict that one, two or three of them are gonna get hurt."
Rivera, of course, had a major say in each of those deals. As one of the few coaches in the league with authority in personnel matters — Washington general manager Martin Mayhew reports to Rivera — Rivera took a different approach in free agency in 2021. A year before, Washington mostly relied on bargain-bin signings, bringing in unproven players who lacked a track record of success in the league.
That strategy, it turned out, paid dividends. Tight end Logan Thomas and running back J.D. McKissic turned out to be free-agent steals and important contributors. Other additions, like cornerbacks Ronald Darby and Kendall Fuller, also added value.
Coincidentally, Washington's best moves during free agency were again on the margins. Rivera and his staff found a Pro Bowl-caliber returner in veteran DeAndre Carter for $970,000, a steady third-down threat in Adam Humphries ($1.2 million) and cornerback depth in Darryl Roberts ($1.6 million). Along the way, they re-signed the team's eventual starter in Taylor Heinicke (two years, $4.75 million).
Perhaps the front office's top move of the offseason came later in free agency when Washington pounced on Charles Leno, signing the tackle to a one-year, $4 million deal after the Chicago Bears released him in May. Leno has been such a steady presence at left tackle that Leno reportedly worked out a long-term deal Wednesday for three years and $37.5 million.
"You really saw the positive aspects of it in terms of the depth this year with our offensive line," said Rivera, who also traded for left guard Ereck Flowers and signed backup center Tyler Larsen. "You gotta be able to protect your quarterback to give yourself a chance. That was one of the things that we did consciously and just the realization of how important that really is more so than anything else."
So did spending big cause Rivera to rethink his position on how much to shell out in free agency this coming offseason? If so, he hasn't said.
Rivera has repeatedly defended each of the signings. On Wednesday, he told reporters that Jackson started to play better as the year progressed and that he still had hope for Samuel. Indeed, both of those players figure to return for the 2022 season as cutting both wouldn't save salary cap space.
And, to be fair, Washington didn't put itself in a financial bind by signing Fitzpatrick, Jackson or Samuel. The team is projected to have the fourth-most cap space in the offseason. And just because Washington didn't strike gold in free agency this year, opening the checkbook can still be wise if the moves are right — the New England Patriots find themselves back into the postseason this year because of a flurry of high-profile free-agent moves.
Washington, though, will be sitting at home.
"The big thing we know is we got some work to do going forward," Rivera said. "I do look forward to playing on Sunday and then getting ready for the upcoming offseason."
Correction: Due to an editing error, Samuel's name was misspelled in one instance. Wide receiver DeAndre Carter's contract was also previously misstated.