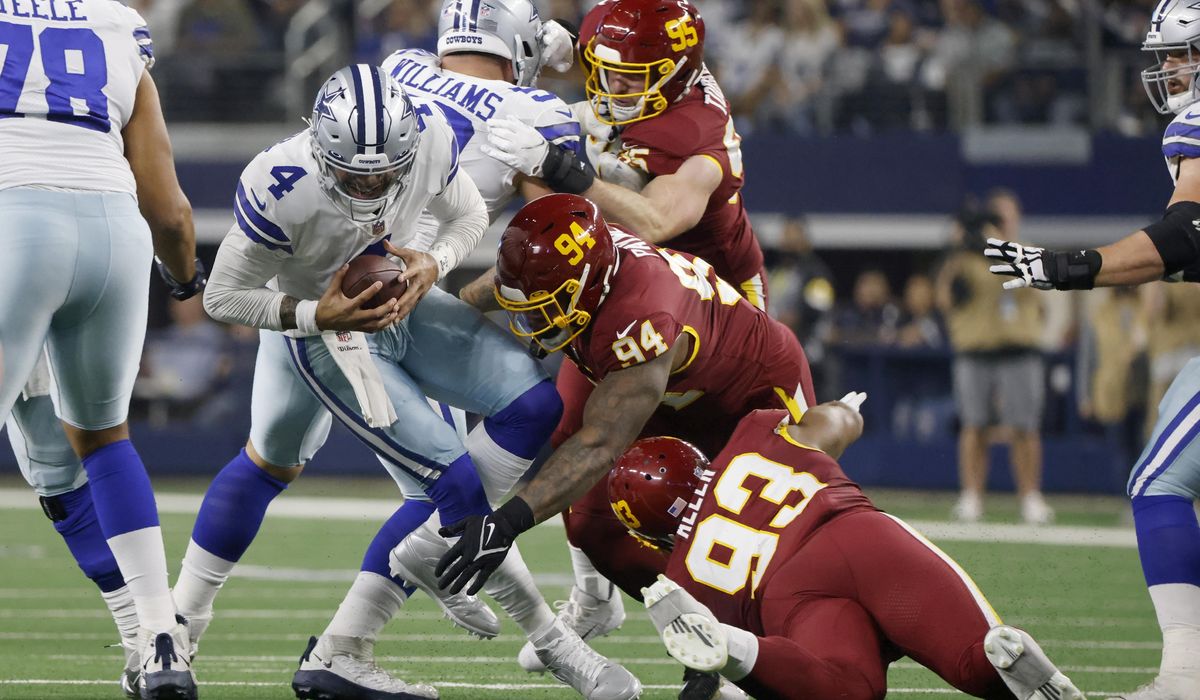 ASHBURN — Talking about the Cowboys' defensive line earlier this week, Taylor Heinicke held high praise for the unit that sacked him eight times in two games, picked him off twice and, in general, made him look the worst he has as a pro.
"Those guys up front get after it," Heinicke said. "Probably the best in the league."
Heinicke's comment — whether the quarterback realized it or not — spoke volumes. Just months ago, on the eve of a new NFL season, it was Washington's defensive line that was arguably considered to be the league's best. Now, here was the Burgundy and Gold's starter indirectly acknowledging that a divisional rival was better.
Then again, that shouldn't come as a surprise to anyone who has watched Washington this season.
With only two games left in the regular season, Washington (6-9) is on the outside of the playoff picture in large part because the defense — the unit that carried them a year ago— suffered a steep drop-off in 2021. The failure wasn't just on the defensive line, either. The team's uncertain linebacker situation, the rotating secondary and unpredictable COVID-19 situation all came back to bite Washington in the worst ways possible.
Entering Sunday's game against the Philadelphia Eagles, Washington's defense is bottom five in the following categories: Points (30th), total yards (28th), passing (30th) and third-down conversion rate (31st). A year ago, the team ranked in the top five in all but one of those (third down, in which it still ranked 15th).
Most recently, the team gave up 56 points to the Cowboys and lost by 42 — Washington's worst defensive performance in more than 10 years.
How did it all go so wrong? This was a unit, after all, that had multiple first-rounders, a number of key pieces under 25 and what many saw as plenty of upside to build on a strong first year under coach Ron Rivera and defensive coordinator Jack Del Rio.
"When you're in the NFL, if you're not playing at a high level or doing your job at a high level, you get exposed," defensive tackle Jonathan Allen said. "And that's not to say we haven't been doing it at a high level, (but) we've been inconsistent with our level of play.
"Some games we play phenomenal. Some games not as much."
Slow start
In hindsight, Washington's season-opening loss to the Los Angeles Chargers was a bad omen. The team only gave up 20 points, but the Chargers went 14 of 19 on third down — the most conversions in a game against Washington since 1994.
The problems on third down (still an issue) highlighted two weaknesses: An inability to generate pressure on quarterbacks and flimsy pass coverage in the secondary.
On the back end, Washington was trying to balance new and old, mixing free safety signee Bobby McCain with safeties Kam Curl and Landon Collins, replacing Ronald Darby with free agent William Jackson III and rookie Benjamin St. Juste on the outside and moving Kendall Fuller from the outside to the slot.
The adjustment was rough — Washington gave up 309.5 passing yards per game through its first six contests.
"When you implement a brand new system, the continuity, the verbiage, the communication, and everybody's like, 'Oh, well, this is second year in the defense, it's second year in the defense.' But there's five brand new defensive backs in the back end," defensive backs coach Chris Harris said in October.
A surprising lack of development also hurt.
Besides Allen, who was named to his first Pro Bowl amid a career year, no starter made significant strides as a player. The unit's two biggest stars going into the season, Chase Young and Montez Sweat, talked bout breaking sack records this year, but those ambitions were derailed by injuries and COVID-19.
Young, in particular, struggled to adjust to the added attention from opposing offensive lines before suffering a season-ending knee injury in November.
Hit after hit
There was a stretch this season when Washington's defense had figured things out. Over the team's four-game winning streak, the unit dramatically improved on third down and ranked as a top 10 unit in that span.
Players and coaches chalked it up to chemistry finally kicking in and the cleaning up of errors. The defensive staff made personnel adjustments, such as switching Fuller back to the outside and moving Collins into a hybrid-safety role.
But as soon as Washington's defense started to resemble the dominant unit from last year, adversity struck.
A contagious wave of COVID-19 affected 14 defenders ahead of a must-win December game in Philadelphia. And while the team got some of those players back in time for the contest, the lack of practice time for those defenders appeared to lead to sloppy mistakes against the Eagles.
There were on-the-field injuries, as well. Collins, who turned into a bright spot after a rough beginning of the year, was shut down with a season-ending foot injury and Jackson still hasn't played or practiced since injuring his foot in Philadelphia on Dec. 21.
In 2020, the defense largely stayed healthy — with Collins (Achilles) and key reserve Matt Ioannidis (pec) as the only ones to suffer serious injuries. But that has hardly been the case this year. Young, Collins, Jon Bostic and St-Juste are all on injured reserve, while others like Jackson and Sweat have missed key moments.
"It's been very challenging," Del Rio said.
Lately, players have also been challenged by tragedy outside of football. Last week, reserve safety Deshazor Everett suffered serious but non-life-threatening injuries in a car accident that took the life of his female passenger. And on Tuesday, Sweat found out that his brother, Anthony, was murdered in a shooting near a Richmond apartment complex.
Rivera said players have been hit hard by the circumstances, admitting a "little bit of fatigue" has set in with all that they've had to go through.
In the process, Washington wasn't able to establish that defensive identity that drove them to an NFC East title last year.
"I thought that four-game winning streak was really emblematic of who we could be and who we have the need to be," Rivera said. "But we just somewhere along the lines never really got a grasp of it in the last few weeks. And for whatever reason, there's a bunch of them, but for whatever reason, the last couple of weeks just really was really hard."