Here's a selection of top gift ideas for the DVD, Blu-ray and 4K UHD-loving, cinema connoisseurs in the family.
Middle-Earth: The Ultimate Collector's Edition (Warner Bros. Home Entertainment, 2,290 minutes, Rated: PG-13 and R, 2.39:1 aspect ratio, $249.99) — Filmmaker Peter Jackson's grand gift of his Academy Award-winning adaptation of author J.R.R. Tolkien's seminal work arrives to fans with this 31-disc, ultra-high definition collection packed with extras and goodies.
First and most importantly, the films included are both the theatrical and coveted extended versions in Blu-ray and 4K of "The Hobbit: An Unexpected Journey" (2012); "The Hobbit: The Desolation of Smaug" (2013); "The Hobbit: The Battle of the Five Armies" (2014); "The Lord of the Rings: The Fellowship of the Ring" (2001); "The Lord of the Rings: The Two Towers" (2002); and "The Lord of the Rings: The Return of the King" (2003).
Covering the adventures of hobbit Bilbo Baggins and his nephew Frodo, the films take viewers deep into Middle-earth as humans, elves, hobbits and more battle the return of the Dark Lord Sauron as he attempts to rebuild his empire before Frodo and buddy Samwise Gamgee can destroy Sauron's ring in the fires of Mount Doom.
Thanks to the 2160p resolution, high dynamic range, color enhancements and Dolby Atmos sound mixes, the results are breathtaking with numerous reasons to stop the films and enjoy their exquisite New Zealand landscapes, costuming and massive battle scenes.
An all-star cast brings the saga to life, including Ian McKellen as the wizard Gandalf; Elijah Wood as Frodo Baggins; Sean Astin as Samwise Gamgee; Orlando Bloom as Legolas; Martin Freeman and Ian Holm as Bilbo Baggins; Cate Blanchett as Lady Galadriel; Christopher Lee as the wizard Saruman; and Viggo Mortensen as Aragorn (the heir to Gondor), just to name a few.
Suffice it to report, this is a set of films to embrace and pass on to generations.
Best extras: The film collection comes packaged in a gorgeous multi-brick-sized (7 inches tall by 11 inches wide), magnetically connected puzzle-box slipcase container that can be fully opened to display the film artwork collages almost 2 feet across or folded into a bulky container (7 inches tall by 6 inches wide).
Besides the discs, all housed in a cardboard slipcase and plastic clamshell, the package includes a 64-page, soft-cover mini-booklet (7 inches by 6 inches) focusing on costuming through sketches, photos and production notes of the main characters.
Also, owners get seven stylish trading-card-shaped art cards showcasing some of the key locations throughout Middle-earth including The Shire, Lake-Town, Erebor, Anduin, Rohan, Minas Tirith and Rivendell.
Most viewers will feel satisfied with the saturation of extras that first and foremost offer a total of 15 optional commentary tracks and a new bonus disc that includes a 27-minute-long rare Cannes presentation reel (teasing the incomplete films in May of 2001); and an over 90-minute, Zoom-style reunion with most of the cast and Mr. Jackson covering "The Lord of the Rings" film series and hosted by Stephen Colbert.
However, despite the innovative and attractive packaging, once again, and much to my chagrin, Warner Bros. has not put forth the one set "to rule them all" on the discs.
Hours of extras are missing that were found in the Blu-ray sets of "The Lord of the Rings" extended film trilogy from 2011 and "The Hobbit" extended film trilogy released in 2015.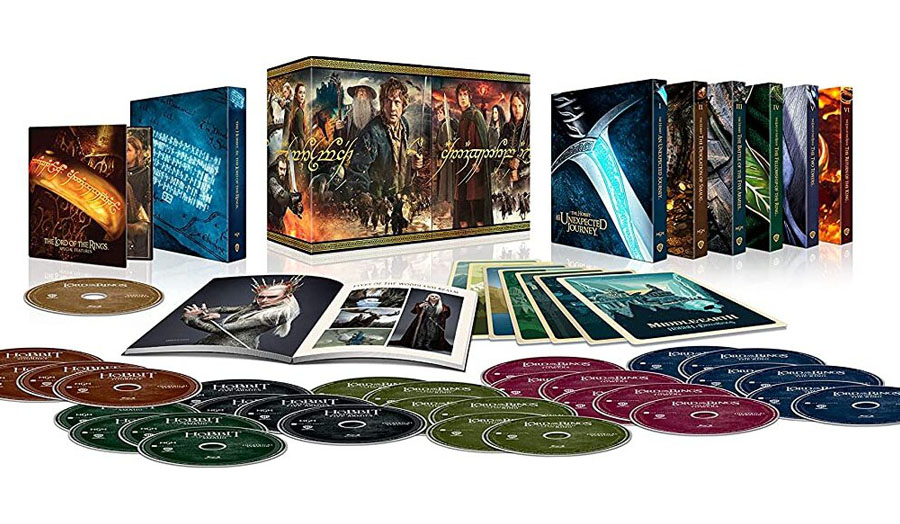 Columbia Classics Collection: Volume 2 (Sony Pictures Home Entertainment, not rated to R, 815 minutes, 1.85:1 to 2.39:1 aspect ratio, $164.99) — One of the oldest of Hollywood's revered movie studios taps into its vast archive to deliver a select group of six films representing some of its finest work over its more than 80 years of production history.
Remastered from original camera negatives or digital intermediates to the 4K format, the set features:
• Otto Preminger's 1959 black-and-white courtroom drama "Anatomy of a Murder" starring James Stewart and George C. Scott.
• Carol Reed's multiple Academy Award-winning 1968 musical "Oliver" starring Oliver Reed and Jack Wild.
• Martin Scorsese's 1976 seminal drama "Taxi Driver" starring Robert De Niro and Jodie Foster.
• Ivan Reitman's 1981 screwball comedy "Stripes" with Bill Murray and Harold Ramis.
• Ang Lee's 1995 multiple Academy Award-nominated period romantic comedy based on Jane Austen's novel "Sense and Sensibility" starring Emma Thompson (Academy Award winner for Best Adapted Screenplay), Kate Winslet and Alan Rickman.
And, the weakest of the bunch:
• David Fincher's 2010 biographical drama "The Social Network" starring Jessie Eisenberg as Facebook's co-founder and resident megalomaniac Mark Zuckerberg.
Suffice it to report, the collection makes a great gift for any cinephile in the family.
Best extras: Each film has an abundance of featurettes and commentary tracks highlighted by a new 4K, 45-minute retrospective on "Stripes" starring Mr. Murray and Mr. Reitman; a 41-minute Tribeca Film Festival 40th anniversary session on "Taxi Driver" with key cast and Mr. Scorsese; a new 28-minute 4K, 25th anniversary reunion with cast and crew for "Sense and Sensibility"; and a new optional commentary track with film historian Foster Hirsch for "Anatomy of a Murder."
And, just to show the breadth of Columbia's work, the studio tosses in a bonus Blu-ray disc offering more than three hours from its short films library.
The collection includes the Three Stooges 1936 classic "Disorder in the Court," the 1955 cartoon "Stage Door Magoo" starring the voice of Jim Backus as Mr. Magoo and the 2017 toon "Puppy! A Hotel Transylvania Short" directed by Genndy Tartakovsky.
Viewers find all of the entertainment in a burgundy cardboard package (almost a foot long, 7 inches tall and 2.5 inches wide) that opens through a pair of winged panels outward to reveal three films encased on each panel and also showcases the familiar lady of Columbia Pictures holding her torch.
Behind the lady is a slot containing an over 80-glossy-page hardback book offering essays and images about the films as well as the restoration process.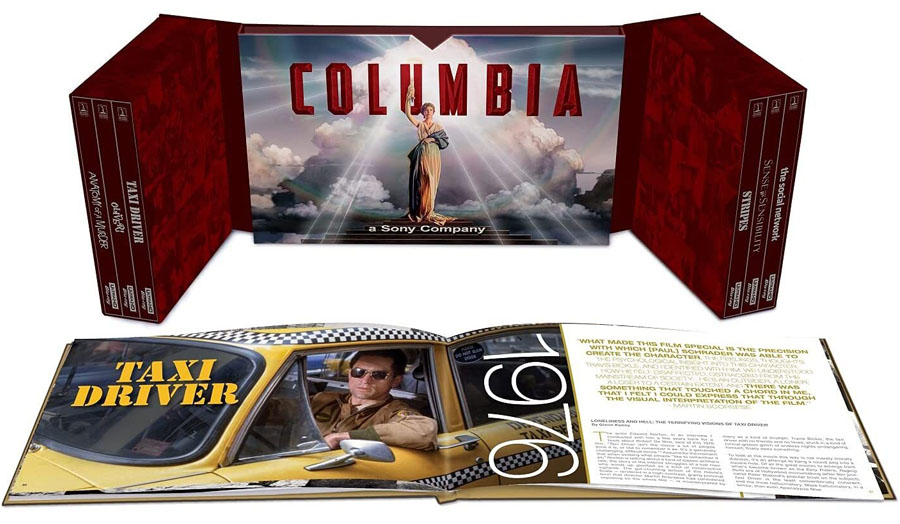 Mad Max Anthology (Warner Bros. Home Entertainment, Rated PG-13 to R, 415 minutes, 2.39:1 aspect ratio, $89.99) — Filmmaker George Miller's acclaimed post-apocalyptic universe highlighting the four punishing adventures of premiere survivor Max Rockatansky arrives on a four-disc UHD set perfect for movie-lovers looking for a jolt of high-octane, vehicular action.
Viewers can now appreciate the best available digital resolution for "Mad Max" (1979), "Mad Max The Road Warrior" (1981), "Mad Max Beyond Thunderdome" (1985) and "Mad Max Fury Road" (2015).
Of course, Mel Gibson helped define his career as Max and starred in the first three films while Tom Hardy took over the lead in the fourth, arguably the most eye-popping of the bunch.
Most notable for cinephiles the new UHD presentations for "Mad Max The Road Warrior" and "Mad Max Beyond Thunderdome" are derived from meticulous scans of the original camera negatives.
Best extras: Well, the good news is the films look great and maintain their grizzled visual style, always looking like a dust storm was kicked up in a home entertainment room, while the included digital codes offer an easy way to add the classics to a streaming library.
Unfortunately, all of the extras available on previous releases over the years are missing with the collection only offering extras on "The Road Warrior."
Specifically, viewers get an optional commentary track with Mr. Miller and cinematographer Dean Semler, an introduction to the movie by venerable film historian Leonard Maltin and a new 50-minute documentary on the making of the film.
Audrey Hepburn: 7-Movie Collection (Paramount Home Entertainment, Rated G to PG, 940 minutes, 1.85:1 to 2.20:1 aspect ratio, $55.99) — Viewers can appreciate the life of Academy Award-winning actress, fashion icon and humanitarian Audrey Hepburn in this eight-disc Blu-ray set.
Highlights of the set include … let's get serious, all of the works of this actress' career are pretty much highlights.
Lucky gift receivers get the romantic comedy based on Truman Capote's novella "Breakfast at Tiffany's" with George Peppard (1961); the legendary musical adaptation of "Pygmalion," "My Fair Lady" with Rex Harrison (1964); the musical romantic comedy "Funny Face" with Fred Astaire (1957); a Cinderella tale reimagined in "Sabrina" with Humphrey Bogart and William Holden (1954); another rom-com in "Paris When It Sizzles" reuniting her with Holden (1964); King Video's monstrous adaptation of "War and Peace (1956); and, of course, her Academy Award-winning performance in "Roman Holiday" with Gregory Peck (1953).
Hepburn's charm, infectious style and stage presence made her one of the most well-known actresses of the era, and the set delivers a high definition smorgasbord of nearly all of her best moments on screen.
Best extras: Paramount basically rereleases in a sturdy clamshell case all of the previous Blu-ray discs of these movies (including the two-disc "My Fair Lady" set) sans the debut of "Paris When It Sizzles" to the format.
That effort also equals an overly generous supply of previously released bonus content found on the discs.
Specifically, that's hours and hours of features that range from an optional commentary track with producer Richard Shepherd on "Breakfast at Tiffany's"; an hourlong documentary on the making of "My Fair Lady" with a focus on Hepburn and Holden during their Paramount years (30 minutes each); a remembrance of the actress from her son Sean (12 minutes); and multiple featurettes spread out across the discs covering her influence on fashion and style.
Willy Wonka and the Chocolate Factory (Warner Bros. Home Entertainment, Rated G, 100 minutes, 1.85:1 aspect ratio, $41.99) — The 1971 musical fantasy that adapted Roald Dahl's classic children's novel to the big screen debuts in UHD to offer a magical evening of entertainment for the entire family.
Gene Wilder, in arguably the finest performance of his career, starred as the eccentric candymaking tycoon Willy Wonka.
When he allows five lucky children who find golden tickets hidden within special Wonka Bars to visit his factory and learn some of its secrets, the wild adventure turns into one of the most fun and twisted series of morality lessons ever presented on screen.
Not only is the film remembered for Wilder's performance, the Oompa Loompas and the hit song "The Candy Man," but the eclectic group of children who included Charlie Bucket (Peter Ostrum), Veruca Salt (Julie Dawn Cole), Violet Beauregarde (Denise Nickerson), Mike Teevee (Paris Themmen) and Augustus Gloop (Michael Böllner).
The 4K, screen-filling presentation does not disappoint with a tasty collection of saturated colors especially present in Wonka's wild realms stuffed with every sort of candy-fied hues.
Best extras: Viewers will find a complete set of goodies culled from the 2011, 40th anniversary, high definition release and found on the included Blu-ray version of the film.
They range from an optional commentary track with the Wonka kids (also on the 4K disc); a 30-minute production documentary with the director and most of the key cast and crew; and four karaoke-style singalongs.
Apocalypse Now: 40th Anniversary Steelbook Edition (Lionsgate Home Entertainment, Rated R, 196 minutes, 2.39:1 aspect ratio, $27.99) — One of the most revered war dramas in the history of cinema returns to the UHD format encased in illustrated steel as a Best Buy exclusive and sure to make a perfect gift for lovers of this classic film.
Cinema auteur Francis Ford Coppola gives viewers the expansive final cut of his Academy Award-winning movie from 1979 offering a smothering and explosive tale set during the Vietnam War.
Amid the violence and camaraderie of warfare, burned-out U.S. Army Capt. Benjamin Willard (Martin Sheen) is sent on a mission to terminate the life of rogue U.S. Army Special Forces Col. Walter E. Kurtz (Marlon Brando), stuck in the jungles of Cambodia and fighting his own vicious war with the enemy by using a fiercely loyal platoon of soldiers.
Epic scenes in the production (reference the helicopter attack set to Richard Wagner's "Ride of the Valkyries") are brought to eye-popping life, thanks to the UHD definition remaster from the original negative.
Equally impressive, the film offers a cavalcade of stars including Robert Duvall as Lt. Col. William Kilgore, Laurence Fishburne as Gunner's Mate 3rd Class Tyrone Miller, Dennis Hopper as an American photojournalist, Harrison Ford as Col. G. Lucas and Scott Glenn as Capt. Richard M. Colby.
Best extras: The one piece of bonus content on either of the 4K or Blu-ray disc is an introduction to the film by Mr. Ford Coppola.
The extra is really the slipcover and metal case that features a fiery red-and-orange, hellish color scheme with new artwork from Ken Taylor.
The slipcover offers a close-up of Willard's face with a silhouetted soldier in front of him.
Remove the cover to get on the front a profile of Willard smoking a cigarette while on the back a menacing face of Kurtz with a pair of soldiers silhouetted in the foreground.
The interior of the case offers a group of helicopters flying in the jungle and past the setting sun.
This latest release is certainly a worthy gift for any Steelbook collector in the family, although the lack of digital goodies (abundantly available on previous releases) is disappointing.
Note: Gift givers looking for other ideas to complement the "Apocalypse Now" bounty should consider a couple of other newly arrived war dramas presented in the UHD format.
First, the Mel Gibson-directed Hacksaw Ridge: Steelbook Edition (Lionsgate Home Entertainment, 139 minutes, $27.99) stars Andrew Garfield as World War II field medic and conscientious objector Desmond Doss who earned the Congressional Medal of Honor for single-handedly saving 75 men during the Allies' attempts to secure Okinawa Island in the famous 1945 battle.
The metal case boasts new artwork from artist Krzysztof Domaradzki and includes the 4K and Blu-ray versions of the film in the two-disc set.
Next, the meticulously restored World War II action blockbuster from 1961 "The Guns of Navarone" (Sony Picture Home Entertainment, 161 minutes, $30.99) starred Gregory Peck, David Niven and Anthony Quinn as a specialized team of Allied soldiers on a dangerous to infiltrate a Nazi-occupied fortress and disable two long-range field guns to help rescue thousands of trapped British soldiers.
The two-disc set offers a 4K and Blu-ray disc and a bunch of extras including two optional commentary tracks and a look at the restoration process.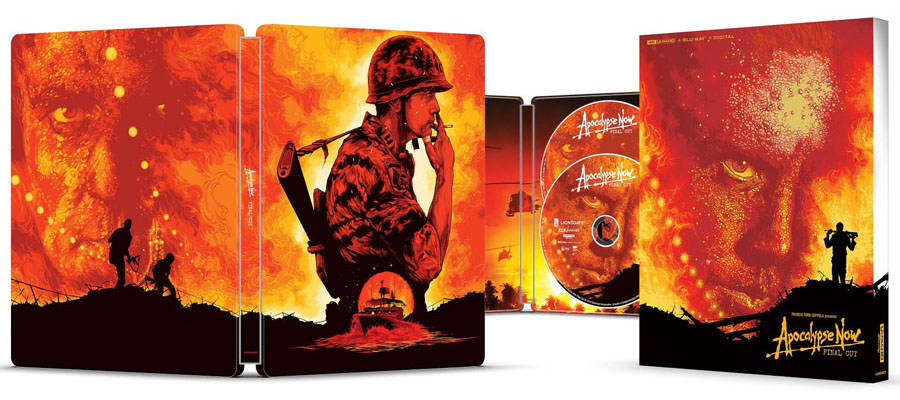 The Ultimate Richard Pryor Collection: Uncensored (Time Life, not rated, 1,584 minutes, 1.33:1, 1.78:1 and 2.39:1 aspect ratio, $99.99) — One of the greatest comedians in the history of the galaxy gets celebrated through a 13-disc DVD set covering his theatrically released concerts and appearances on television shows.
For those uninitiated, Richard Pryor helped set the bar for dissecting social and cultural taboos as well as the complexity of race relations through his innovative style of raw and edgy humor.
The discs first include his four full-length filmed concerts — "Live & Smokin" (1971), "Live in Concert" (1979), "Live on the Sunset Strip" (1982) and "Here and Now" (1983) — and they pretty much offer a template for any stand-up comedian to succeed and provide more than enough testaments to his brilliance.
Next, viewers get "Jo Jo Dancer, Your Life Is Calling," a semi-autobiographical film covering many moments from the comedian's life that were actually written, produced and directed by Pryor.
On the television front, let's start with his 1977 NBC-TV special and the only four episodes in existence of the controversial "The Richard Pryor Show." It featured Robin Williams, Sandra Bernhard and even a skit where Pryor played a bartender in the "Star Wars" cantina bar.
Also, the set contains five episodes of his second, ill-fated, TV series "Pryor's Place." The Saturday morning show ran for one season in 1984 and included famous guests such as Sammy Davis Jr., Willie Nelson and Lily Tomlin.
Additionally, and most fun for me, are seven of his appearances on talk shows hosted by Johnny Carson, Merv Griffin and Dick Cavett. These are pure gems and complete episodes to boot.
Finish off your immersion in the world of the comic-turned-legend with two documentaries "Richard Pryor: Omit the Logic" and "I am Richard Pryor" (2019).
Expect big, gut-busting laughs from the set tailored mainly for only the maturest of gift receivers.
Best extras: Spread out on the discs are current interviews with the likes of his wife Jennifer Lee Pryor, Mel Brooks, Whoopi Goldberg and Miss Tomlin as well as raw footage from his final stand-up appearances at the Comedy Store and footage from his first film "Uncle Tom's Fairy Tales."
Owners also get a slick 40-page, full-color booklet filled with collages of his life and words, from his scribbled notes for set lists to his arrest record and loaded with personal quotes from Pryor.
Of course, the only miscue from Time Life is making viewers watch all of the madness in a woefully antiquated DVD format and not at the very least in high definition.
Dune: Special Edition (Arrow Video, Rated PG-13, 137 minutes, 2.39:1 aspect ratio, $49.95) — Back in 1984, director David Lynch accepted the impossible task of bringing Frank Herbert's seminal science-fiction opus to the big screen.
His smothering and murky screenplay, twinned with opulent visual effects and production design, debuts in the 4K format, meticulously remastered from the 35mm camera negative.
The dry adaptation took viewers to a universe mired by a cutthroat geopolitical climate ruled by the control of a hallucinogenic drug called Spice.
Paul Atreides (Kyle MacLachlan), heir to the House of Atreides, must battle rivals House of Harkonnen to become the "chosen" one and lead a group of warriors on the coveted desert spice planet Arakkis against the galactic emperor to free their world.
The film will probably be most remembered not as a "Star Wars" for adults but for its cavalcade of pop culture stars, including Patrick Stewart ("Star Trek") as warrior Gurney Halleck; Brad Dourif ("Chucky") as Piter De Vries, the Harkonnen Mentat, a human computer; Virginia Madsen ("Candyman") as Princess Irulan; Max von Sydow ("Flash Gordon") as Doctor Kynes; Kenneth McMillan ("Salem's Lot") as the disgusting Baron Vladimir Harkonnen; and Sting, the famed lead singer of The Police, as Baron Vladimir Harkonnen's nephew Feyd-Rautha.
However, the clean, crisp and faithful visuals and colors will not disappoint and bundled with a vast collection of extras make the perfect gift for those fans of Mr. Lynch and his complex translation.
Best extras: Overwhelming would be an understatement as Arrow Video completely deconstructs the film: first with a pair of optional commentary tracks with film historian Paul M. Sammon and "The Projection Booth" podcaster Mike White, then followed up with a 40-minute, vintage, 2003 documentary on the production.
Also, on the 4K disc are featurettes on the special effects, costuming, miniature models as well as deleted scenes.
Next, go to a Blu-ray bonus disc to first watch a thoroughly entertaining, 22-minute look at the marketing of the "Dune" action figure and toy lines explored by toy expert Brian Stillman.
Also, viewers get current interviews with make-up artist Giannetto de Rossi, special make-up effects artist Christopher Tucker, production coordinator Golda Offenheim and actor Paul Smith (Baron Harkonnen's older nephew Rabban).
The cardboard slipcase also contains a 60-page, color, bound, heavy paper stock book with five essays on the film (three new); definitions of key terminology in the "Dune" universe; and a double-sided, fold-out poster (16 inches by 20 inches) with new artwork from Daniel Taylor.
And, the plastic slipcase holding the discs also contains six, full-color, double-sided, postcard-sized reproductions of theater lobby cards.
A Clockwork Orange (Warner Bros. Home Entertainment, Rated R, 138 minutes, 1.66:1 aspect ratio, $33.99) — Legendary director Stanley Kubrick brought Anthony Burgess 1962 dystopian crime novel to shocking life on the big screen back in 1971.
Now, even more visceral in a new release in the UHD format, the story finds Alex DeLarge (Malcolm McDowell in the role of a lifetime), leader of an ultra-brutal gang dubbed the "droogs," paying for his crimes of torture and rape in one of the more unusual ways possible.
He agrees to become a subject of an experimental treatment to cure his ultra-violent ways. Treated like a lab rat, he's exposed to a nonstop, multimedia sensory overload of horrors and violence all played out to the music of Beethoven.
With any thoughts of impurity now making him viciously ill, he is released to the world as a rehabilitated man but also, leaving him defenseless to his previous victims.
The 4K mastering stuns by the chance to admire the stark existence of a research facility against the wild colors of 1960s decor and the droogs' bloody criminal acts in a world concocted by cinematographer John Alcott and Kubrick as they bend the rules in both composition and lighting.
Best extras: First watch the film in 4K with an optional commentary track with Mr. McDowell and filmmaker Nick Redman, then dive over to Blu-ray for bonus content culled from the 2011 DigiBook high definition release.
The best include three retrospectives on the film (more than 90 minutes in total) deconstructing the production and its legacy with help from filmmakers such as William Friedkin, Sydney Pollack and Steven Spielberg.
Unfortunately, missing are two meaty retrospective documentaries (almost four hours in total) covering Kubrick and Mr. McDowell, included in the 2011 release, that would have made this package the ultimate "A Clockwork Orange" release.
The Shawshank Redemption (Warner Bros. Home Entertainment, Rated R, 142 minutes, 2.39:1 aspect ratio, $33.99) — Director Frank Darabont's 1994 multiple Academy Award-nominated adaptation of a Stephen King novella makes its debut on UHD to offer a new generation of home theater audiences the chance to appreciate one of the best films in the history of cinema.
The prison drama centers around the woeful existence of mild-mannered Andy Dufresne (Tim Robbins), a banker wrongly convicted of killing his wife and her lover and serving two life sentences in Shawshank State Prison.
He befriends Ellis Boyd "Red" Redding (Morgan Freeman) and forms a lifelong friendship beyond prison as each learns about life, survival in the harshest of environments and that dreams can actually come true.
The screen-filling presentation pays homage to the grizzled and often sterile source material, sometimes set awash in a bluish tint amid the shadowy existence of the trapped prisoners, but by far, it's the best digital version of the movie to date.
Best extras: Found on the included Blu-ray disc are all of the goodies originally released on the 2008 DigiBook, high definition version of the film.
Don't miss the optional commentary track with Mr. Darabont (his directorial debut by the way) and a vintage roundtable discussion with Mr. Darabont, Mr. Robbins and Mr. Freeman on a 2004 episode of the "Charlie Rose" talk show.
Inglourious Basterds (Universal Pictures Home Entertainment, Rated R, 153 minutes, 2.39:1 aspect ratio, $29.98) — Quentin Tarantino's 2009 World War II revenge fantasy finally debuts on UHD for fans of the director and extreme war dramas.
With eight Academy Award nominations, the film covers the adventures of an American team of soldiers nicknamed "the Basterds." Led by Lt. Aldo "the Apache" Raine (Brad Pitt), they stick it to the Third Reich while ultimately on a mission to take down Der Fuhrer.
Most notable is the Academy Award-winning performance of Christoph Waltz as a quirky, ruthless and sinister SS officer, Standartenführer Hans "The Jew Hunter" Landa. Mr. Waltz pretty much steals the show.
The 4K release takes full advantage of the format adding crisp detail and high dynamic range to showcase the period costuming, the production design and, of course, the stomach-churning violence.
Best extras: Universal ports almost all of the production featurettes from the 2009 Blu-ray release led by a 31-minute roundtable discussion with Mr. Tarantino and Mr. Pitt, moderated by film critic Elvis Mitchell.
Additionally, viewers get a new extra, an over hourlong chat with Mr. Tarantino from 2009 as a part of The New York Times' "TimesTalks" series, moderated by journalist Lynn Hirschberg.
Star Trek: The Original Four Movie Collection (Paramount Pictures Home Entertainment, Rated PG, 585 minutes, 2.39:1 aspect ratio, $90.99) — Paramount boldly takes the most beloved of USS Enterprise crews into UHD realms with the release of their first four films in this eight-disc set featuring 4K remastering of each from original film elements.
In a befuddling release for the studio, it offers the first four films — "Star Trek: The Motion Picture" (1979), "Star Trek II: The Wrath of Khan Director's Cut" (1982), "Star Trek III: The Search for Spock" (1984) and "Star Trek IV: The Voyage Home" (1986) — starring Capt. James T. Kirk (William Shatner), Mr. Spock (Leonard Nimoy), Dr. Leonard "Bones" McCoy (DeForest Kelley), chief engineer Montgomery Scott (James Doohan), security officer Pavel Chekov (Walter Koenig), helmsman Hikaru Sulu (George Takei) and communications officer Lt. Nyota Uhura (Nichelle Nichols) but leaves out their final two films "The Final Frontier" and "The Undiscovered Country."
No matter, each of the 4K discs offers the best available version of the films to ever be released and by far the gem of the lot is "The Wrath of Khan," which has Capt. Kirk and the Enterprise crew face-off in a cat-and-mouse game with archenemy Khan Noonien Singh (Ricardo Montalban).
Obviously, fans of Gene Roddenberry's universe will be smitten with a visually fresh look at these classic sci-fi films.
Best extras: Although each of the 4K discs offers optional commentary tracks (seven in total with the fourth film spotlighted by a track with Mr. Shatner and Nimoy, no less), the bulk of the goodies are found on the four Blu-ray disc versions of the films (also remastered).
The outstanding highlight among the hours of production featurettes is an encyclopedic "Library Computer" viewing mode for each film stuffed with pop-up facts on topics such as culture, life forms, science, people and ships.
Randolph Scott Western Collection (Mill Creek Entertainment, not rated, 968 minutes, 1.85:1, 2.39:1 aspect ratio, $75.99) — Although perhaps not as familiar as John Wayne or Clint Eastwood, Randolph Scott was one of the hardest-working and equally endearing leading men in Hollywood.
He gets celebrated in this Blu-ray collection of a dozen films sampling just some of his 60 performances as a quiet, weathered cowboy.
Specifically covering his Westerns for Columbia Pictures from the 1940s to 1960, the collection includes "The Desperados" (1943), "The Nevadan" (1950), "Santa Fe" (1951), "Man in the Saddle" (1952), "Hangman's Knot" (1952), "The Stranger Wore a Gun" (1953), "A Lawless Street" (1955), "The Tall T" (1957), "Decision At Sundown" (1957), "Buchanan Rides Alone" (1958), "Ride Lonesome" (1959) and "Comanche Station" (1960).
Most notable from the films, besides the panoramic views of the Southwest, are the appearances of many Hollywood legends such as Glenn Ford, Angela Lansbury, Lee Marvin, Maureen O'Sullivan and Donna Reed.
Don't expect any remastering here, but the visuals using technologies of the day such as Technicolor and CinemaScope hold up and deliver some colorful adventures in the Old West.
Best extras: Viewers get five optional commentary tracks from historians and critics for the films "The Desperados," "The Tall T," "Buchanan Rides Alone," "Hangman's Knot" and "The Stranger Wore a Gun" and an 11-minute brief overview of Scott's work at Columbia.
Also, the package includes a 12-page, full-color booklet showcasing posters and a synopsis of each movie and some Scott trivia.