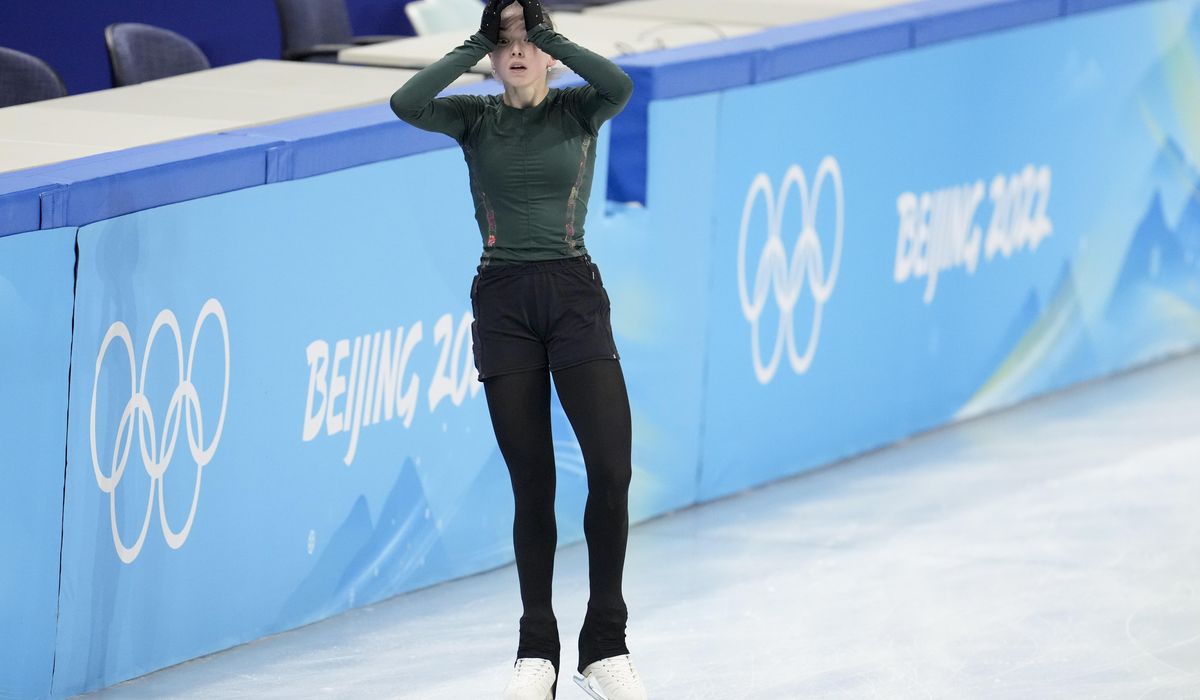 The biggest story of the 2022 Winter Olympics is about doping.
On Monday, Russian figure skater Kamila Valieva was cleared to continue competing in the Beijing Olympics after the 15-year-old had tested positive for a banned substance before the Games began.
After the decision was made by the Court of Arbitration for Sport, the Olympic world exploded with opinions about the scandal, with most people disagreeing with the decision.
"I have to condemn this decision with every ounce of my soul," former American figure skater Johnny Weir said on NBC. "This is a slap in the face to the Olympic Games, to our sport, and to every athlete that's ever competed at the Olympics clean."
"I strongly disagree with this decision," former Olympic skater and current broadcaster Tara Lipinski tweeted. "At the end of the day, there was a positive test and there is no question in my mind that she should not be allowed to compete. Regardless of age or timing of the test/results. I believe this will leave a permanent scar on our sport."
Former Olympians Tara Lipinski and Johnny Weir condemn the decision to allow Russian skater Kamila Valieva to compete following a failed drug test.

"This is a slap in the face to the Olympic Games, to our sport, and to every athlete that's ever competed at the Olympics clean." pic.twitter.com/tnn8WcPzf4

— The Recount (@therecount) February 14, 2022
"Athlete who violate doping cannot compete in the game," Yuna Kim, a former Olympic champion from South Korea, posted on Instagram. "This principle must be observed without exception. All players' efforts and dreams are equally precious."
Russia has already won gold in the team figure skating competition, thanks in part to Valieva, who became the first woman to land a quad jump in Olympic history.
Valieva, who tested positive for a banned heart medication called trimetazidine, will be allowed to compete in the individual events, and she is a heavy favorite to medal.
The medals for the team event will not be awarded at the Games and instead will be handed out by the International Olympic Committee "once the case of Ms. Valieva has been concluded," according to an IOC statement. If Valieva medals in any other events, those medals won't be handed out until after the Olympics as well.
The United States finished second in the team event and could be awarded gold if Valieva is later disqualified.
"Athletes have the right to know they are competing on a level playing field," said United States Olympic & Paralympic CEO Sarah Hirshland in a statement. "Unfortunately, today that is being denied. This appears to be another chapter in the systematic and pervasive disregard for clean sport by Russia."
"In addition to athletes and the public, this young athlete has been terribly let down by the Russians and the global anti-doping system that unfairly cast her into this chaos," said United States Anti-Doping Agency CEO Travis Tygart in a statement.
"None of this is fair," former American figure skater Adam Rippon wrote during a lengthy Twitter thread. "You can be heartbroken for this 15 year old girl and at the same time be heartbroken that every other skater in this event will have to compete knowing that the competition is not clean."
I am so angry. The ladies event tomorrow is a complete joke. It's not a real competition and it most likely won't even have a medal ceremony. So many Olympic experiences stolen from clean athletes who got here without the help of performance enhancing drugs. What a shame.

— Adam Rippon (@AdamRippon) February 14, 2022
Some Twitter users also compared the Valieva situation to the one with U.S. track star Sha'Carri Richardson, who was disqualified from competing last summer at the Tokyo Olympics after testing positive for marijuana.
"Can we get a solid answer on the difference of her situation and mines? My mother died and I can't run and was also favored to place top 3," Richardson tweeted. "The only difference I see is I'm a black young lady."