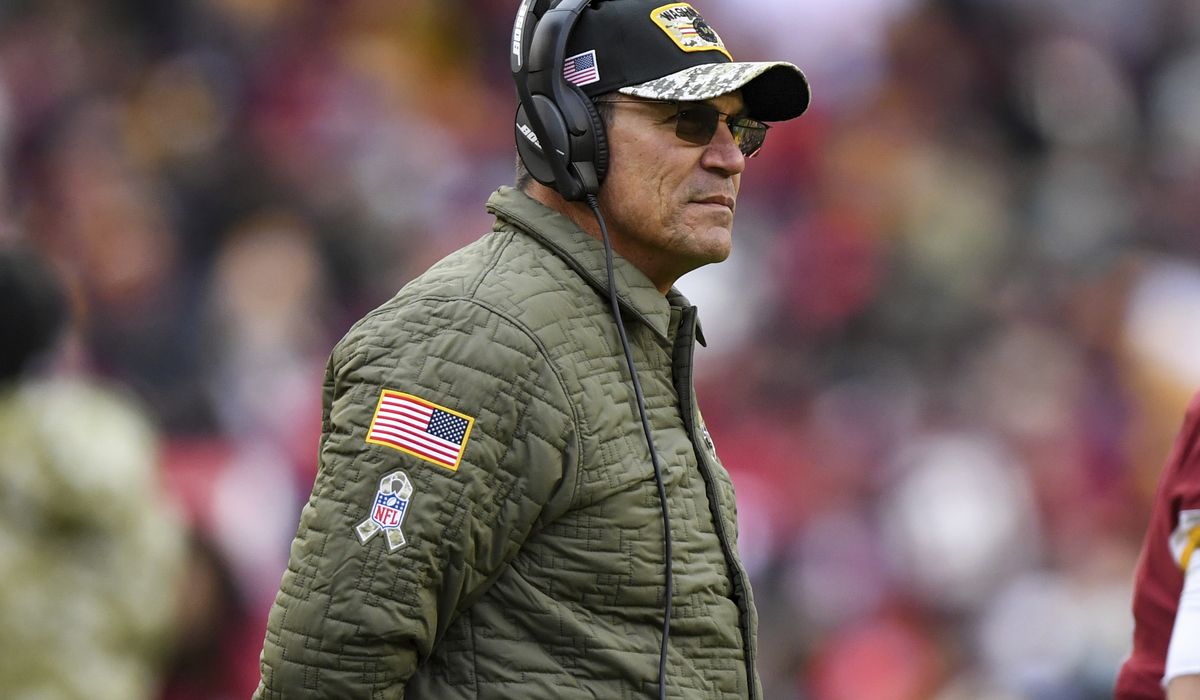 SANTA CLARA, Calif. — Chargers offensive coordinator Joe Lombardi learned early on in his time working with first-year head coach Brandon Staley to be ready with a fourth-down call in nearly any situation.
Back in Week 3 with the Chargers facing fourth-and-9 in the final minute of a tie game against Kansas City, Staley opted to go for it instead of trying a long field goal.
"When he said, 'We're going for it,' I was a little surprised there," Lombardi said. "After that, no, I don't think that I'll be surprised anymore."
Teams going on fourth down is much less of a surprise these days than ever, even if it's in the first half in their own territory, in a tie game when a field goal will provide a late lead, or when protecting a lead at the end of the game.
Staley has been among the most aggressive, with that decision against the Chiefs leading to a go-ahead touchdown that left Patrick Mahomes little time to respond.
Staley ranks first in EdjSports' rankings of coaches on fourth-down calls, edging usual leaders like Indianapolis' Frank Reich and Baltimore's John Harbaugh.
Bill Belichick, whose memorable decision to go on fourth-and-2 late in a 2009 game against Peyton Manning and the Colts sparked a debate about fourth-down decisions, ranks last on the list.
The analytics company has one of the best models for determining when NFL teams should go and when they should kick on fourth downs, using its win probability model that relies on historical play-by-play data adjusted for variables such as the strength and weaknesses of both teams, injuries and other factors.
Coaches across the league are more willing than ever to keep the offense on the field instead of kicking on fourth down, even in their own territory or in situations their predecessors never would have contemplated.
This past weekend, with his team up 23-19 with 31 seconds left, Washington coach Ron Rivera chose to run it on fourth and goal from the 1-yard line in an attempt to seal Washington's win over the Tampa Bay Buccaneers. If the run had failed, Buccaneers quarterback Tom Brady would have got the ball back with an opportunity to lead a game-winning drive, but Rivera decided the upside was worth it rather than settling for the easy field goal.
"Why not try and win it right there?" said Rivera, whose call was rewarded with an Antonio Gibson touchdown. "Also part of the thinking too is if not, they got to go 99 (yards) to score a touchdown."
EdjSports' model agreed with the decision — saying Rivera's choice to go for it gave Washington a 99.5% chance of winning the game compared to 97.8% if the team kicked the field goal. "It was the correct call," the analytics company wrote on its website.
This year, Washington has attempted 21 fourth-down conversions. That's the third-most in the league, behind only Detroit and Cleveland. In 2019, the year before Rivera was hired, Washington went for it just 14 times.
The leaguewide shift began in the 2017 season when then-Eagles coach Doug Pederson's aggressive fourth-down strategy helped Philadelphia win the Super Bowl.
John Harbaugh and the analytically sound Ravens took it a step further in 2019 when the skills of Lamar Jackson helped deliver 17 successful fourth-down tries. Now, teams are going for it more than ever.
Fourth-down tries jumped more than 10% from 2019 to 2020 and were up an additional 16% through nine weeks this season. Attempts are up more than 73% over 2017 when Pederson first got attention for his success in Philadelphia.
"I think there's a bit of a herd mentality with coaches," said EdjSports co-founder Frank Frigo. "There's definitely coaches out there that have gotten this for a while and been paying attention. Once others start doing it, it kind of snowballs a little bit."
There is still plenty of progress coaches could make, but there remains some hesitancy.
"I do listen to analytics a ton, and I think it makes a lot of sense, but when it comes down to fourth-and-1, it's about how you feel in the moment," said 49ers coach Kyle Shanahan, who said he considers field position, what plays he has on his sheet, how well his line is blocking, the weather, and all sorts of variables before making a final call.
"There's never a right or wrong answer," notes Shanahan, "until after the play."
Copyright © 2021 The Washington Times, LLC.